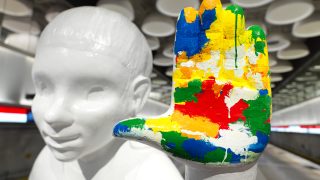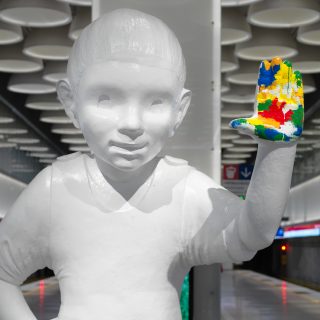 Art in the city
EMMA's collections are on public display around the city of Espoo. A large number of works are on permanent display as outdoor monuments or public art in schools, hospitals, municipal centres and public swimming pools. EMMA also coordinates major public art projects on behalf of the City of Espoo, including workshops, events, performances and exhibitions outside the museum.
Espoo Hospital
Espoo Hospital is home to the largest selection of art from the Emma Collection that is deposited outside the museum. The works are displayed in patient rooms throughout the hospital. The presence of art in the hospital has a positive, healing effect on everyone in the building – patients, their loved ones and also the hospital staff.
Six works were commissioned especially for the museum from COMPANY (Aamu Song & Johan Olin), Kirsi Kivivirta, Jaakko Mattila, NioRautiainenToikka, Oona Tikkaoja and Hanna Vihriälä. The works are partly integrated with the architecture. The other 300 artworks were selected from the EMMA Collection and the Saastamoinen Foundation Collection to harmonize with the context and setting. The chosen works are designed to promote healing, wellbeing and health.
Emma Leaves a Trace
The monumental white sculpture standing on the platform of Tapiola metro station forms part of Emma Leaves a Trace, a multi-genre piece by Kim Simonsson marking a new inroad in public art. The hybrid work is the new emblem of EMMA and the Tapiola neighbourhood.
The piece consists of multiple parts: a large bronze sculpture of a girl painted completely white except for one colourful hand, bright splashes of colour spread around the subway station as if to suggest the girl's handprints, as well as a series of digital animations featuring the mischievous girl painting the streets of Tapiola in the colours of the rainbow.
WeeGee's outdoor sculptures
Four monumental sculptures from EMMA's collections are on display in the sculpture park outside the WeeGee Exhibition Centre. You can also see two other public works on your way to the museum: Emma Leaves a Trace by Kim Simonsson at Tapiola metro station and Pekka Kauhanen's Art Policeman (2006) at the Pohjantie traffic roundabout.
The works in the sculpture park harmonize with the brutalist style of Aarno Ruusuvuori's concrete architecture and the minimalist outdoor surroundings. Passage (1990) – a cube-shaped sculpture carved from spectrolite by Matti Peltokangas – welcomes visitors to WeeGee at the corner of the sculpture park. The park is enclosed by A Winding Path (2006), a wall-like concrete sculpture by Pertti Kukkonen. Other works in the sculpture park include a piece celebrating water by Eero Hiironen, Pro Aqua (2005–2006), as well as The Stream (1981/2006), an aluminium sculpture by Raimo Utriainen. The park is also the venue of Fallen from the Trees (2016), a participatory work created as a joint project by Anni Rapinoja and members of the local community.