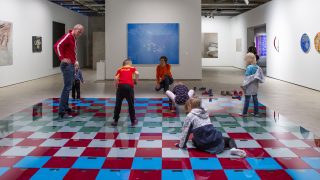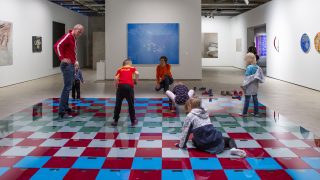 The winter school holidays are the perfect time to visit EMMA, whether alone or with friends or family. A varied line-up of events is in store for every day of the week. Sign up for your favourite day or come every day. Remember that children should always attend Art Break with an adult. Art Break is organized in collaboration with art education students of Aalto University. Workshops and materials are included in the museum admission.
Tuesday: Sounds of EMMA
How do elevators hiss and hallways echo? What kind of sounds can we create with our own bodies? This workshop explores artworks on display and EMMA's extraordinary architecture in an experimental way – through our sense of hearing. We will build listening instruments and have a taste of different sounds in a sound buffet. We will finish the workshop with our own sound concert.
Fully booked!
Wednesday: Dance of light and shadow
The workshop explores artworks, in which color, light and shadow play an important role. How do colors reflect on you? Which materials glimmer in light and what kind of shadows do the artworks leave in the museum? We will create our own visual pieces based on what we see.
Fully booked!
Thursday: Glowing characters
How can we become part of an artwork, museum building or the space of numbers? We will make ourselves visible with glowing materials in the dimly lit space of Tatsuo Miyajima's Sky of Time. Come to glow and play under the sky of numbers!
Fully booked!
Friday: Once upon a time
In this workshop textiles and stories intertwine. What kind of story would you like to tell? How would a wind made out of wool or a scenery woven with fabrics look like? During the day we will create our own textile works.
Fully booked!
Related
More events