Espoo Museum of Modern Art
Event
Children's Museum Festival 2023: New Tricks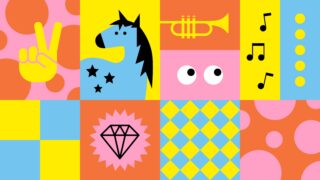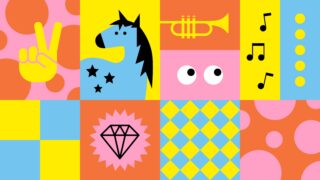 This year our annual Children's Museum Festival will spill outside the walls of Exhibition Centre WeeGee, EMMA and Espoo City Museum, taking over the newly opened Leikki Museum of Play and Museum Kruunu next door. This year's festival offers plenty of new events, activities and fun for the whole family.
Everyone is welcome to join in by watching our live performances or taking part in one of many playful workshops all over the festival area. Also visit the exhibitions to discover more about Mauri Kunnas and his beloved illustrations, learn about history and the story of handicrafts, art and design, and don't forget to drop in at our laboratory of play!
Musical performances will be staged by Mirkka and Luis, Höpinätötterö and Hevosenkenkä Theatre with their Mr Clutterbuck show!
PROGRAMME
Mirkka & Luis © Teemu Mattsson

Mr Clutterbuck show © Pekka Elomaa

Höpinätötterö
The theme of this year's performances and workshops is 'New Tricks'. There will be workshops for kids aged 4-10 (and adult companions) inviting you to visualize what it would be like to fly over the rooftops, laugh at jokes told by our whispering booth, or stop to chat with our fun art investigator duo.
Live performances will be staged on both days of the festival, and you can join in whenever you feel like it at whatever time suits you.
Read more about the performances and the workshops and have a look at the timetable on our programme page.
TICKETS
Taking part to Children's Museum Festival is included in the museum admissions. Museum tickets t0 Exhibition Centre Weegee (20€/10€) and the Leikki Museum of Play and the Kruunu Museum combi-ticket (16€) are sold separately at the ticket office of each building.
Want to visit all museums? The museums are offering a special combi-discount: If you pay the full admission fee for adults (€20 for WeeGee, and €16 for the Leikki and Kruunu combi-ticket), you can get a 20% discount on admission to other museums by presenting your cash receipt at the ticket office. After receiving the admission stickers, you can move between the museums freely! Pst. remember to take care of your sticker.
Visitors under 18 and over 70 and Museum Card holders always enjoy free admission! 
ORGANISERS
The Children's Museum Festival is organized by EMMA – Espoo Museum of Modern Art, the Leikki Museum of Play, WeeGee Exhibition Centre, KAMU Espoo City Museum and the Kruunu Museum of Horology and Jewellery, with the participation of the Espoo School of Art and the Arkki School of Architecture for Children and Youth. Produced with the kind support of AFRY. 
FIND US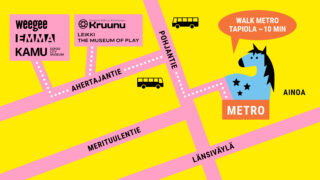 The Children's Museum Festival is easy to reach by subway!
ADDRESS: Ahertajantie 5 (Exhibition Centre Weegee, EMMA and KAMU), Ahertajantie 3 (Museums Leikki and Kruunu).
Metro
From Tapiola metro station there is approximately 10 min walk to Ahertajantie 3 and 5.
Buss
Buses in Espoo via Pohjantie (the bus stop is called WeeGee):
111, 113, 548, 549
116, 119 (Neighbourhood routes)
For best route and timetable check Helsinki Region Journey Planner.
Outdoor parking
Address: Ahertajantie 5
Price: € 2.50 / hour
Payment methods: coins, card payment, Easypark (area code 508) and Parkman
Car park Kulttuuriparkki
The car park Kulttuuriparkki is open every day from 6 am to 11 pm (check-in). The cultural park has 100 parking spaces, with two accessible and 16 electric car spaces. Entrance by foot is from the pedestrian tower, which can be accessed with the registration number of the parked car.
Driving directions to Kultuuriparkki:
When you arrive at Ahertajantie from the roundabout, take the first right into Ahertajankuja (before the building of Museum Leikki and Museum Kruunu). The entrance to Kultuuriparkki is located at the end of the alley on the left.
Address: Ahertajankuja 5
Short-term parking Mon–Sun 24 h: € 2.50 / hour, starting at 30 minutes (minimum charge € 1.25)
Whole day parking: max 18 € per 24 h / continuous parking
Payment methods: card payment, Easypark and Parkman camera-based parking
Customer service / security: tel. +358 9 4555531
Prices include VAT 24%.
Parking is supervised by Tapiola Paikoitus Oy(external link) (in Finnish).
Accessible parking spaces are located in front of the WeeGee house. The car park leads to a slope at the main entrance of WeeGee.
Other possibilities for parking are in the center as well as in the parking houses of Tapiola for example at Kaupinkalliontie.
Bus parking in front of the Exhibition Centre WeeGee or in the Espoo Metro Arena parking area (appr. 200 metres from WeeGee).
Related
More events