Chief Curator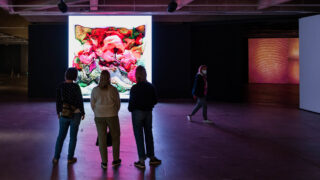 EMMA is currently looking for a Chief Curator to manage the museum's Exhibitions team. We can offer a true vantage point to the art scene and versatile international tasks, while working as part of a dynamic and accomplished community of professionals. We are seeking a visionary pioneer, someone who will help us facilitate bold new initiatives as part of EMMA's exhibitions, while utilizing significant art and design as well as our collections. We are looking for the kind of expertise that complements EMMA's visions for the future, while also considering our values regarding responsibility and sustainable development.
EMMA – Espoo Museum of Modern Art is one of Finland's largest art museums and is maintained by the EMMA Art Museum Foundation sr. The profile of EMMA's collections and exhibition activities focuses on Finnish and international modernism, contemporary art, and design. EMMA is located at the Exhibition Centre WeeGee in Tapiola, Espoo.
As Chief Curator your task is to develop, coordinate and manage EMMA's exhibition activities, and advance the museum as a member of the management team and steering group. Your style of leadership is preparatory, and you understand the management perspectives of experts working in project organizations. You are well-versed in the arts scene, actively seek new information and are skilled at expanding networks on an international level. You have an outgoing personality and are comfortable making appearances within the general community of art experts, as well as in the public arena and in the media. You have strong interpersonal communication skills, and you know how to engage with staff and stakeholders to work towards achieving common goals.
Success in the position will require a suitable higher education degree, and solid practical experience in curation, artist collaboration and producing exhibitions in the fields of contemporary and modern art as well as design. Expertise in financing and project work, and fluency in English are essential qualities for the successful handling of the position. We also require a strong aptitude for working as a supervisor. Knowledge of Finnish and other languages is desirable. We value a solution-oriented approach to work, good organizational and cooperation skills, an ability to work under pressure, flexibility, and strong social skills.
Share your views on the future of EMMA's exhibition activities and fill out an application no later than 15.2.2023. Please attach a letter of motivation, salary request, and your CV. We will begin conducting interviews before the application period ends. The starting date of employment will be negotiated.
For more information on the vacancy please contact Museum Director Pilvi Kalhama (tel: +358405334070).