Espoo Museum of Modern Art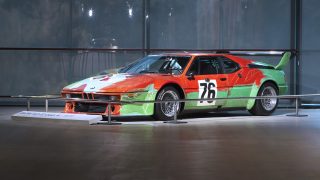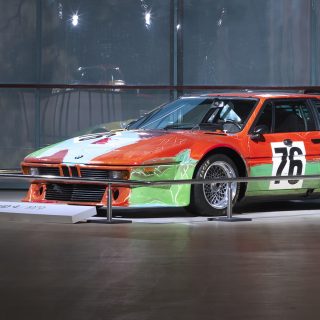 01.09.2012 - 31.10.2012
BMW Art Cars
The BMW Art Car Project was introduced by the French racecar driver and auctioneer Hervé Poulain, who wanted to invite an artist to create a canvas on an automobile. It was in 1975, when Poulain commissioned American artist and friend Alexander Calder to paint the first BMW Art Car.
It was in 1975, when Poulain commissioned American artist and friend Alexander Calder to paint the first BMW Art Car. This first example would be a BMW 3.0 CSL which Poulain himself would race in the 1975 Le Mans endurance race. Since Calder's work of art, many other renowned artists throughout the world have created BMW Art Cars, including David Hockney, Jenny Holzer, Roy Lichtenstein, Robert Rauschenberg, Frank Stella, and Andy Warhol. To date, a total of 17 BMW Art Cars, based on both racing and regular production vehicles, have been created.
The six cars in EMMA's exhibition will come straight from the London Olympics.
Alexander Calder, 1975
The first BMW Art Car dates from 1975 when artist Alexander Calder transformed the appearance of the BMW 3.0 CSL. Calder's BMW Art Car took part in the 1975 legendary 24-hour race at Le Mans.
Frank Stella, 1976
New York artist Frank Stella is known not only for the versatility of his media expressions, but also as a passionate motor racing fan. Stella's BMW Coupé took part in the 1976 Le Mans race.
Andy Warhol, 1979
Andy Warhol's name is almost synonymous with Pop Art, so for him to view a car as a moving work of art is anything but untypical. Warhol's BMW Art Car ran in the 1979 Le Mans race.
Ken Done, 1989
Artist Ken Done's powerful colours and distinctive brushwork reflect the landscapes and coastlines, flora and gardens of his native Australia. After becoming acquainted with the spectacular BMW Art Car Collection created by his illustrious predecessors, Done felt drawn to the challenge and honour of also changing the appearance of a BMW racing car.
Michael Jagamara Nelson, 1989
Artist Michael Jagamara Nelson hails from the Warlpiri people of Australia and was brought up in the strict traditions of their culture. His grandfather taught him the art of painting in the style of the Papunya community. The BMV given to Nelson to design was a black M3 racing model.
Sandro Chia, 1992
Artist Sandra Chia was born in Florence in 1946. As a child he daubed cars with graffiti, but in time his attitude changed: "Cars are highly desired objects in society," Chia observes, "All eyes are glued to them. Everybody's hooked on them. It's this way of looking at cars that I wish to reproduce when painting them. Much like a mirror which reflects those who look at it."
The exhibition is being organised in conjunction with BMW Finland. BMW is the main partner of World Design Capital Helsinki 2012.
BMW Museum Art Car Tour