Espoo Museum of Modern Art
Visiting with kids
Bring your kids to the museum and experience the wonder of discovery together. Art unites people of all ages, and EMMA makes a great destination for a day out with the whole family. Read on for ideas and tips to make the most of your family visit.
Children are our special VIP guests, and EMMA welcomes families of every description. We offer various family-friendly services and free admission for under 18s. Admission is also free for adults every Friday after 3 pm.
Every year the WeeGee Exhibition Centre hosts special events for families, including the children's museum festival and Espoo Day. Read more about our special events here.
Tour the museum independently
EMMA's exhibitions are suitable for visitors of all ages, but please ensure that your child is accompanied at all times. Art often raises difficult questions, and not every question has a simple answer. You and your child can discuss and reflect on these questions together. Children respond to art very intuitively – they are art professionals by instinct. EMMA's exhibitions include pit-stops where kids and grown-ups can pause, get creative and experiment together. Ask our personnel for details when you arrive at the museum.
EMMA's tips – There are plenty of fun things for kids and their adult companions to do and experience at EMMA's exhibitions
Choose an artwork and create a sound for it!  
Too tired to take another step? Choose a new walking style to get from each exhibit to the next.
Feel like having a rest? Lie down on the floor and count the ceiling beams – how many are there?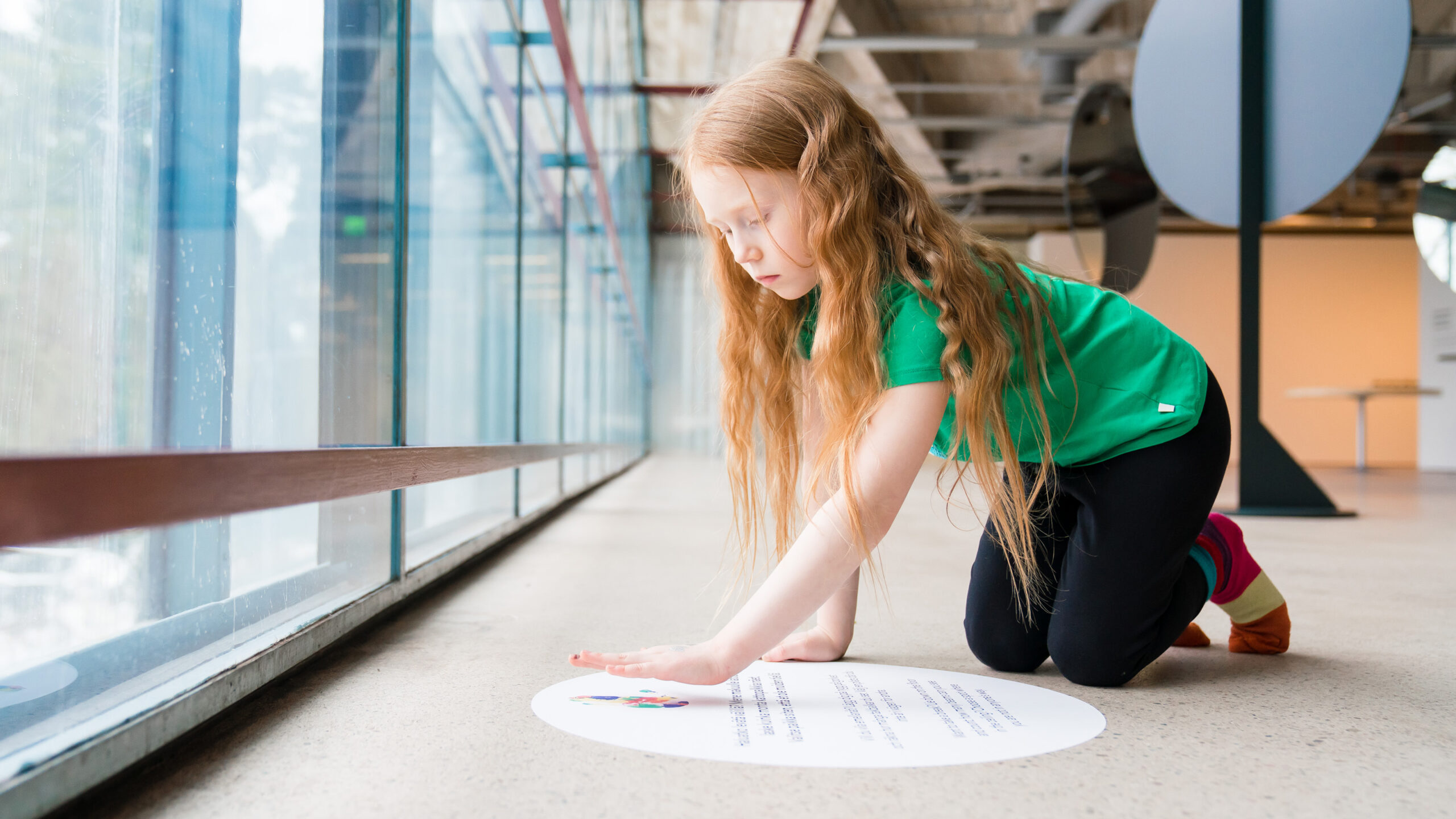 If you look down at the floor, you'll find tips for fun things to do. Just look for the colourful handprints inspired by Emma Leaves a Trace, Kim Simonsson's sculpture at Tapiola metro station. The activities are suitable for visitors of all ages and you don't any need any extra gear. The tasks are designed to be done with a companion, but you can also do them on your own. Come and try out a different kind of museum experience!
Info for families
Why can't I touch the exhibits?
One of our key tasks as a museum is to take good care of the artworks for future generations to enjoy. Please help us keep our exhibits in good condition! Kindly refrain from touching them, as the surfaces are very delicate. Hands and fingers leave traces of dirt and grease, and not all works are suitable for chemical cleaning – repeated hand contact can permanently damage irreplaceable works of art. Please tell your child that touching the art is like leaving smears on a mirror: it leaves a mark, even if it's not immediately visible.
There are separate signs indicating which works can be touched.
We want our museum to be a safe environment for everyone to enjoy. Kindly supervise your child and take others into consideration as you move through the gallery. Please keep a safe distance from the artworks. An arm's length is a suitable viewing distance.
Feel free to talk, laugh or even cry together! We want EMMA to be a place for everyone to enjoy. There are quiet areas for visitors who need a moment of solitude.
Can I take photos?
Unless indicated otherwise, you are welcome to photograph yourself and the artworks on your visit to the museum, but please do not use a flash or tripod. If you post your photographs and videos on social media, please tag them: @emmamuseum and #emmamuseum.
Good to know
All WeeGee museums are accessible with prams and strollers. There is a lift on the ground floor next to Café WeeGee. Strollers are available for loan in WeeGee's downstairs lobby. Baby changing stations are found in the toilets at basement level (K).
You are welcome to enjoy your own snacks in the basement-level facilities, but not in the entrance area or bistro. To protect the artworks, food and drinks are not permitted in the galleries. There are plenty of seats and quiet areas suitable for breastfeeding. There is a microwave in the bistro where customers can heat baby food.
Please wear nothing bulkier than a light jacket during your visit. Kindly leave winter coats and wet clothing in the cloakrooms. There are free lockers in the basement where you can stow backpacks and large bags. Please protect our art: do not wear a backpack in the gallery. You can take a small bag or backpack, but please carry it in your hand.