Espoo Museum of Modern Art
Museum
EMMA is an art museum that believes in the power of art to inspire and evoke a unique visual and spatial experience. We strive to foster creativity and boundary-pushing in art and design. We are bold ground-breakers and we invite open exchange with our audiences.
EMMA presents a varied calendar of exhibitions showcasing contemporary and modern art, design and experimental pieces. We offer an immersive experience that excites all the senses and caters to all types of visitors. EMMA is part of the WeeGee Exhibition Centre. Your museum ticket also includes admission to the Futuro House and the KAMU – Espoo City Museum. Cafe Zoceria WeeGee and the EMMA Shop are also at your service.
Founded in 2002, EMMA Art Museum Foundation Board of Directors answers for EMMA's operations. It is chaired by Saija Äikäs.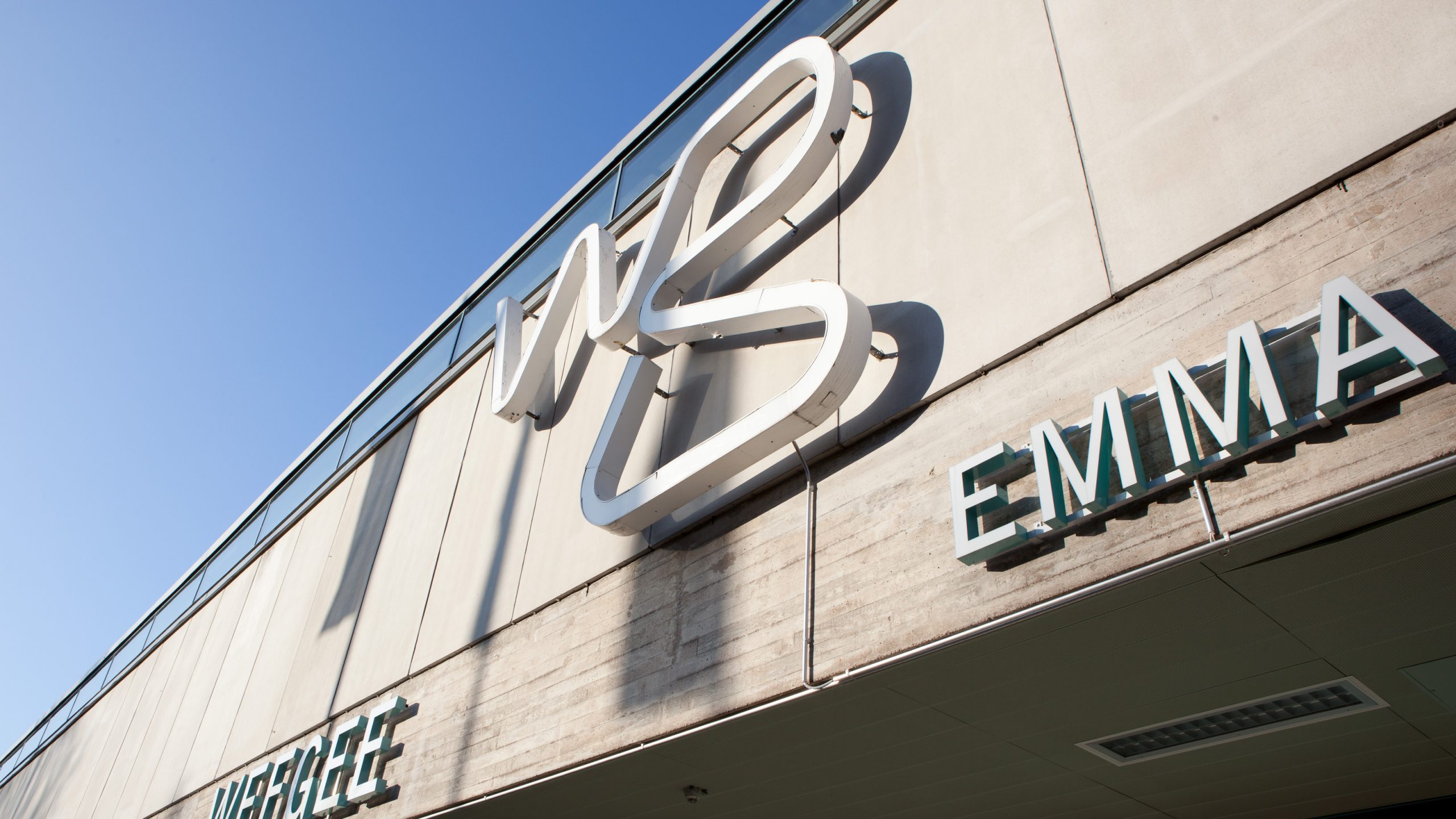 Unique setting
EMMA is Finland's largest art museum, with gallery space covering a total area of 6000 m2. The museum is located in the Espoo district of Tapiola in the former Weilin & Göös printing house designed by Professor Aarno Ruusuvuori (1925–1992). The building is a classic sample of 1960s concrete brutalism and an iconic local landmark. Famous for its sweeping lawns and pine woods, Tapiola is the quintessential Finnish Garden City of the 1960s.
The panoramic, north-facing windows connect the interiors with the woodlands of Tapiola. There are no obstructing walls in EMMA's expansive exhibition space, as the ceiling is suspended from eight massive columns. This unusual architectural solution creates an expansive open area that was originally designed to accommodate massive printing presses. Today the vast interior forms a core part of the museum's identity and is an enduring source of inspiration for both our artists and visitors.
The power of art
EMMA believes in art's power to change. We put people first in designing a varied, high-quality programme of exhibitions and events that invite dialogue between contemporary art, design and modernism. EMMA hosts 8-10 exhibitions annually, accompanied by an extensive and varied line-up of other events.
EMMA collaborates closely with two leading Finnish art foundations, the Saastamoinen Foundation and the Tapio Wirkkala Rut Bryk Foundation. We offer unique, previously unseen content by presenting our collections from surprising new angles. A curated pick of alternating works from the Saastamoinen Foundation is on permanent display at the museum, featuring the latest relevant names in Finnish and international contemporary art. The Tapio Wirkkala Rut Bryk Foundation Collection is on display in a special gallery called Visible Storage, where audiences are welcome to independently explore and discover classics of modern design. We also brighten up the urban space of Espoo by presenting our growing collection at metro stations, schools, hospitals and other public venues around the city.
Read EMMA's Strategy.
What we do at EMMA
EMMA is recognized on the museum scene for its proactive, committed and innovative organizational culture and a leadership style fostering personal development. We work hard at EMMA and we have fun doing it! Read on to learn more about the initiatives in which we are active.
EMMA's events and services are designed to enrich and deepen our visitors' museum experience. We host a variety of events, encounters and discussions to promote exchange and interaction around the world of art.
Our team strives to constantly improve the accessibility of our museum and to offer our audiences a rich, engaging experience. Artists play a visible role at our museum, as we believe that meeting the person behind the work brings it art life and adds personal relevance. EMMA takes part in public dialogue by sharing relevant, thought-provoking works of art with the public. We want our museum to make a vibrant contribution to Espoo's urban culture and offer an interactive learning environment for people of all ages.
EMMA showcases topical contemporary issues by displaying curated picks of international art and design in a unique architectural setting. We believe in the power of art and the ability of artists to uncover new perspectives on the world around us. We also conduct research and offer fresh contemporary readings of classic works of art and design.
Our exhibitions strike up a dialogue between modern and contemporary art and design. We strive to offer meaningful content to a wide variety of audiences and provide opportunities and inspiration for the creation of new art and design. The striking concrete architecture of the WeeGee Exhibition Centre and its expansive exhibition spaces enable us to present an ambitious array of exhibitions and offer our guests a unique spatial experience.
EMMA's collections cover a broad spectrum of Finnish and international contemporary art, modernism and design. We actively present works from our collections, which can be viewed in our own curated exhibitions, as public works around the city of Espoo, and in exhibitions around the world.
EMMA's collections are presented extensively in our museum. They also play a visible role in the everyday lives of Espoo residents at schools, municipal offices and other public venues around the city. EMMA's growing collection of unique artworks is preserved in excellent condition for future audiences to enjoy. Our archives include rare gems that we present to the public through exhibitions, research and digital platforms. EMMA is actively involved in commissioning new works of contemporary art. We have a large team of professionals committed to high standards of excellence in preserving and presenting our collections to the public.
A visit to the EMMA Shop is the great way to round off an inspiring visit to the WeeGee Exhibition Centre. Our specialty gift shop in open onsite during museum hours and our web shop is open 24/7 for online shopping.
The EMMA Shop offers a great range of gift items, souvenirs and a wide selection of products for lovers of art and design of all ages. The offering includes items related to our exhibitions, and we also produce our own line of bold, unusual EMMA souvenirs. We love to experiment and break new ground: we aim to be Finland's boldest museum shop. The EMMA Shop sells a variety of gift items and souvenirs representing the WeeGee museums and collections, plus art literature, one-of-a-kind jewellery, and special gift items for people of all ages, including kids. The EMMA Shop offers special discounts for EMMA Club members and Museum Card holders.
Our marketing communications team handles all EMMA communications, including digital and social media, advertising, event marketing, graphic design and the museum shop.
We sharpen the EMMA brand and offer a memorable museum experience for all types of visitors. We share news through multiple channels, proactively engage in public exchange, and maintain a visible online presence. We are committed to constantly improving our customer relationships, and we value your feedback. We are keen to win over new friends of art and design both in Finland and around the world. Please contact us directly in all marketing-related matters. We also welcome your proposals for collaboration.
EMMA's technical team comprises a team of expert technicians from a variety of specialized fields. We collaborate closely on exhibition projects, the management of the collection, and in projects offering our audiences the best possible encounters with art.
Our technicians work together with our artists and curators in planning and executing our exhibitions in order to bring their visions to life. We employ creative solutions for displaying art and provide support and consultation to artists related to the optimized display of their work. We are also responsible for the upkeep of the collections, including storage and transportation. We make a consistent effort to improve the accessibility of our exhibitions and other public exhibits.
Our conservation team maintains and preserves our collections for the benefit of present and future audiences. We aim to ensure that our art is preserved in the form originally intended by the artist.
We conserve artworks and other items in EMMA's collections and exhibitions and provide consultation on how they should be displayed. We take special precautions to prevent damage during handling, display and storage. We carry out repairs, cleaning and structural reinforcement. Where needed, we also restore damaged works to their original condition.
Activity reports in Finnish