Espoo Museum of Modern Art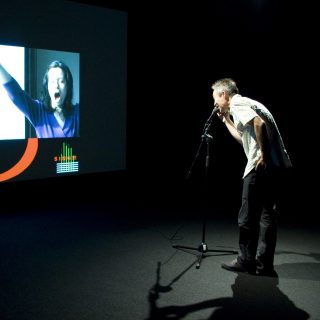 18.06.2010 - 29.08.2010
Expo Ciné
The cinematic form is undergoing a huge transformation due to digitalisation. What, therefore, are the kinds of new roles that can be offered to today's viewers of the big screen? The Espoo Ciné International Film Festival has brought together some ideas in the form of a 3-room exhibition in EMMA, the Espoo Museum of Contemporary Art. The rooms have been given names that represent three different attitudes of viewer-visitors towards the works presented: "Make", "Partake" and "Break".
The first room "Make" is a mini exhibition showing the use of an open source community in the production of the film Iron Sky by Timo Vuorensola. Iron Sky is an international feature film that is currently in its production phase and its community of viewers has already been very active for a year. The film has a story, but the production is a tale of its own, and these two are related.
The second room, "Partake", brings Noosphere, an aesthetic philosophical conceptual art piece by Sam Inkinen, in contact with two interactive participatory multimedia pieces Almost Famous and Mobile Phone Flowers by Tomi Knuutila. How is the identity of the viewer transforming as a result of the dialogue between a piece of work and spectator?
The third room "Break" highlights the desire and attraction of a spectator to find and play with limits. The two pieces presented in the room are Crescendo by Chris Hales and Interpolation by Teijo Pellinen.
Digitalisation is a major technological change that cuts through all layers of communication and media. Industries based around moving images and games are gaining new possibilities every day. Expo Ciné focusses on the role of the spectator in this change and gives a hint of the possibilities existing today for new kinds of spectatorship