Espoo Museum of Modern Art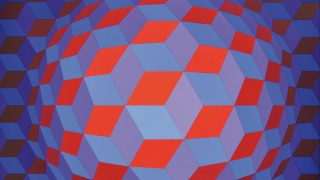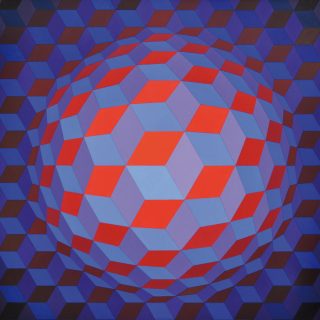 08.10.2014 - 11.01.2015
Victor Vasarely: Optical Paintings
Victor Vasarely (1906, Pécs, Hungary–1997, Paris) was a pioneer of optical art, a skilled exponent of abstract composition who constructed his paintings out of geometric patterns, juxtapositions of bright colours, networks and arrays of lines. He combined these elements to create some of the key works of Op Art and Kinetic Art, which deceive the viewer's eye and play with illusions of space and movement.
As an artist who applied the natural sciences, especially mathematics, to the making of pictures, and who emphasized the reproducibility and accessibility of visual art, Vasarely opened up avenues for a new type of artist, the artist-engineer, and for audience participation. Nowadays, kineticism can be seen in computer-controlled artworks, holograms, computer graphics and digital images. Commercial applications of Op Art live on in our everyday lives, in fashion and interior design.
The Master of Illusions – Kineticism and Op Art
The paintings in the exhibition are from 1948–1979. This body of works presents an artist who helped create both the Kinetic Art that emerged in the 1950s and the equally pivotal 1960s movement, Optical Art. Vasarely's kineticism sought to trick the viewer's eye: the geometric shapes, with their impression of depth, "moved" on the two-dimensional surface. In the 1960s and 70s, Vasarely's composition was based on the plastic alphabet that he had created, a system that he applied to the creation of a never-ending series of different combinations of colour and form with which to confuse the retina.
This touring exhibition has been put together in collaboration with the Musée d'Ixelles (Brussels) and Museum Haus Konstruktiv (Zürich). The curator is Serge Lemoine, an expert on constructivism and Professor Emeritus at the University of Paris-Sorbonne. At his invitation the exhibition also includes works by Matti Kujasalo, who carries on the heritage of Vasarely's kineticism. Vasarely's works are on loan from museums, galleries and private collections in Belgium, France, Germany, Switzerland, Austria, Hungary and Denmark. There is a catalogue to accompany the touring exhibition (French/English), with texts by Serge Lemoine and Domitille d'Orgeval, and artist interviews with Julio le Parc, Vera Molnar and Francois Morellet.
Exhibition organised with The Museum of Ixelles – Brussels (Belgium) and the Museum Haus Konstruktiv of Zurich (Switzerland).