Espoo Museum of Modern Art
Event
Metamorphosis – Part II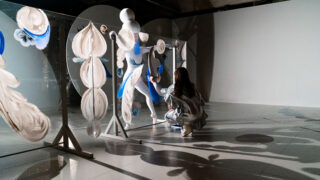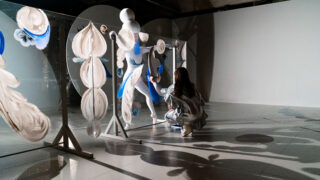 Metamorphosis – Part II is a slowly changing painterly event that appears different depending on the viewing angle. With their human features removed, the characters are transformed by the paint and movement into new kinds of creatures. The layering of the work gives rise to endless combinations and possibilities for the viewing experience.  
The performance is part of an interdisciplinary exhibition created for EMMA's space by artist Hannaleena Heiska and dancer-choreographer Minna Tervamäki.
Performers: Hannaleena Heiska, Minna Tervamäki, Anni Jokimies & Elena Vedenkantaja
Choreography:  Minna Tervamäki & Hannaleena Heiska  
Duration: c. 35min 
The performance contains strong scenes and sudden changes of lights and sounds. We recommend the performance for over 10-year-olds.
Taking photos during the performance is prohibited.
The performance is fully booked. You can sign up for the waiting list here.
You may also ask about available last-minute seats from EMMAs staff 15 minutes before the start of the performance.  
Included in the price of admission (20/10 €, free entry for ages under 18 and over 70).

Related
More events