Espoo Museum of Modern Art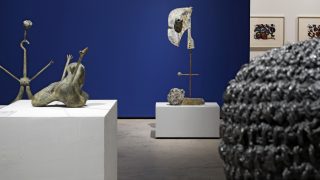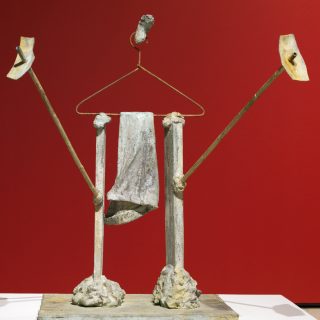 04.03.2011 - 12.06.2011
Joan Miró and Finnish Fantasy
The exhibition of the work of the Catalonian artist Joan Miro (1893-1983) concentrates on his sculptures but will also feature paintings, drawings and prints linked to the form language of the sculptures.
Alongside his fellow countryman Picasso, Joan Miró was one of the most brilliant and productive artists of the 20th century. His talents were many; he was a painter, sculptor, ceramic and textile artist who switched easily from one medium to another throughout his career. Miró's blue, red, yellow, green and black palette have become famous through his paintings, lithographs, etchings and sculptures. Animals, plants, insects, male and female genitals, stars and comets are recurring themes in his work.
At the end of the 1920s Miró expanded the boundaries of his painting in a three-dimensional direction through compilations and collages. From the 1940s in his sculptures Miró concentrated on individual bronze and other sculptural pieces directly inspired by his surrealist paintings. The 1960s saw the birth of large outdoor sculptures and monumental public works which expressed Miro´s axiom "art is of and for people".
As an artist Miró is an imaginative individualist, a descriptive poet. In surrealist style his work drew its inspiration from the world of dreams and the imagination although he refused to see himself as the representative of any specific art movement.
Miró and Finnish fantasy
Miró's image world is inexhaustible. In the manner of all true artists he has acted as an inspiration and a trailblazer for both his contemporaries and later generations. The Miró and Finnish fantasy exhibition presents Miró's art from the point of view of seven Finnish artists. Ole Kandelin, Ernst Mether-Borgström, Rolf Sandqvist, Max Salmi, Kauko Lehtinen, Antti Vuori and Kari Huhtamo have each created their own personal image world but at the same time their art reflects an affinity with Miró's fascinating and imaginative art.