Espoo Museum of Modern Art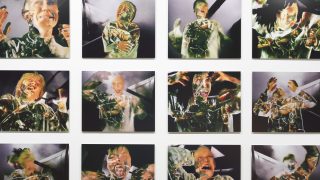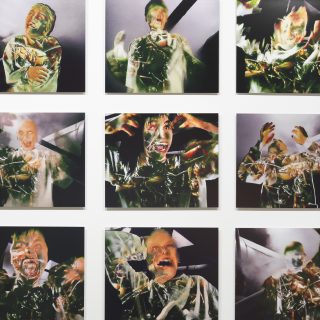 05.04.2011 - 28.08.2011
Piipää Remix
The video work PIIPÄÄ REMIX is based on the audiovisual performance PIIPÄÄ. The performance was originally premiered at the Old University House, Helsinki, Finland at May 29th 1987. The new PIIPÄÄ REMIX version is based entirely on the video and audio recordings from a year 1987.
The original PIIPÄÄ performance was directed and produced by Marikki Hakola. Music was composed by Kaija Saariaho and Jean-Baptiste Barriére. Text and lyrics was by Jouni Tommola. Choreography and dance was by Sanna Kekäläinen, Kirsi Monni, Ari Tenhula and Tiina Helisten. Vocal parts of music was performed by Riikka Hakola and Juha Haanperä. In a role of Gyrus performed Tomi Salmela. A large group of visual, light, sound and audiovisual artists, designers and technicians took part in realizing the performance.
The PIIPÄÄ REMIX contains three video works from years 1988-1990, all based on the original performance: Telephone (8'30''), Cricket (7') and Gyrus (14'30'') directed by Marikki Hakola. The PIIPÄÄ REMIX also contains lots of previously unreleased material recorded from the original performance, such as the four-song series Songs of Interpreters.
The video work PIIPÄÄ REMIX is directed and edited by media artist Marikki Hakola. The soundtrack remastering is by audio designer Epa Tamminen. The digital restoration of the pictorial material is made by Talvi Digital and Post Control.
The production has been supported by the ESEK/LUSES Audiovisual Section, the Arts Council of Finland, the Promotion Centre for Audiovisual Culture AVEK and the Espoo Museum of Modern Art EMMA. Production is by Marikki Hakola / Kroma Productions Ltd Finland 2011.
The Espoo Museum of Modern Art EMMA makes the art-historically significant PIIPÄÄ performance available for the audience, in its newly digitized and restored video form, twentyfour years after the original premiere.