Espoo Museum of Modern Art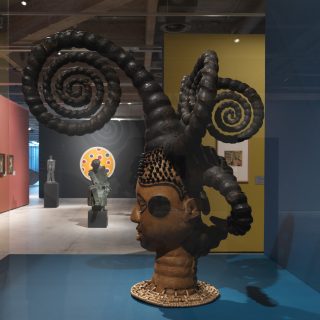 24.02.2010 - 06.06.2010
The Power of Africa: Three Perspectives
EMMA's spring exhibition The power of Africa focuses on Europe's culture debt to Africa from three different standpoints. The exhibition presents an impressive selection of traditional West African art alongside European modernist art. I.a. French and Czech Cubism, German Expressionism, Russian Cubo-Futurism and Finnish contemporary art are shown in an African light.
African art had a major impact on early 20th century Modernism. With the industrialisation and urbanisation of Europe western man was seen to be moving towards decline. Artists set out to seek a new beginning, a vitality and a nucleus of human existence beyond the confines of their homes, looking as far as Africa. Pablo Picasso included, not all artists actually travelled to Africa but the geometric and minimalist language of African art rubbed off on European art through ethnographic collections and art objects. Africa brought about a complete change in the colour world of the paintings of Akseli Gallen-Kallela, the best-known Finnish artist to visit Africa, It was only later, after the artist's death, that the glowing colours and somewhat simplified forms of his African paintings were accorded the recognition they deserved.
EMMA presents African works as part of an art culture. The exhibition wishes to demolish the mistaken idea of the superiority of European art and rationalism. Some African art works relate to rituals in the same way as the church frescoes of European art are a part of religion. Contrary to popular belief, the individuality and rich nuances of the artist can also be found in African art, Although it was not customary for African artists to sign their works the artists were respected masters in their society.
Stefan Bremer + 37 varjossa (Pipopää), Grand Popo, Benin, 2005
The third perspective traces the relationship between Finnish contemporary art and Africa. From experience gained from different cultures today's artists seek an understanding of other cultures – and people – as well as a new artistic content. Many Finnish artists such as Stefan Bremer, Alvar Gullichsen and Teemu Mäki have visited Villa Karo, the Finnish cultural institute in Benin, but often photographs have sufficed to influence them as they did their 20th century colleagues.
The exhibition's modernists:
Fernand Léger, Emil Filla, Otto Gutfreund, Antonin Procházka, Václav Špala, Josef Čapek, Karl Schmidt-Rottluff, Max Pechstein, Erich Heckel, Otto Mueller, Conrad Felixmüller Ernst Ludwig Kirchner, Natalia Gontšarova, Nadežda Udaltsova, Vladimir Baranov-Rossiné, Ljubov Popova, Kazimir Malevitš, O.V.Rozanova, Alexander Drevin, Pavel Filonov, Vladimir Tatlin, André Lhote, Pablo Picasso, Paul Klee, Auguste Herbin, Marie Laurencin, Wäinö Aaltonen, Hugo Backmansson, Birger Carlstedt, Alvar Cawén, Akseli Gallen-Kallela, Greta Hällfors-Sipilä and Uuno Alanko.
The exhibition's Finnish contemporary artists:
Martti Aiha, Stefan Bremer, Alvar Gullichsen, Timo Kelaranta, Pertti Kukkonen, Tapani Mikkonen, Marika Mäkelä, Teemu Mäki, Tiina-Elina Nurminen, Lauri Nykopp, Kimmo Pyykkö, Ulla Rantanen, Tuomo-Juhani Vuorenmaa and Ilkka Väätti.
The international works in the exhibition come from France, Germany, the Czech Republic, Russia, Holland and Sweden. African sculptural art has been loaned by i.a. Musée du Quai Branly,Paris. The State Russian Museum, St. Petersburg, Die Brucke museum and Nationalgalerie, Berlin and Dansmuseet and Etnografiska museet, Stockholm.
Stefan Bremer + 37 varjossa (Pipopää), Grand Popo, Benin, 2005