Espoo Museum of Modern Art
Form presents Tapio Wirkkala's unique design philosophy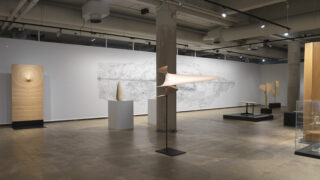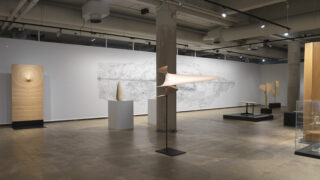 EMMA is proud to present Form, an exhibition taking an in-depth look at the sculptures and sculptural design idiom of the leading light of Finnish modernism, Tapio Wirkkala. The show features Wirkkala's rarely seen, large-scale plywood sculptures in dialogue with his design pieces and functional objects. The exhibition has been curated by Tapio Wirkkala's old friend and longstanding colleague, architect Juhani Pallasmaa.
Form examines Tapio Wirkkala's sculptures and his sculptural design idiom through nine themes. It presents a selection of his sculptures alongside other design objects in which the same forms are recurring. The themes selected by architect Juhani Pallasmaa open up varied perspectives on the distinctive vocabulary of form that is synonymous with Wirkkala. 
"Tapio was an artist and designer of exceptional breadth. I knew immediately that I wanted to highlight the dialogue between aesthetic and functional thinking that defined his work as a designer," describes the curator and Wirkkala's close friend Juhani Pallasmaa. 
Tapio Wirkkala (1915–1985) was a visionary who worked across the boundaries of art and design. On scales ranging from intimate to vast, his innovative repertoire embraced many materials in genres from graphic and industrial design to exhibition architecture, sculpture, buildings and – at its most monumental – environmental art. He was among the first Finnish artists to experiment with fully abstract sculpture. 
"Working with my hands is almost a therapeutic experience for me. When I sculpt and model nature's materials, they inspire and entice me to experiment. In the world of sculpture, even when you close your eyes – the eyes in your fingertips can sense the unbroken flow of form." – Tapio Wirkkala, 1980. 
Co-produced with the Tapio Wirkkala Rut Bryk Foundation, the exhibition is on display in the temporary exhibitions gallery next to EMMA's Bryk & Wirkkala Visible Storage exhibit from 5 October 22 to 6 October 24.
Read more