Espoo Museum of Modern Art
Touch exhibition's new section, Listening to Silence, calls for a meditative reflection beside art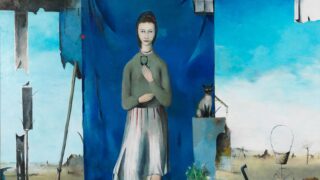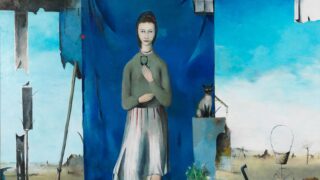 The Touch exhibition, which presents highlights from the Saastamoinen Foundation Art Collection, is welcoming a large new thematic section called Listening to Silence. The display bears the name of Juhani Linnovaara's (s. 1934) Listening to Silence painting, which has been the starting point for the curation process. Works by 20 artists exploring the inner world of humans – past events, traumas and ways of processing them, along with the joy of playing, have been gathered alongside the painting.
"Linnovaara's piece depicts a still moment. The character of the painting has sunk into their own inner world, yet the surrounding things have great significance. We wanted to include pieces thematically connected to this painting in the section," says one of the exhibition's curators and EMMA's Chief Curator Henna Paunu.  
The section combines Finnish and international art from different eras, all the way from modernism to the present day. The display features a diverse collection of photographs, paintings, sculptures, graphic arts and media pieces. The works form an interactive and thematic entity, which explores the essence of being human and the different meanings of silence.  
The section presents works by artists Erika Adamsson, Alexander Calder, Kristjan Gudmundsson, Karoliina Hellberg, Heli Hiltunen, Eetu Huhtala, Frida Hultcrantz, Ben Kaila, Jannis Kounellis, John Kørner, Antti Laitinen, Pirkko Lepistö, Juhani Linnovaara, Olli Lyytikäinen, J.O. Mallander, Marjatta Nuoreva, Hanna Saarikoski, Diane Simpson, Suvi Sysi and Eulàlla Valldosera. During 2022, the Touch exhibition's media space will feature a series of three media pieces as part of the now opening entity: Erkan Özgen's Wonderland, Jeannette Ehlers' Black Bullets and Maija Blåfield's The Fantastic.  
The Touch exhibition is one of EMMA's permanent exhibitions and a highly exceptional collection exhibition, as it is renewed regularly through new works and sections. The exhibition has been curated through a core theme of humanity, with different parts of the exhibition addressing the relationship between humans and the surrounding reality from varying thematic starting points. Listening to Silence has been curated by a four-person work group consisting of EMMA's experts: curators Laura Kokkonen, Tuomas Laulainen and Pernilla Wiik and Chief Curator Henna Paunu. 
Read more