Espoo Museum of Modern Art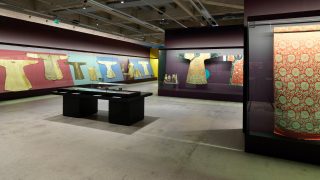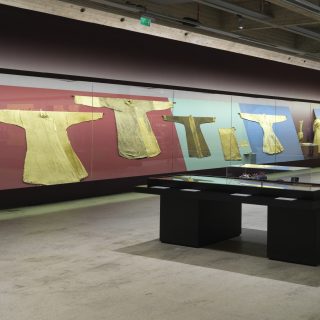 29.09.2010 - 09.01.2011
100% Silk: Story of Chinese Silk
The exhibition transports the spectator to the birthplace of silk - China, the magical, thousands of years-old world of silk. It presents the history of silk, woven and embroidered fabrics, dresses, garments, accessories and wall tapestries, the oldest of which are almost 5 000 years old and the newest from today.
100% Silk also tells of the birth of silk, how the silkworm feeds on the leaves of the mulberry tree and spins its cocoon from strands of silk. Silk is an inspired combination of art and technology and the exhibition shows weaving techniques from the earliest waist looms to complex power looms.
The exhibition is the latest in EMMA's series of exhibitions of Chinese culture. The previous exhibition was Tea! Tea, art and ceramics. The roughly 100 exhibits come from the world's largest silk museum, the Chinese National Silk Museum in Hangzou.
5 000 years of Chinese silk
The shimmer of silk has not dimmed in over five thousand years. What for many years was a carefully guarded secret and the prerogative of rulers has today become a luxury available to everyone. Silk has, nevertheless, continued to retain its fascination and mystery. It is a natural miracle: the silkworm's gift to man.
Silk is an intrinsic part of Chinese history. Initially its birth was shrouded in mystery and the silkworm was considered sacred, a link between heaven and earth. Gradually, however, the significance of silk became more material and it became a means of livelihood, a luxury product and an export, a diplomatic and political instrument. Silk has, however, remained a fundamental part of Chinese culture. It has become interwoven with art, language and literature as well as with court culture, dress and interior decoration. In China silk production remained a closely guarded state secret and was one of its most important exports. It was not until the year 500 that silk cultivation spread elsewhere.
According to the ancient Chinese book Huainzi, the silkworm is the forerunner of the dragon, the source of all goodness and it has always gone hand-in-hand with the dragon concept. The amazing little silkworm and the giant dragon have both been the symbols of goodness and beauty. Silk is amazing in countless ways, carrying within itself the cultural significance and historic values of ancient China.
Organizers
EMMA—Espoo Museum of Modern Art
China National Silk Museum, Hangzhou, P.R.China
Zhejiang Provincial Department of Culture, Hangzhou, P.R.China