Espoo Museum of Modern Art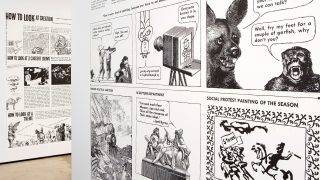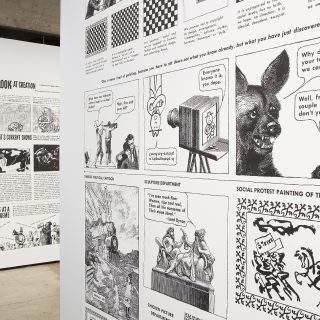 10.02.2016 - 17.04.2016
Ad Reinhardt: Art Vs. History
EMMA opens it's 10 years anniversary with two main exhibitions of the spring on the 10th of February 2016. Another of these exhibitions is Ad Reinhardt's Art vs. History.
Held in collaboration with Malmö Konsthall (Sweden), the exhibition Ad Reinhardt Art vs. History is the second and largest presentation in Europe of a still largely unexamined aspect of Ad Reinhardt´s (1913 -1967) visual practice. Although the American artist, writer and teacher is predominantly known for his abstract "black" canvases, the exhibition focuses on over three hundred political cartoons, satirical art comics and collages selected from the archives of the Estate of Ad Reinhardt, New York. These works on paper are accompanied by a slide show of digitised colour photographs by the artist, as well as a number of his travel journals, sketches and pamphlets.
Reinhardt developed an interest in cartooning from a young age, a preoccupation that became a longstanding association. He worked professionally as a graphic designer and commercial illustrator and held a pivotal role in introducing to these fields styles and techniques drawn from early modernist art movements, such as Dada, Cubism and Constructivism. He maintained these roles as distinct endeavors from that of a fine artist: he understood fine art as completely dissociated from life and socio-political issues, while cartooning was able to comment upon the everyday. These activities were accompanied by a fierce commitment to politics – in particular pro-labor rights and anti-war campaigns – that remained vital to his identity as an artist and a citizen.
Throughout the 1930s and 1940s, his incisive cartoons appeared in a wide range of American publications, notably the daily newspaper PM, the Marxist periodical New Masses and other magazines as diverse as Glamour, Listen, and the Ice Cream Field. Inspired by the work of Pablo Picasso and Max Ernst, some of the cartoons collaged hand-drawings with images cut from second-hand books. Reinhardt adapted this technique from his fine art collages, which he realised by using thinly sliced press photographs severed from daily newspapers and magazines. A number of these are featured in the exhibition.
Having first studied and later teaching art history most of his life, Reinhardt stated in 1958: "I don´t believe in originality, I believe in art history." Such declaration is validated by his celebrated and widely reproduced series, the art comics How to Look. The popular series appeared in the Sunday edition of PM newspaper between 1946 and 1947 and served as a platform upon which Reinhardt could adamantly defend the development and understanding of abstract art in America. After this time Reinhardt stopped making illustrations and only occasionally published additional art comics in the art periodicals ARTnews, trans/formation, Art d´aujourd´hui, among others.
In 1952, Reinhardt began travelling widely throughout the world. On various trips to Europe, the Middle East, Japan and Southeast Asia he took over 12,000 colour photographs that were presented in his legendary ´Non-Happenings´. These were lengthy slide lectures that responded critically to the university tradition of teaching art history through educational slides as well as to the emergence of performative "Happenings" in the New York art scene. Reinhardt´s marathon-like presentations remixed geographies and periods in unlikely, unexpected sequences, shifting from art history lecture to a humorous parody of his travels. Drawn from distant cultures, images playfully disclosed analogous visual patterns, such as the buttocks of statues erotically rhyming with the features of an urban fire hydrant. Their formal compositions demanded viewers prolonged attention, similar to how his paintings and writings encouraged an active awareness when looking at and experiencing them.
As an abstract painter Reinhardt was instrumental in the development of the Abstract Expressionist movement throughout the 1940s and his signature monochromes of the 1950s and 1960s greatly influenced emerging minimal and conceptual practices in America and in Europe. Reinhardt´s fine art practice is highlighted in fourteen rarely seen fine art collages and three abstract paintings from the 1940s and early 1950s, as well as the complete set of 10 Silkscreens (1966), the only portfolio of prints he ever completed.
Art vs. History was originally presented at Malmö Konsthall between 12 June and 6 September 2015, and curated by Diana Baldon.