Espoo Museum of Modern Art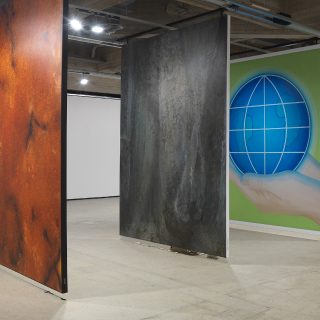 14.10.2015 - 05.12.2015
Alma Heikkilä
In autumn 2015, EMMA Areena will host the third and last exhibition in the series N=000˚, organised in cooperation with the Kari Huhtamo Art Foundation that supports artists from the North.
Artist Alma Heikkilä (b. 1984) lives and works in Hyrynsalmi and Helsinki. She graduated from the Finnish Academy of Fine Arts in 2009. In her work, Heikkilä challenges our view of the material world, other species as well as science and prevailing ideas about the world and humanity.
The audience in EMMA Areena will be part of Heikkilä's work, moving inside or around the piece without ever attaining a simultaneous view of the whole. The hanging of the work requires viewers to observe large surfaces close up, which allows it to address phenomena which are by their size, speed or distance incommensurate with human perception or understanding, such as the biosphere, climate change, or world order based on oil. The title of the exhibition is a reference to Timothy Morton's book Hyperobjects: Philosophy and Ecology after the End of the World.
"Making is always collaboration, being is always togetherness. In addition to its content, the work also alludes to this in its title, Alma Heikkilä, cohesion, hydrocarbons, aspen, search engine, language and the others: Things that are massively distributed in time and space (relative to humans).Living in an illusion of autonomy, we fail to perceive the non-human elements that support our existence. Material objects can be difficult to recognise, because they are beyond our capacity for experiencing time and space. Observing and accepting the deep, elusive reality of objects allows us to rectify our distorted view of the material world that underlies our everyday life.
The use of water, solids, fats and oils creates surfaces and traces that steer the formation of organisms, plants as well as the structure and essence of this painting series. Pigments settle on a surface following the properties of water by slowly drying. Darkness, forest, soil, rhizomes and signalling between plants all work together hidden from view, constantly combining with our growing knowledge of the significance of processes and mechanisms that are invisible to the human eye."
– Alma Heikkilä
In Cooperation with the Kari Huhtamo Art Foundation.
Related content