Espoo Museum of Modern Art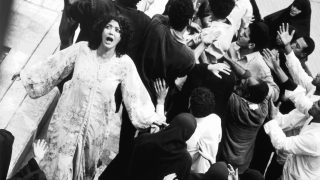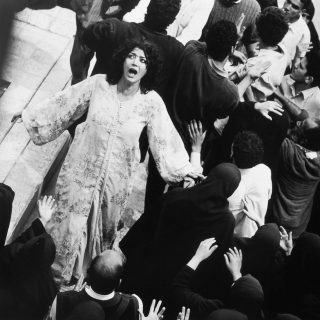 25.08.2017 - 14.01.2018
Audience Curated Media Art
The fall season of Huone features three media art works from the Saastamoinen Foundation Art Collection that have been voted in by the public. The artworks are Hannaleena Heiska: Ridestar, Santeri Tuori: Metsä (vehmas 1) and Shirin Neshat: Possessed.
Hannaleena Heiska, Ridestar, 2010, duration 00:03:12.
The main character in the work by Hannaleena Heiska (b.1973) is a horse. Music and moving image form together a painterly and emotionally charged portrait of the horse. The theme of the work is unrequited love, big emotions and escapism. The music is the aria "Ah! Non mi ridestar!" from Jules Massenet's opera Werther.
Hannaleena Heiska is a visual artist who works in painting, drawing, video and installations. She is interested in questions about humanity, existence and reality. She is also inspired by the unknown: the levels of our consciousness, of which we are not necessarily aware. Heiska mixes reality and fantasy in her works. Animals and themes related to them are close to her heart.
The essential elements in Heiska's paintings are movement, internal tension and dynamism. She began working with video alongside painting early on, when still a student at the Academy of Fine Arts. The objective of her videos is the same as with her paintings: the close ups of the subject's surface are like brush strokes.
Hannaleena Heiska has participated in several exhibitions in Finland and abroad and her videos have featured in European media art and film festivals. She has collaborated with EMMA in, for example, the performance Trace, which incorporated dance, performance art and visual art.
Santeri Tuori, Forest (vehmas 1), 2009, duration 00:06:54.
Santeri Tuori (b. 1970) has used the means of contemporary art to create a "landscape painting", which turns out to be a multi-sensory description of a forest. Hearing, vision and physicality are all part of the viewer's experience, as they hear, see and feel the forest. The work possesses an enchanting, meditative and almost hypnotic power. The sense of presence and physical experience are heightened in the viewing situation.
Santeri Tuori is an acclaimed Finnish photographic and video artist focusing on the genres of portraiture and landscape art using the methods of contemporary art. While his reference points are in the art historical tradition, he also questions these very starting points. He often combines and layers still and moving image.
Tuori selects his subject and photographs it several times from the same spot. Sometimes he merges the images with a picture editor but occasionally he projects video image onto still photographs. The outcome is subtle, highly aesthetic and sharp. Tuori's video works are multisensory and intense and the viewer perceives in them movement, change and the passage of time. Tuori uses his works to create spaces where the viewer is consciously present.
Santeri Tuori has participated in several exhibitions in Finland and abroad and his works are included in a number of public and private collections. EMMA held his solo exhibition in 2009.
Shirin Neshat, Possessed, 2001, duration 00:09:30.
Shirin Neshat's (b. 1957) work tells about a woman who walks through the streets of an Iranian city without wearing a chador to cover her head and body, which is compulsory by Iranian law. The work tells about the woman's personal plight, which in the crowd turns into a public, political chaos that buries the original emotion that was distinctly personal. Neshat discusses in her works questions related to individual freedom and social oppression.
Shirin Neshat is an Iranian-American artist who portrays the lives of women of Islam and their world behind the veil. In her works, the Western and Islamic worlds, femininity and masculinity, individualism and communality, the tradition and the modern, clash.
Neshat grew up in Iran but moved to Los Angeles in the 1970s to study. She returned to Iran only in 1990, after the Islamic republic had been established following the Iranian Revolution. The revolution and its repercussions on women's lives in Iran left an imprint in Neshat's art.
Neshat began her artistic career with black and white photography, moving to video works in the 1990s. During the same decade, she established her position in the international art circuit, and her works have featured in numerous international exhibitions and biennales, cementing her position as one of the most influential video artists of the 2000s.
Shirin Neshat's photographic and video exhibition was seen at EMMA in 2006 as the museum's opening exhibition.