Espoo Museum of Modern Art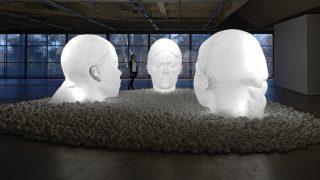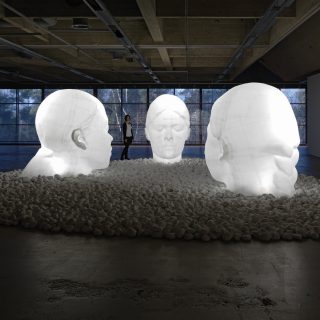 14.11.2012 - 27.01.2013
Jaume Plensa: In The Midst Of Dreams
In the darkest time of the year, the internationally acclaimed and awarded artist, who started his career in the 1980s, creates an exhibition in EMMA around the theme of light. The forty individual sculptures as a part of installations created in 2004–2012 will fill most of the room for changing exhibition.
Shaped like human figures, torsos and heads will engage in discussions and dialogues in the spacious room opening up to the surrounding landscape. Plensa's sculptures shape the immaterial. Through the human figure, the artist explores universal themes of life: love, despair, memory and language. In addition to light, other important elements in Plensa's works are letters and words. He sees a letter as a cell, with its own "cellular memory". He gets many of his influences from poetry (William Blake, Elias Canetti), music and various soundscapes.
Created in steel, synthetic resin, glass fibre, iron, bronze, alabaster, paper and light, the works offer a cross-section of Plensa's career as sculptor. He has also created numerous works on paper as well as etchings. His other works include sets and costumes for opera and theatre productions.
Plensa is well known for his public sculptures and art projects around the world. The most notable examples include Crown Fountain (2000–2004) in Millenium Park, Chicago; Breathing, 2005 at the BBC Building, London; Ogijima's Soul, 2009 in Ogijima, Japan; World Voices, 2009 in Dubai; and Echo, 2011 in Madison Square Park, New York. He is currently working on public art projects for Calgary, Houston and Seoul.
Plensa exhibits his works actively with exhibitions in museums and galleries in Europe, the USA, Japan and Brazil. Regular showrooms for Plensa's works are Galerie Lelong in Paris and New York and Richard Gray Gallery in Chicago and New York.
An exhibition designed for EMMA by the sculptor Jaume Plensa (b. 1955, Barcelona).
"Many of my works reflect the dualism between body and soul, subjects which feature widely in my work.For instance, within my light works is a somehow moving light.This could be the soul which we can never find within the body."