Espoo Museum of Modern Art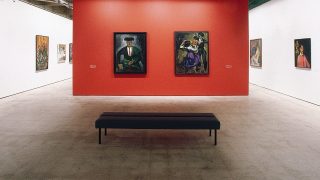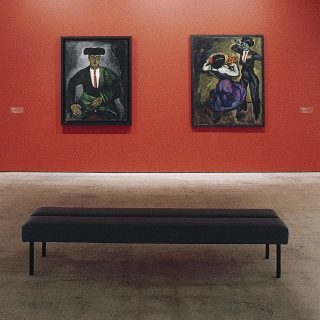 13.10.2006 - 07.01.2007
Knave of Diamonds
The Knave of Diamonds was an avant-garde artist group founded in Russia in 1910. The birth of the group was linked with Primitivism which emerged in western art at the beginning of the 20th century from which a new dynamism was sought for art. At that time Russia too displayed a strong interest in foreign cultures. However, Russian avant-garde artists also began to seek their inspiration closer to home, in Russian folk culture as a counter-measure to western Modernism.
The Russian word for "knave" signifies both the playing card figure and rogue. The unusual name was intended as an ironical comment on the traditionally romantic names of artist groups as well as on chauvinist ideas of art.
During the 1910s almost all Moscow's avant-garde artists became members of the Knave of Diamonds. The composition of the group changed several times and foreign artists too participated in exhibitions. The nucleus of the group, however, remained true to its objectives throughout the decade.
The aim of the Knave of Diamonds artists was to return to the roots of Russian folk art, to originality and "ignorance". Their enthusiasm lay in the unadorned forms of folk art, a simplified language of form, ornamentation and bold colours. The group's paintings were true-to-life, colourful and powerful. They exuded emotion and frequently humour as well as a directness coloured by irony. In their paintings the artists wanted to combine the unusual – to experiment and seek new limitations, what could and could not be done.
Participants in the group's exhibitions included artists who diverged from its original folk-oriented line, foreign avant-garde artists as well as Russian Futurists, Cubofuturists and Suprematists. During the 1910s the Knave of Diamonds was a loosely-knit and open umbrella organisation sheltering vastly differing Russian avant-garde trends.
Vanguard of Art and the Russian people
The Knave of Diamonds exhibition comprises more than 50 paintings by 14 artists. One third of the works are by the founders of the group, Mikhail Larionov and Natalia Goncharova. Other artists are David Burliuk, Alexandra Exter, Robert Falk, Pyotr Konchalovsky, Alexander Kuprin, Aristarkh Lentulov, Kazimir Malevich, Ilya Mashkov, Alexander Osmerkin, Lyubov Popova, Olga Rozanova and Vasily Rozhdestvensky. Also on exhibition are avant-garde book illustrations by Olga Rozanova on loan from the Slavic library collection of the National Library.