Espoo Museum of Modern Art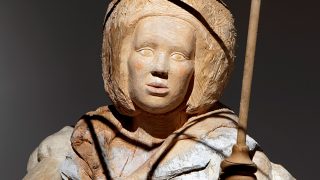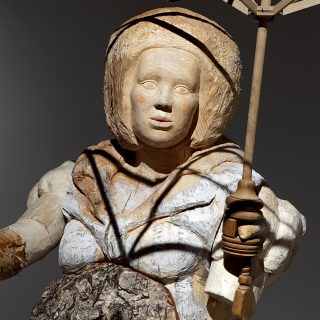 27.03.2015 - 10.05.2015
Mia Hamari: Sculptures
Sculptress Mia Hamari (born 1976) lives and works in the northern town of Simo. Her exhibition is part of the N= 000˚ exhibition series at EMMA Areena. The series is in cooperation with the Kari Huhtamo Art Foundation, which supports artists from the North. The other artists in the series are Jaakko Mattila, who has already had his exhibition at Areena, and Alma Heikkilä, whose exhibition opens in Autumn 2015.
The metamorphosis between man and animal has captured Mia Hamari's interest for quite some time. In addition to the metamorphosis between various creatures and material, the theme supporting the exhibition is the artist's roots and the images and stories stored in her mind as distant memories. Hamari creates her particular kind of metamorphosis for the somewhat melancholy characters by combining wood with natural materials, once a part of living human beings or animals. In this manner, she provides the characters with new and unique stories. Some of the characters carry their homes as part of their being; the dress made of shingles resembles a roof or a warming hearth.
Mia Hamari graduated from the Sculpture programme of the Academy of Fine Arts in 2004. Since then, she has held solo exhibitions every year in Finland and participated in group exhibitions in Finland and abroad. At the ARCOmadrid 2014 International Contemporary Art Fair, Hamari's sculptures represented Finnish contemporary wood sculpture with great success.
In cooperation with the Kari Huhtamo Art Foundation
Related content