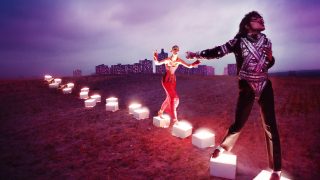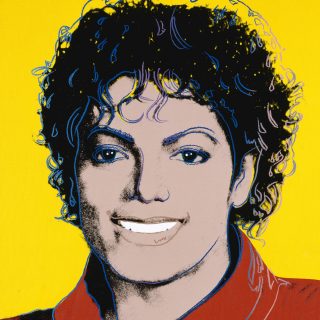 21.08.2019 - 26.01.2020
Michael Jackson: On the Wall
Michael Jackson: On the Wall will come on tour to EMMA – Espoo Museum of Modern Art in Autumn 2019. The exhibition consists of more than 80 artworks exploring how Michael Jackson has inspired some of the leading names in contemporary art.
EMMA's statement
The screening of the documentary Leaving Neverland and the reports and comments in its wake have affected all of us deeply at EMMA – Espoo Museum of Modern Art. The accusations raised are shocking. EMMA condemns all abuse. We feel a responsibility not to shy away from this difficult subject. It is important to talk about the dangers of sexual abuse.
The exhibition Michael Jackson: On the Wall was conceived and created by the National Portrait Gallery in London before the broadcast of the Leaving Neverland documentary. It was shown in London from June to October 2018. It then travelled to Grand Palais, Paris and is now showing at Bundeskunsthalle in Bonn. The exhibition will be organized at EMMA as planned from 20 Aug 2019 to 26 Jan 2020. We are now planning for ways to discuss questions and feelings raised by the exhibition. We want to create a forum for exchange, dialogue and critique and offer means of responding to questions and criticism.
Michael Jackson: On the Wall is an exhibition showcasing up to 90 artworks from internationally established artists who have examined Michael Jackson as a cultural phenomenon in their works. The exhibition is not biographical or celebratory, but it examines the influence Michael Jackson has had on contemporary art and culture. We are, of course, aware that it is impossible to separate the two aspects completely and to see them in isolation. Michael Jackson has always been a controversial figure. The release of the documentary has brought newly surfaced allegations to a worldwide audience. We see it as our duty to respond and to underscore the seriousness and importance of the issues raised.
Contact persons for media regarding EMMA related questions:
Asta Teräväinen, Communications Coordinator
asta.teravainen@emmamuseum.fi, tel. +358 44 7601930
Saara Suojoki, Marketing and Communications Manager
saara.suojoki@emmamuseum.fi, tel. +358 40 8412621
You may send feedback.
About the exhibition
The show features more than 40 international artists from Andy Warhol to Grayson Perry and Isa Genzken. The exhibition examines the impact and influence of Jackson on artists and the continued interest in him as a major cultural figure.
All the artists included – despite coming from different generations, perspectives, and parts of the world, and employing a range of media – are fascinated by what Jackson represented and what he invented. Almost a decade after his death, Jackson's influence has not waned: his record sales, now in excess of one billion, continue to grow; his short films are still watched; and his enormous fan base remains loyal. His impact and fame show no signs of diminishing, and the questions raised by him as a social phenomenon are more relevant now than ever.
The featured artists are: Rita Ackerman, Njideka Akunyii Crosby, Emma Amos, Lyle Ashton Harris, Dara Birnbaum, Appau Junior Boakye-Yiadom, Candice Breitz, Marvin Gaye Chetwynd, Michael Craig-Martin, Dexter Dalwood, Graham Dolphin, Mark Flood, Isa Genzken, Michael Gittes, Todd Gray, Maggi Hambling, David Hammons, Jonathan Horowitz, Gary Hume, Rashid Johnson, Johannes Kahrs, KAWS, David LaChapelle, Louise Lawler, Klara Liden, Glenn Ligon, Sam Lipp, Isaac Lythgoe, Paul McCarthy, Rodney McMillian, Dawn Mellor, Dan Mihaltianu, Lorraine O'Grady, Catherine Opie, Yan Pei-Ming, Grayson Perry, Paul Pfeiffer, Faith Ringgold, Michael Robinson, Mark Ryden, Susan Smith-Pinelo, Hank Willis Thomas, Andy Warhol, Kehinde Wiley, Jordan Wolfson and Donald Urquhart.
Produced by the National Portrait Gallery, the show is curated by its Director, Dr. Nicholas Cullinan. The works are on drawn from public and private collections around the world, including new works made especially for Michael Jackson: On the Wall.
The exhibition opened in London in the summer of 2018 to coincide with what would have been Michael Jackson's 60th birthday. After London, the exhibition will go on tour to Grand Palais in Paris and Bundeskunsthalle in Bonn and then to EMMA, where it will open in August 2019. The exhibition is accompanied by the publication of a hardcover catalogue with essays by Nicholas Cullinan, Margo Jefferson and Zadie Smith.
Michael Jackson: On the Wall is produced with the cooperation of the Michael Jackson Estate.