Espoo Museum of Modern Art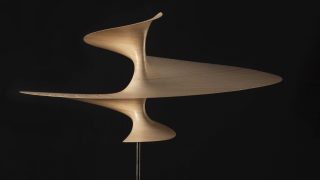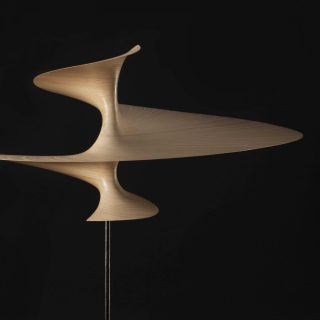 14.10.2009 - 10.01.2010
Tapio Wirkkala: Sculptor
EMMA's exhibition is the first to focus solely on the sculpture of the designer and academician, Tapio Wirkkala and concentrates on his unique light plywood sculptures which have become international symbols of Finnish modernism. The exhibition also presents the artist's wood, glass and plexi sculptures, wood, metal and ceramic birds, competition sketches for public sculptures and the artist's drawings.
Wirkkala began his career as a sculptor and the exhibition's earliest wood reliefs and sculptures date from the 1930s. In the post-war years he renounced traditional sculpture. At the beginning of the 1950s, alongside his other work the artist developed an entirely new relationship with sculpture as well as a new techniquewhich led to the creation of globally unique plywood sculptures in which Wirkkala intriguingly combined form and movement in the vibrant, densely lineated surface of light plywood. The sculptures represent exceptional abstractism at a time when the official line favoured monumentalism and heroic sculptures. In the early 1950s Wirkkala's light plywood sculptures attracted considerable international interest making him a pioneer of Finnish abstract sculptural art.
Wirkkala's largest plywood sculpture is the nine-metre high Ultima Thule created for the 1967 Montreal World Exhibition which drew its inspiration from the Lemmenjoki valley in Lapland. This work is on show at EMMA's exhibition.
Wirkkala himself was reluctant to make a distinction between sculpture and design. The exhibition also features some of his best-known design works which reflect the link between design motifs and sculpture.
Tapio Wirkkala (1915-1985) was born in Hanko and went to school in Helsinki. He graduated from the sculptural department of the School of Industrial design in 1936. At the start of his career he created traditional installational sculptures and also worked as a graphic artist. He came to fame when he won the Iittala glass design competition in 1946. The following year he won the design competition for the Bank of Finland's new banknotes. Wirkkala is known for his versatility: a designer who worked with glass, porcelain, metal and plastic, an exhibition architect and graphic artist.
Tapio Wirkkala was married to the ceramic artist Rut Bryk. Of their children Sami Wirkkala is an interior architect and Maaria Wirkkala an artist. The artistic legacy of Wirkkala and Bryk is administered by the Tapio Wirkkala Rut Bryk Foundation, Most of the works in the exhibition come from the Foundation's collection.