Espoo Museum of Modern Art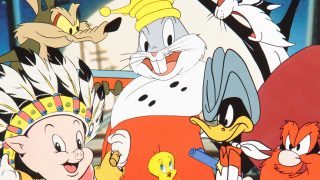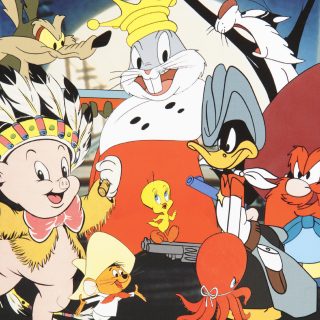 06.03.2013 - 19.05.2013
The Art of Warner Bros. Cartoons
That's All Folks! The exhibition will celebrates the familiar cartoon characters Bugs Bunny, Daffy Duck, Tweety, Sylvester, Yosemite Sam, Elmer Fudd, Wile E. Coyote, Road Runner, and many others who have become part of our shared folklore and heritage spanning generations; our international celebrities.
The classic Warner Bros. short animations were different from any other in that they were made with an adult audience in mind. The funny, exuberant stories with a breath-taking pace were peppered with mordant satire and references to topical matters and real-life phenomena as well as endless verbal fireworks. Six to seven minutes long, the cartoons were originally screened in film theatres before the feature film.
Masterpieces of animation
The exhibition explores the elaborate and demanding creative process behind these cartoon classics. The different phases of production – the character development, storyline, gags, pacing and timing, "cels", background paintings, just for one movement – illustrate the incredible amount of work and talent that went into these animated shorts, only a few minutes long. Music, often operatic, had a great role in cartoons.
The impact that these brash, reckless and humorous characters and the witty and surprisingly sophisticated content of the films had on various forms of popular culture, including cinema, television and literature, has been significant. The characters are an indelible part of the American culture that has spread throughout the world.
The exhibition has been collated from the treasures of an American collector, Steve Schneider, that have previously been exhibited at the Museum of Modern Art in New York, among other places. In Europe, the exhibition has only been seen at the National Museum of Cinema in Turin, Italy before this.
Bugs Bunny
"What's up, Doc?"
Like many comic and cartoon heroes, Bugs Bunny started off as a sidekick. Very soon, however, in the early 1940s, the streetwise bunny became one of the most popular cartoon characters of all time. Bugs Bunny usually appears alongside, that is to say competes with, Daffy Duck, Sylvester and Elmer Fudd, the persistent but hapless hunter. Constantly chewing on his carrots, Bugs is the one who, in the end, always carries the day. Whatever happens, this clever, self-assured bunny has the situation under control.
Bugs Bunny has his own star on the Hollywood Walk of Fame and he has been crowned the greatest cartoon character on several occasions.
Daffy Duck
Daffy Duck is one of the first ever screwball heroes in cartoons. He is reckless, feisty and with seemingly endless energy. These qualities were made use of in wartime shorts to drum up fighting spirit against the enemy. In the 1950s, Daffy Duck turned into an anti-hero, a rebellious outsider, loud and cocky, and always up for a new venture, no holds barred. Daffy Duck was Bugs Bunny's best friend but also his eternal nemesis. One of Bugs Bunny's creators, Chuck Jones, a legendary Warner Bros. director and animator, said he made Bugs Bunny represent his aspirations – what he would like to be, but he feared he was more like Daffy…
Porky Pig
"That's all, folks" – Porky Pig's final line at the end of each film
Porky Pig premiered on the silver screen in 1935, which started the phenomenal rise of Warner Bros. animation production. The stuttering pudgy pig developed in a few years into an amiable and eager, if a little naive, everyman, who often ends up being taken for a ride by others. Porky Pig gained his reputation in the sometimes surrealistic worlds created by the writers and animators of Warner Bros. (Porky Pig in Wackyland,1937, new colour version, 1949). Porky's antagonist was often Daffy Duck. Their joint appearances started in 1937 (Porky's Duck Hunt).
Tweety and Sylvester
"You never know where you're going till you get there."
– Sylvester
Tweety and Sylvester had their separate careers independent of each other, but the very first joint appearance in 1947 (Tweetie Pie, in which Sylvester still goes under the name Thomas), won an Oscar for the best short animation. This marked the beginning of the success story of these two eternal enemies. The basic plot is clear cut: a large black-and-white cat chasing a tiny yellow canary. Tweety, baby-like with those large eyes and baby talk, always beats the large, slightly simple cat hands down with her savvy and often quite excessive physical violence.