Espoo Museum of Modern Art
Interwoven boldly explores the way we relate to textiles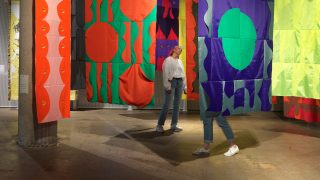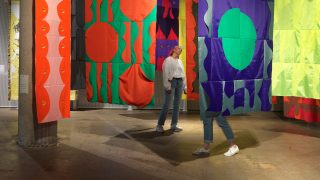 Interwoven offers a deeply personal and intimate journey into the way we resonate with fabric all the way from smartphones to the Soviet Union and painful migraines. The exhibition at the EMMA explores the history, technique and personal of our relationship with textiles.
Text: Elena Sulin

Reetta Kalajo, Chief Curator of EMMA, the Espoo Museum of Modern Art is proud. Interwoven, the exhibition exploring ties between art and textile design, is one of the events that attracted over 135 000 visitors to the museum in 2019. It was the all time record. Launched in June the same year Interwoven aims to interweave various techniques and diverse materials into a legacy exhibiting the art of handicraft, new technology, futuristic vision and of course, contemporary art.
"It all started with the Bryk & Wirkkala Visible Storage," explains Kalajo, "within the storage we created space for another nested exhibition which we wanted to fill with design, art and plenty of forward motion."

Sheila Hicks, Heraldic March into Angouleme, 2018. © Ari Karttunen

Interwoven explores the interface between design and art. It can be seen as the continuum of particularly the extremely elegant textile work of Rut Bryk. "History is truly woven into this exhibition," confirms Kalajo.
Kalajo began the curatorial journey by exploring the grey area between what is considered art and design. This led her to interesting discussions with Maarit Salolainen, Adjunct Professor at the Department of Design of Aalto University. Salolainen has in her work focused on researching the meaning of textiles in the formation of the society as we know it today. "The name of the exhibition pays homage to Maarit's upcoming book Interwoven," Kalajo discloses.
Salolainen has been exploring the role of textiles being spun into the evolution of our societies. In ancient communities, nets were woven in order to catch fish while fabrics were also used to build dwellings. In other words, wire and yarn have always been the basis of development, settling down and creating warmth. "According to Maarit's intriguing idea, textiles are in fact, the basis of all advances in the modern society," confirms Kalajo enthusiastically.

© Ari Karttunen / EMMA
Traveling between the tradition and the personal

The nature of textile makes it an enabler. A basis for projection, memories and feelings. "Materials will always be affiliated with both light and shade – the way they look but also through how they feel. This is how textile in art and design becomes highly personal," enthuses Kalajo.
Bella Rune, one of the artists chosen to the exhibition, agrees. "We all carry so much knowledge through our constant relationship with textile that one could almost suggest a certain textile consciousness," the artist claims. In her work Rune utilises the finely tuned human textile mind to wordlessly play with class, gender and culture to explore other non-habitual possibilities where textiles invisibly serve humans.

Bella Rune. © Ella Tommila / EMMA

In Interwoven, two paths of Rune's work are shown. First, hanging sculptures made of hand-dyed silk-mohair yarn for which Rune processes all the fibre, strings and cords that make up the world we live in to suggest an alternative use. Secondly, a piece of work which includes digitally printed cotton scarves and a smartphone app. "With this piece I wanted to show how every repeated pattern wants to cover the whole surface of the world while connecting propaganda textiles from the Soviet Union with the way we use, or are used by, our smartphones," explains Rune.
Drawing parallels between history and science, Kustaa Saksi, a Finnish multidisciplinary contemporary artist and designer based in Amsterdam, exhibits First Symptoms, a collection of tapestries. The collection draws its inspiration and texture from the scientific examination and personal experience of migraine. The pieces have been woven using cotton warp with for example mohair, silk, alpaca, rubber, copper and transparent polyester yarns resulting in richly layered, multi-sensory works. "I wanted to portray the ways in which weaving technique and materials emphasise the nature of migraine," explains Saksi. "The works also accent the healing approach of the artworks through their tactile and gentle constructions."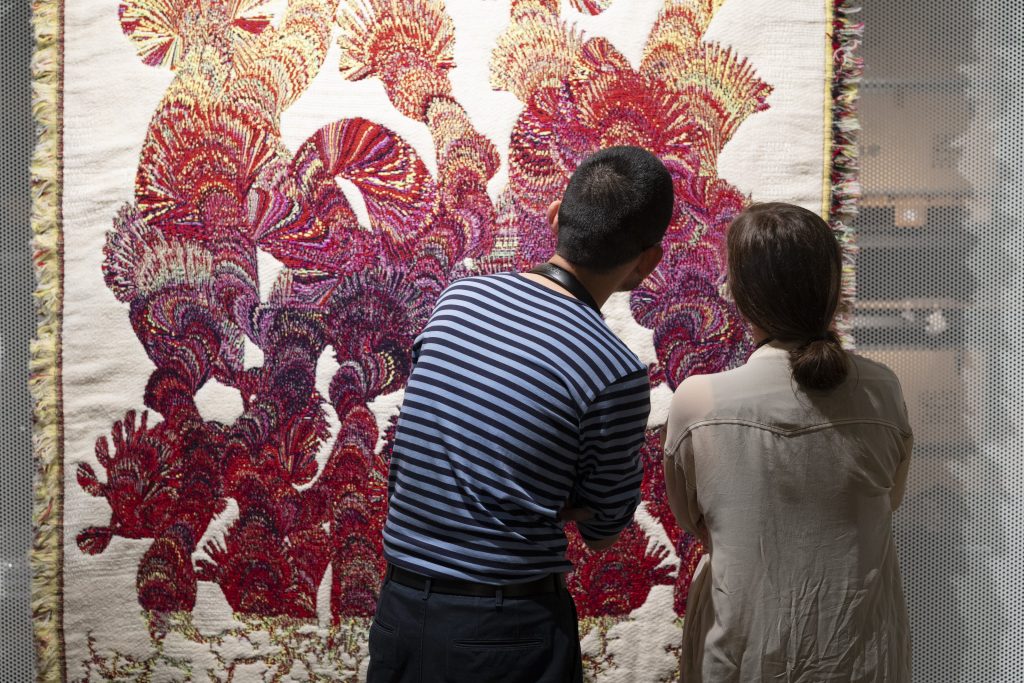 Kustaa Saksi: In Full Bloom, 2019 © Ari Karttunen

Each artist in the exhibition has been chosen not only with regard to tradition and technique but also the unique journey that each of them offer to the visitor. Because ultimately, textile as a material will always remain intimate and thus, personal. "Textiles evoke feelings and thoughts which then enable us to experience them in a very strong way. It was time to explore that further" rejoices Kalajo.
This post was done in a collaboration between EMMA and Helsinki Design Weekly. All thoughts and editorial content are Weekly's own. Read the story on Helsinki Design Weekly's site.
Read more