Espoo Museum of Modern Art
Jeannette Ehlers' hypnotic video work Black Bullets now on display at Touch exhibition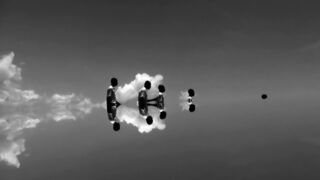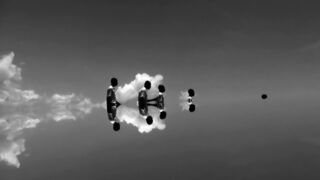 The three-part media art series of the Touch exhibition continues with Jeannette Ehlers' impressive Black Bullets. The series of media works has been curated from works of the Saastamoinen Foundation Art Collection that deal with the human effects of war on individuals, communities and culture during different eras and across the world.
Black Bullets  is an homage to the Haitian revolution of 1791. On the black-and-white video work, dark human figures walk in a line across the video nonstop to the beat of a drone-like soundscape. As they walk, the figures gradually merge into their reflections and finally disappear into the horizon. The work has been filmed against the Haitian sky on a mountain-top fort also known as a symbol for the emancipation from slavery. The fort was built by the first black Haitian monarch Henri Christophe, after the revolution at the start of the 19th century to defend the independent Haiti against the French. 
"Jeannette Ehlers' Black Bullets is a hypnotic and minimalist piece, which has a powerful influence beyond its historical starting points. Themes of power dynamics and the battle against oppression strongly link the work to this day," describes Laura Kokkonen, curator of the Touch exhibition.
The Haitian revolution is the only successful revolution by enslaved Africans in history and set the scene for Haiti's independence in 1804. In her work, Ehlers highlights that history is not the past – colonialism can still be seen through the distribution of power and resources, both globally and in the Nordics.
Black Bullets is the second work in the media art series as a part of Listening to Silence of the Touch exhibition, which opened in autumn 2021. Black Bullets is on view at EMMA's media space from 10 May to 14 August 2022. After Black Bullets, the series welcomes its final work in the autumn, The Fantastic by Maija Blåfield. 
Read more