Espoo Museum of Modern Art
EMMA's spring programme is packed with creative inspiration and participatory events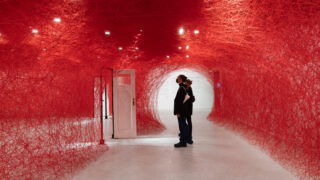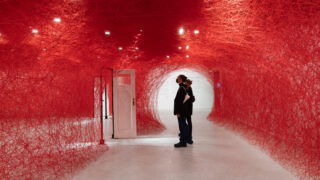 This year EMMA turns the spotlight on creative dreams, imaginative speculation, and visionary art and design. Our theme for 2022 is The Crystal Ball, and our spring programme is packed with a colourful line-up of events and special guided tours designed to enrich your museum experience. Check out our new programme on EMMA's website!
Kicking off our Crystal Ball-themed year is an exhibition by Daniel Buren (b. 1938), an acclaimed radical reformer of contemporary art. Buren is a visionary renowned for his in-situ pieces. The exhibition will spill outside the museum with an open-air programme featuring Buren's iconic event-based pieces, which will be on view around Espoo in May.
The WeeGee Exhibition Centre invites you and your whole family on a shared adventure into history and the world of art with its Journey of Discovery to be held on April 9 and 10 as part of the Children's Museum Festival. During the weekend of the festival, WeeGee will host an inspiring programme of fun events inviting visitors to adventure and explore in inspiring activities!
This spring EMMA will continue hosting open workshops inviting participants to unleash their creativity hands-on activities every Saturday. The theme of the workshops changes every week. We will also continue hosting free guided tours of the exhibitions in Finnish every Friday and Sunday. EMMA also hosts Queer tours and a variety of special themed tours, discussion panels in our EMMA Talks series, and expert tours on which EMMA's specialists share in-depth insights on the content of our exhibitions. The guided tours are held mainly in Finnish, please see the language from the event description. You can book private tours and other activities also in English!
Admission to the WeeGee Exhibition Centre is free every Friday from 5 pm to 7 pm. On the first Friday of every month, our opening hours are extended to 9 pm. We will also host a programme of live jazz music once a month on free Fridays as part of our April Jazz club series.
Visit here to view our upcoming events and here to see EMMA's current and forthcoming exhibitions.
EMMA is Finland's largest art museum and there is plenty of space for everyone to enjoy art at a safe distance from other guests.
Read more