Espoo Museum of Modern Art
Chiharu Shiota transforms EMMA's gallery space into an immersive labyrinth of red yarn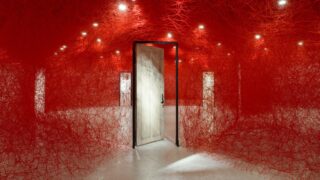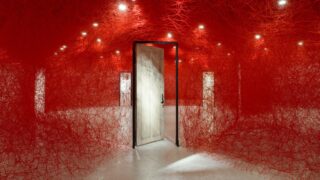 Chiharu Shiota's new installation Tracing Boundaries invites visitors on a journey into personal memories and hidden depths. The tangled red yarn of the artwork generates "spaces within space", a signature hallmark of Shiota's art, that tempts visitors on a journey into inner worlds.
Chiharu Shiota is a Berlin-based Japanese artist renowned internationally for her large-scale, immersive yarn installations. Created especially for EMMA, Tracing Boundaries is an installation consisting of tangled webs of crisscrossing red string. Embedded in this maze are old doors that create pathways through the work. There is no right path or entrance to take – every visitor is free to follow the route of their choice. 
"Shiota's yarn installations are often based on the artist's personal experiences and memories, but every visitor's interpretations and experiences are an inseparable part of the work. Shiota describes the tautly stretched, knotted, tangled, and entwined threads as symbolizing the connections between people and the complexity of human relationships," states the exhibition's curator Arja Miller. "Shiota's captivating art offers a vehicle for processing feelings and memories that might not otherwise be accessible on a conscious level." 
Tracing Boundaries forms part of an annual collaboration between EMMA and the Saastamoinen Foundation through which a new work is commissioned from a topically relevant contemporary artist. Shiota's installation is so vast in scale that it will be displayed as a one-work exhibition. EMMA's theme for 2021 is the power of art. Tracing Boundaries engages in an unprecedented dialogue with the museum's concrete architecture, offering visitors a unique experience of the gallery space.
Read more