Espoo Museum of Modern Art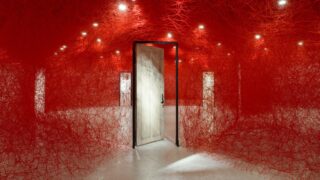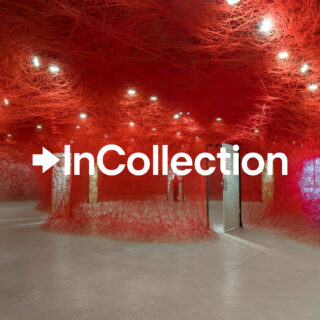 27.10.2021 - 27.11.2022
Chiharu Shiota: Tracing Boundaries
Chiharu Shiota (b. 1972, Osaka, Japan) has created an immersive installation for EMMA consisting of tautly crisscrossing threads. Visitors are invited to enter the maze of yarn, which encloses a sequence of old doors that open alternative routes through the work.
Shiota has been working with threads since her student days. Initially she studied painting, but finding the canvas and paper too limiting, she searched for a more physical, holistic way to create art.
Over time she developed her inimitable weaving technique, which she began applying in ever-larger spatial installations. Gradually she also began embedding found objects steeped in personal memories. While the content of her work is often personal, it transcends the private level and acquires wider universal significance. Shiota strives to engage the viewer in a process of rekindling feelings and memories that might not be accessible on a conscious level.
Chiharu Shiota's Tracing Boundaries is the fourth in a series of exhibitions hosted jointly by EMMA and the Saastamoinen Foundation. In the series a new work is commissioned annually from a topically relevant contemporary artist for the foundation's art collection.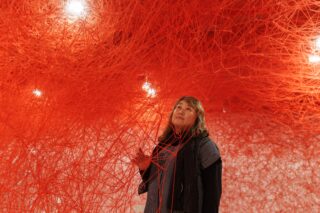 With my installation Tracing Boundaries, I want to return to the origin as an artist. Recently I have been thinking about the meaning of exhibiting artworks in museums. When people visit a museum, they are often surprised and confused, especially when confronted with contemporary art, and they want to find meaning in the work they see. But I want them to remember a feeling that they have forgotten.
The visitors will be engulfed within a new space I have created out of lines of yarn, connected and entangled. They will be transported into another world, accessible through small paths and various doors. They will wonder where the path might take them and reflect on the journeys they have made in life. They may be disoriented and confused because there is no right path or entrance to take, but this is the most important aspect of the installation.
There should be no explanation; the visitors should feel free to think whatever they want and try to find meaning within them. Every day people absorb an immense amount of information, and it is overwhelming to process all this information. Humans have adapted and gained more awareness, their consciousness has evolved, everything has become more complex, and humans have lost the sense of real meaning in life.
The visitor will search for meaning in the installation and resonances with orther aspects of their life. Perhaps they will think that each door resembles a new opportunity, or the visitor might see all paths as being connected. Whatever they imagine, their thoughts and feelings are important. Because if their imagination would ever be completely disregarded, people would lose their humanity. We all carry an individual universe inside of us, and it is important for our existence to continue to expand it. It is part of our consciousness and our mind.
I sometimes ask myself why we are able to think, why we have consciousness, and why we cannot access the consciousness of others. Because even though we are able to communicate, we can never feel what other people are feeling, we can never truly see the universe of others. But that is why we need art. With art, we can communicate with others and express our emotions.
Chiharu Shiota
Curator:
Arja Miller
Project management:
Martta Soveri
Arja Miller
Päivi Karttunen
Visual design:
Kuudes
In cooperation with:
Saastamoinen Foundation
Warm thanks to:
Aterlier Chiharu Shiota and the students of textile conservation at Metropolia University of Applied Sciences
InCollection-series
InCollection is a series of annual commissions and exhibitions produced jointly by Saastamoinen Foundation and EMMA – Espoo Museum of Modern Art.
Through InCollection, Saastamoinen Foundation develops its permanent collection by commissioning an artwork from a visionary artist. The artist creates the work site-specifically for the museum's architecture and its surroundings.
A curated exhibition will be organized in conjunction with the commission to shed further light on the artist's current practice.
Read more about InCollection: 
Related content