Espoo Museum of Modern Art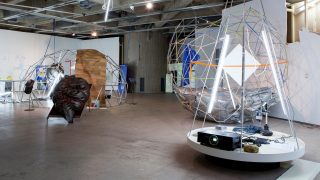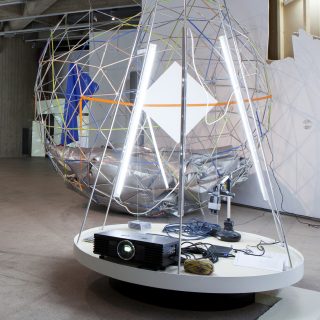 27.01.2015 - 15.03.2015
Nabb+Teeri: mesh/mɛʃ/
Elected Young Artists of the Year 2014, the artist duo Janne Nabb (b. 1984) and Maria Teeri (b. 1985), have been invited to the Areena venue in EMMA to build an interactive art process with the audience. mesh/mɛʃ/ is an installation in the Areena showroom that is created and disappears in the course of the exhibition period.
Concepted by the artist duo Nabb+Teeri, mesh/mɛʃ/ starts off with an empty space and ends with a lecture at the conclusion of the show. Using presentation equipment found in the museum storage and nomadic elements brought in by the artists, the venue becomes filled with temporary structures and compositions that are assembled and dismantled as needed.
The objects create places of encounter the formation of which is governed by randomness or momentary need and which change their form in time. Nabb+Teeri will work in the Areena project space almost daily, following a weekly schedule. Their work results in maps and diagrams on the walls of the gallery. One of them borrows its form from network diagrams. A network diagram is a graphic representation of a network, a way of examining functions, dependencies and the critical path of a project.
Artists are present at Areena showroom.
The title theme of the show, mesh/mɛʃ/, refers to a complex sequence of events in which things, situations, people and objects are all entwined or enmeshed together. It also refers to the mesh made up of the nodes and loops in a network or a fishing net.
Artist collective Nabb+Teeri
Janne Nabb (b. 1984, Kannus, Finland) and Maria Teeri (b. 1985, Oulu, Finland) have been working together since 2008. The leitmotif of their work is the notion that 'we' is more than 'I'. Working as a pair is not an end in itself for them, but rather a topical, practical and enriching practice.
In 2014 they were elected Young Artists of the Year. They work with processes of change that involve materiality, such as use, wear, consumption and destruction. They studied art together at art schools in Liminka, Kankaanpää and Helsinki. Nabb+Teeri live and work in Övermark, Ostrobothnia.
Janne Nabb and Maria Teeri have invited composer Timo Tuhkanen to collaborate in their project. He creates a soundtrack for the show from materials emerging in the showroom in EMMA. Timo Tuhkanen (b. 1983, Muscat, Oman) is a composer, poet, publisher and visual artist. He studied composition, improvisation and conducting at Brunel University West London, graduating in 2009. Tuhkanen lives and works in Helsinki.
Related content