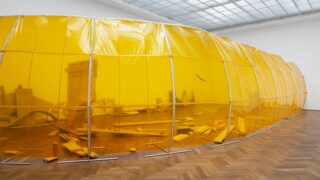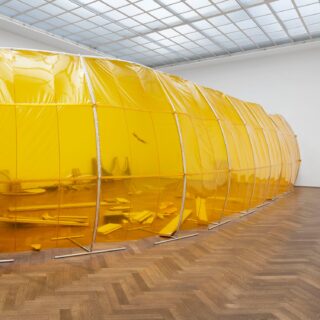 24.08.2022 - 02.04.2023
Dora Budor: The Preserving Machine
Dora Budor's installation The Preserving Machine forms a part of the In Search of the Present exhibition. This site-specific adaptation of the work comprises a yellow enclosure hosting a lone robotic bird flying over a landscape of architectural remains and debris which were sourced from the vicinity of the museum. The bird's trajectory is based on a motion vector derived from composer Magnus Lindberg's music score.
The title of the work, The Preserving Machine, is borrowed from a 1953 short story by Philip K. Dick in which people attempt to preserve classical music during a cultural collapse by encoding musical notes into animals. However, mutations in the animals render the musical works unrecognisable – nature and culture compete for existence.
Dora Budor (b. 1984) is a New York-based Croatian artist. Her medium is the exhibition, wherein the characteristics of the given context are amplified, dislodged, or re-circuited. Through this set of actions, interdependency between the work and its host is constructed. Image as a conduit of memory and meaning is produced through the cinematic as it has come to be known not technically, but phenomenologically.
Related content