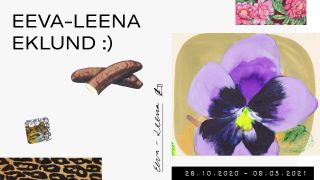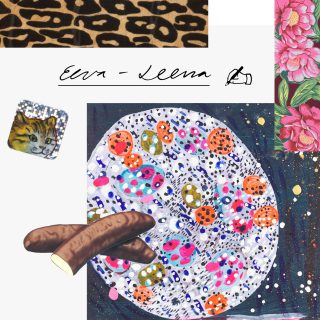 28.10.2020 - 09.05.2021
Eeva-Leena Eklund :)
The world can be a troubled and knotted place, and Eeva-Leena Eklund's works echo this. Eklund's paintings are firmly anchored in reality and observations of it. Motifs for her work may include the fabric of a sofa, tomatoes, her grandfather's wartime postcards from the battlefront, or streetscapes. Eklund looks beyond everyday curiosities; at the windowsill where unattainable longing has been replaced by staring animal figurines made of porcelain. 
If a pipe is not a pipe, neither is Eklund's cat just a cat. A cat becomes an awkward image of human hopefulness, sadness or fear. The artist's observations reveal a delightful joy in someone else's choices. This someone else can be a grandmother decorating her home, or the person picking out the furniture for a greasy cafeteria. Eklund's power is in an ability to see what lurks behind clichés, and to express what is disclosed in a novel way. Her expression follows the same joy and confusion as her choices of themes; the world is not sweet but instead dark, funny and full of cracks. And that is what makes it interesting.
Eeva-Leena Eklund's exhibition continues the collaboration between the Saastamoinen Foundation and EMMA where, every year, a new work is commissioned from an interesting and topical artist and added to the foundation's art collection. Eeva-Leena Eklund will create a large site-specific installation for the space and architecture of EMMA. The exhibition is curated by Anna Tuori.
Related content