Espoo Museum of Modern Art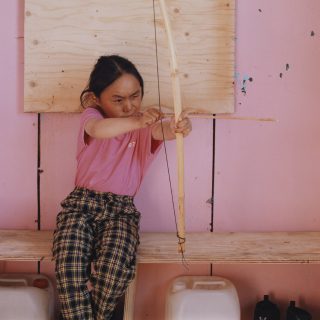 28.04.2010 - 27.10.2013
Red
The display of the Saastamoinen Foundation Art Collection on permanent exhibition at EMMA has been renewed under the theme Red. The starting point for the exhibition has been colour.
One of the key historic threads running through the Saastamoinen Foundation Collection has its roots in the November Group's painting which focused on earthy colours. The exhibition raises the question of where one goes from the earthy reddish-brown shades as one approaches the Collection's contemporary art section. In the new display the scale of the colour red is selectively shown in the Collection's modern and contemporary sections. The display objectively combines works from different periods, representing different techniques and with the colour red as the common factor. The earliest works are Maria Wiik's painting from 1914 and Birger Carlstedt's work from 1938, the newest by Jyrki Siukonen, Anni Leppälä´s and Petri Eskelin's works from 2009.
The exhibition is the latest in the series of Saastamoinen Foundation display concepts created by the working group consisting of Hannele Grönlund, Päivi Karttunen and Hannu Väisänen.
The artists in the exhibition are: Birger Carlstedt, Ina Colliander, Carolus Enckell, Petri Eskelinen, Juhani Harri, Tiina Heiska, Tiina Itkonen, Anish Kapoor, Pertti Kekarainen, Markku Keränen, Anni Leppälä, Niko Luoma, Leena Luostarinen, Ismo Luukkonen, Elina Merenmies, Otto Mäkilä, Kukka Paavilainen, Jyrki Parantainen, Tarja Pitkänen-Walter, Jaume Plensa, Ulla Pohjola, Tapani Raittila, Anna Retulainen, Catarina Ryöppy, Jyrki Siukonen, Raili Tang, Anna Tuori, Santeri Tuori, Pauliina Turakka Purhonen, Rafael Wardi, Kristina Wiherheimo, Maria Wiik and Riitta Åkerstedt.
"The essential nature of the colour red is more powerful than that of other colours. More than any other colour it speaks for itself – it has a status all its own, possessing as it does the broadest register, the greatest number of shades of all colours."
The painter Carolus Enckell
The 112-page exhibition catalogue published in three languages (Finnish, Swedish and English),
PUNAINEN, RÖTT, RED includes an article by the art historian, Professor Riikka Stewen "Blood red, rose red, tomato red" and the thoughts on the colour red of eight of the exhibition artists