Espoo Museum of Modern Art
Seela Petra's artwork introduces 69 characters in Tapiola's new bike parking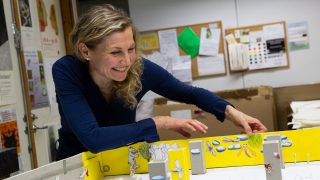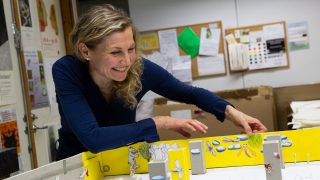 Graphic artist Seela Petra has created a public spatial artwork that spreads on the walls and stands of a new bike parking, bringing art close to the everyday lives of people. A new bike parking for over 400 bicycles opened in Espoo, Tapiola on Thursday, 24 October.
Seela Petra's (b. 1964) work One Day is a collection of characters and scenes that make reference to identifiable places in Tapiola. The scenes taking over the bike parking are enlarged images of Seela Petra's drawings. The name of the work stirs the viewer's mind and imagination: What has happened on a day when a bear seeks a discussion partner among tulips? Where is the busy bee flying off to? What is on the bearded balcony farmer's mind? Get to know the characters and suggest names for them.
The wish for a delightful, humane and touching work that is linked to Tapiola Garden City through its subject matter drove the selection of Seela Petra as the bike parking's artist. "Seela Petra's work brings a graphic and intimate expression into a public space in a new, story-like fashion. Parts of the work can also be duplicated, if necessary," says EMMA's Chief Curator Henna Paunu.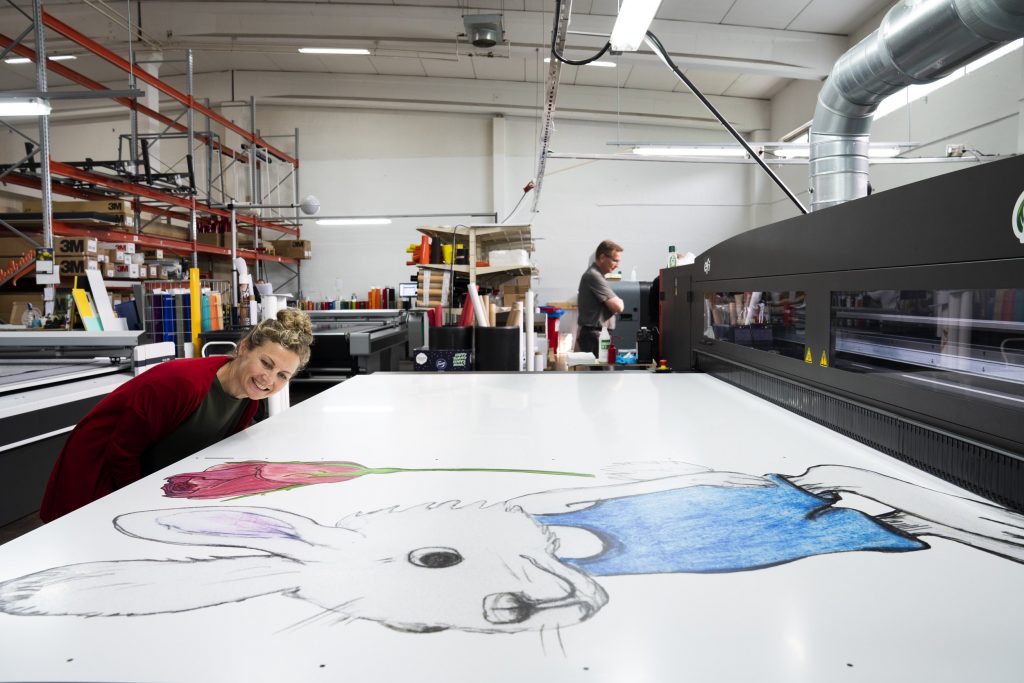 Seela Petra, what are your thoughts on public art?
For me, public art signifies work that advances well-being. Different, story-like scenes speak of changes in nature, minorities, wild adolescence, children's playfulness, love, spending time together, ageing, secretly exchanged kisses. I hope that the stories in my work act as teachers of empathy.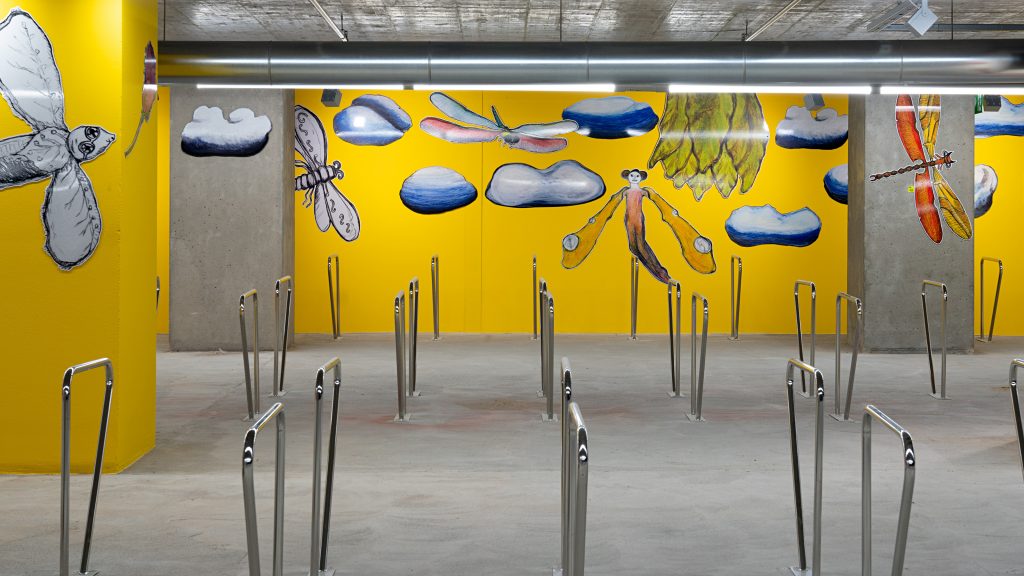 Tell us about your relationship with Tapiola and how you approached the environment as you designed the characters and places of the work?
Tapiola has become a familiar place for me both through work and time spent outside with my dog. A group of adolescents, depicted in my work by a pack of dogs, encountering an elderly person is based on actual experiences in Tapiola. The young and the old kept each other company, having a good time. Otso the bear and the tulips, on the other hand, tell the story of changes encountered on a bike route. The mother heading off to cultural activities is a fictional, yet ever so recognisable madam of Tapiola.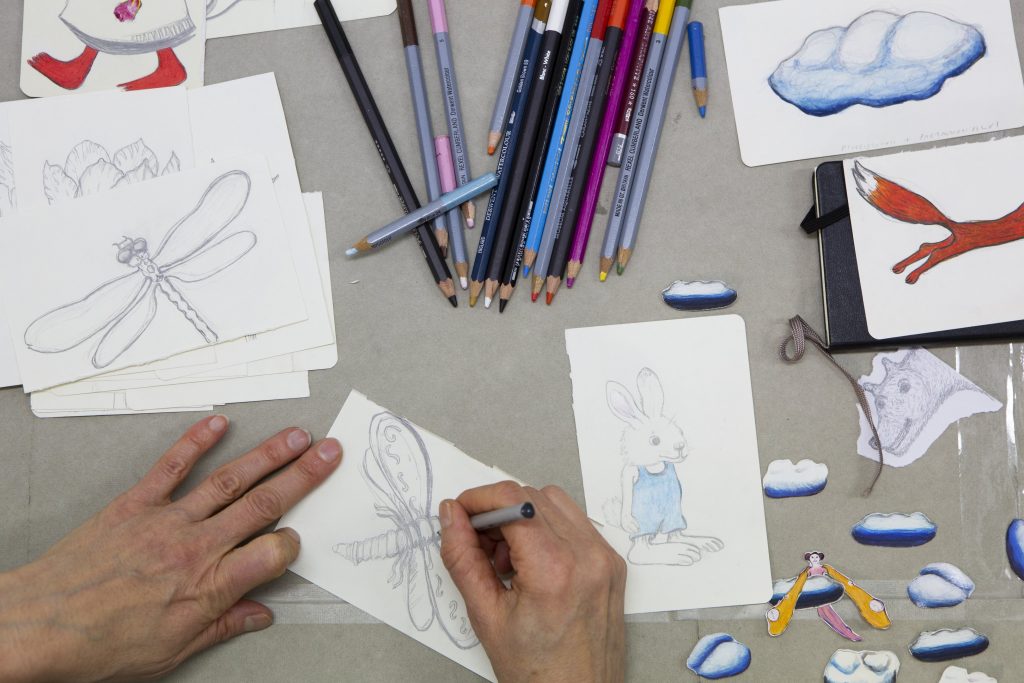 The scenes of the bike parking are enlarged images of your drawings. What was it like to work on such a large scale?
I have previously enlarged my pencil drawings when doing graphic design. I like the imposing mark of an enlarged pencil line. Most of the drawings have been made on paper sized 9 x 14 cm, and for example, the urban balcony farmer on the wall is now sized 220 x 220 cm. Luckily, I know how to do graphic design and image processing, as I had to make the edits to the drawings digitally.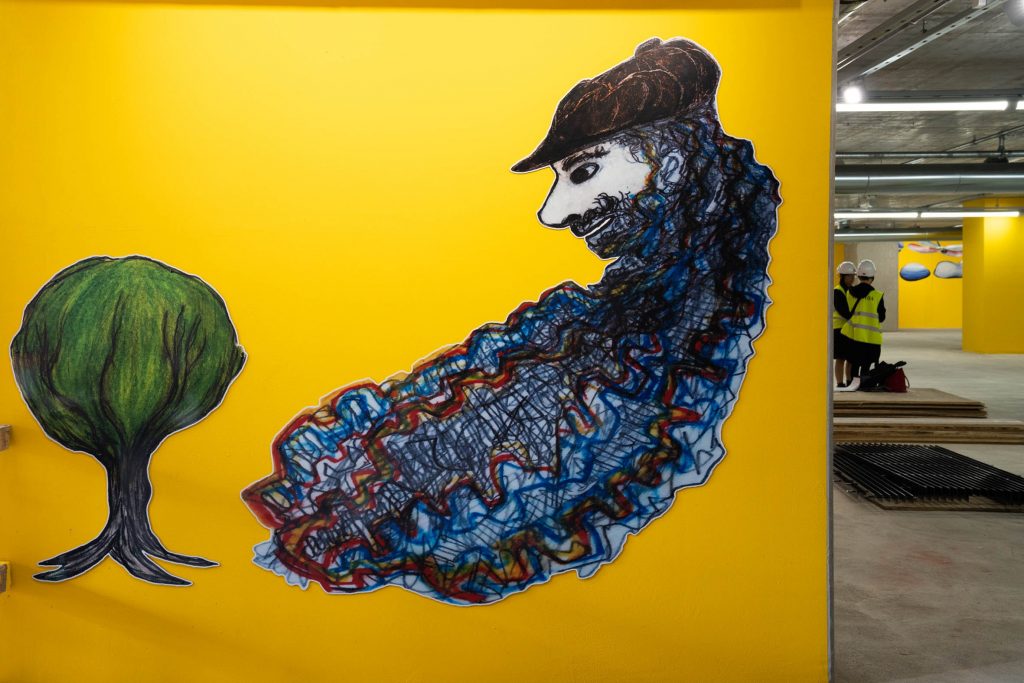 How did the work with the enlarged image take place?
I worked with the traditional 1:25 scale. This way, I was able to sketch the work from the colour prints of the drawings. It was a truly enjoyable and creative stage in my work. I had a boxful of drawings. I have drawn constantly, especially during vacations, and there was a range of subjects to choose from. I divided them according to themes such as plants, animals, people. As I took note of the values of Espoo and Tapiola, I realised that there were not enough characters for each story and so I drew new characters, in the small size I am accustomed to. Together with graphic designer Jari Ahti from Novela Oy, which was responsible for carrying out the technical implementation of the work and was a great help with the enlarged images, we worked on the tones and size of the work, using 1:1 colour prints.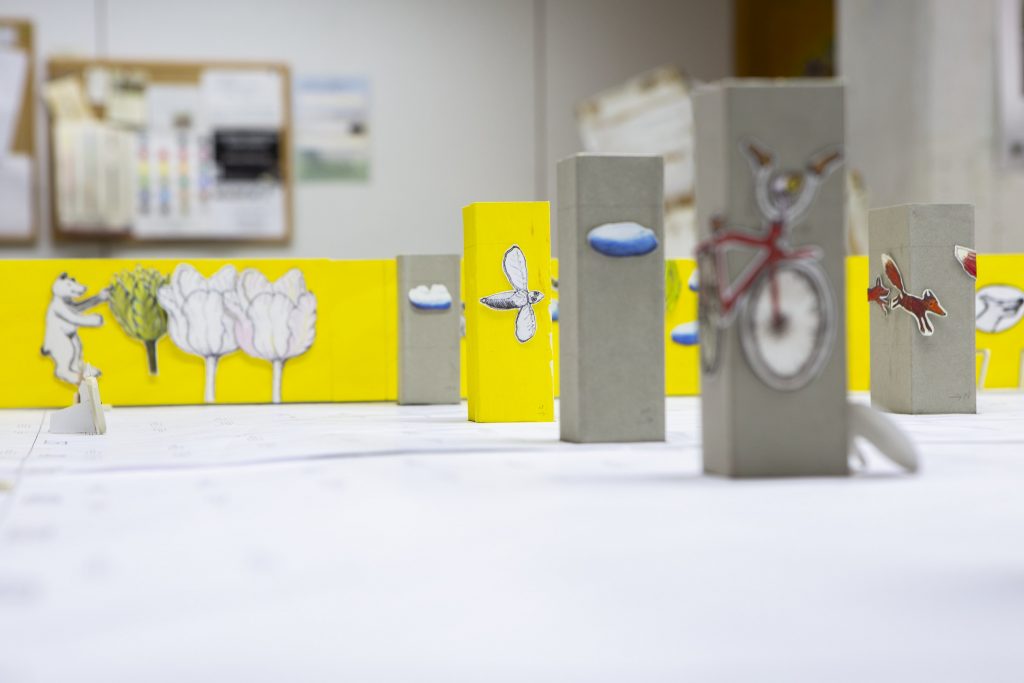 Photos: Ella Tommila / EMMA
Read more