Espoo Museum of Modern Art
The internationally acclaimed artist Chiharu Shiota will create a large spatial installation for EMMA in autumn 2021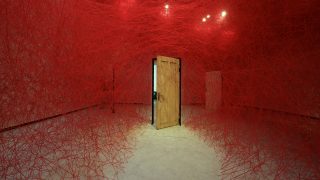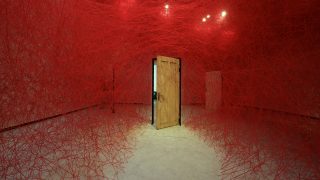 Since 2018, the collaboration between EMMA and Saastamoinen Foundation has seen works created by topically relevant international artists, tailored site-specifically for EMMA's unique space. The fourth artist in the collaboration is Chiharu Shiota, who is known for her impressive spatial artworks, where she combines vast webs of threads with various everyday objects. 
Japanese-born and Berlin-based artist Chiharu Shiota has been invited by EMMA and Saastamoinen Foundation to make a commissioned artwork in autumn 2021. Shiota will create the large-sized installation Tracing Boundaries, which spreads into the surrounding space and consists of a labyrinth of red yarn and old, wooden doors. The work invites the viewer to delve deep inside the web of threads while journeying into one's memories and self.
Chiharu Shiota's (b. 1972) works have been showcased widely in international museums and art biennales, such as Venice Biennale of 2015 and Sydney Biennale of 2016. Her solo exhibition The Soul Trembles, that was on display in Tokyo at Mori Art Museum June–October 2019 gathered widespread popularity.
Shiota's commissioned work  Tracing Boundaries  continues the collaboration between EMMA and  Saastamoinen  Foundation, where a new work by an interesting contemporary artist is commissioned annually to the foundation's art collection. The exhibition curated around the commission  sheds light on the artist's current practice. This form of collaboration was first carried out with the  Alicja  Kwade  exhibition in 2018. The commissioned work of 2019 was created by artist  Tatsuo  Miyajima,  and 2020 will feature Finnish contemporary artist Eeva-Leena Eklund.
Photos: Sunhi Mang
Read more