Espoo Museum of Modern Art
The multicoloured Flux by Vesa-Pekka Rannikko reflects the various meanings of the new centre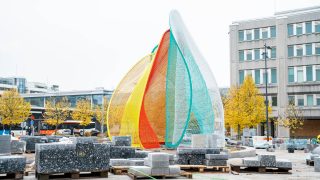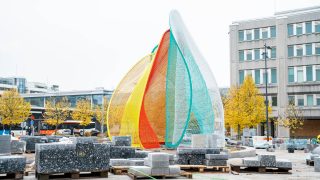 Flux – Merging Streams is the latest public artwork commissioned by the City of Espoo. The large-sized sculpture will be located at Vaakunatori square in Espoo Centre, which is the heart of Espoo that is currently being reshaped. Flux is already on display at the Vaakunatori Square and the area will be completed in November 2020.
Vesa-Pekka Rannikko's artwork Flux – Merging Streams is one of four large-sized sculptures made of different-coloured stainless steel nets situated at Vaakunatori square. The colourful metal nets are layered, and the work can be seen in different colours, depending on the direction they are seen from. The pronunciation of the Finnish name Vuo (Flux) feels soft and flowing, which is a reference to the shape of the work. The metal nets of the brightly-coloured sculpture are reminiscent of waves, forming a stream-like bed inside which one may pass through.
Vaakunatori is surrounded by brand new apartment houses, Lakelanpuisto and the railway station. There are also plans to situate a new Espoolaisten talo (house for Espoo residents) next to the square. Rannikko's work reflects the functions of the surrounding area, including traffic streams and the many meanings of the administrative centre, such as democratic decision-making, where many voices form a united outcome.
Vesa-Pekka Rannikko (b. 1968) is a multidisciplinary Finnish visual artist working with sculpture, painting, installations and video art. Rannikko has participated in several group exhibitions and held solo exhibitions in galleries and museums across the Nordic countries and the United States. He was awarded the Finnish State Prize for Visual Arts in 2015. In 2011, Rannikko produced the Finnish pavilion for the Venice Biennale.
The station area of Espoo Centre is currently undergoing significant changes. The old administrative centre is being turned into a modern living, business and working centre. The coming City Rail Link will improve public transportation connections further, bringing new residents, services and jobs to the neighbourhood.
EMMA works as an expert involved in the City of Espoo's acquisitions of public art. Rannikko's Flux will be included in EMMA Collection. Recent completed projects include Elina Autio's mural Crossings (2019), located at Merituulentori square in Tapiola, and Ilona Niemi's Personae Mythologiae, which is displayed on a fence surrounding a construction site in front of WeeGee.
Read more