Espoo Museum of Modern Art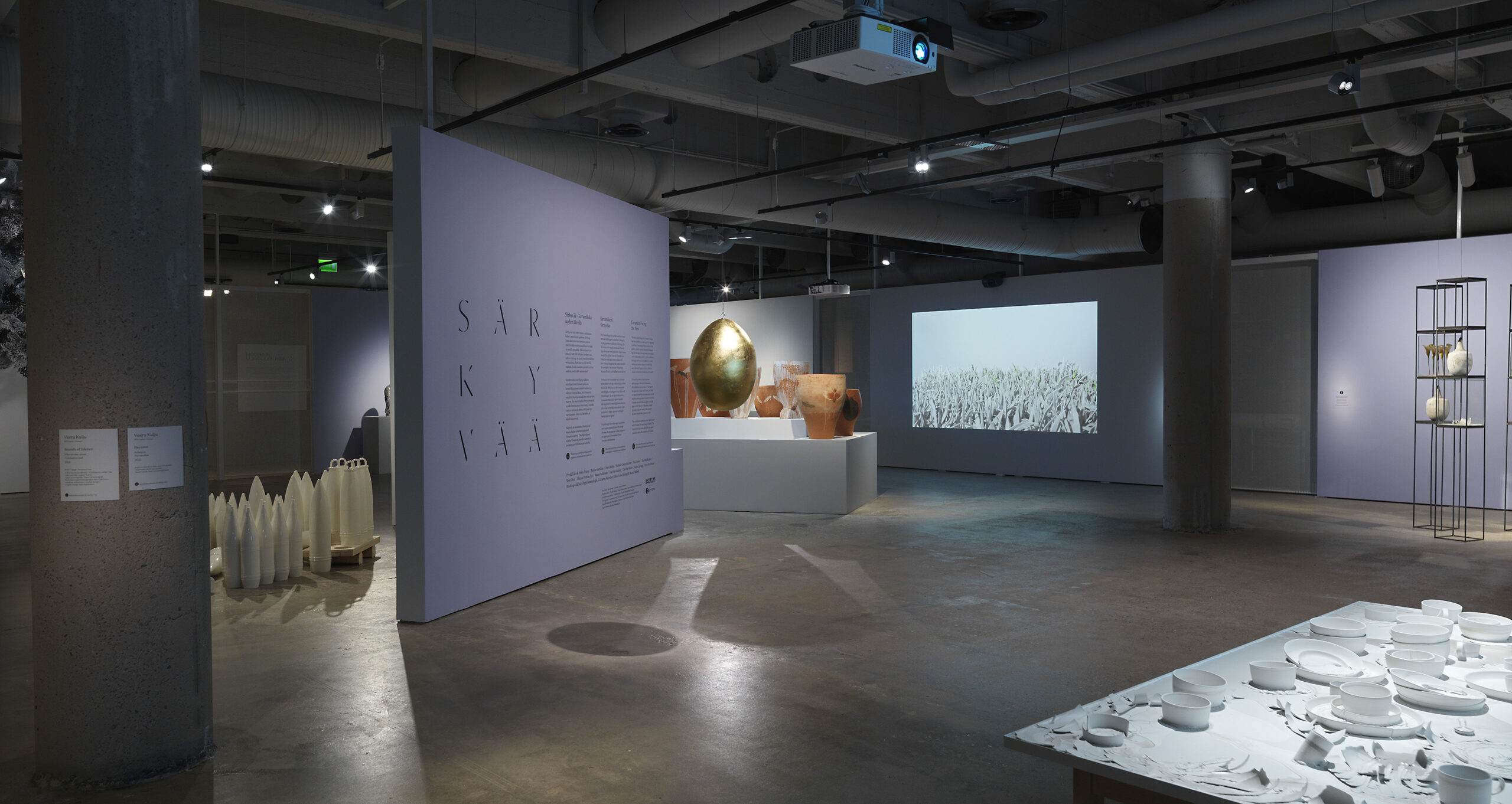 Ceramics Facing the New
The idea underlying the Ceramics Facing the New exhibition is kintsugi, the Japanese tradition of mending broken pottery with a mixture containing gold. Instead of concealing the damage, kintsugi seeks to establish a new relationship with it. In this exhibition, kintsugi serves as a metaphor for society. A fracture can be a signal of something new. How can fragments be re-joined to create a renewed yet enduring structure?
Created by twelve artists and two artist groups, the works featured in the exhibition use ceramic art to explore the juncture of past and future, one that is characterised by environmental concern and the disintegration of social structures. Ceramic as a material occupies a special place in the history of humanity. It also provides what we need at this moment in time: connection, presence, craft.
The exhibition is produced in collaboration with Ornamo Art and Design Finland. The featured artists were selected in an open portfolio call to the members of Ornamo.
All fotos in the mobileguide © Ari Karttunen/EMMA
Priska Falin & Helen Felcey: Being With (2021)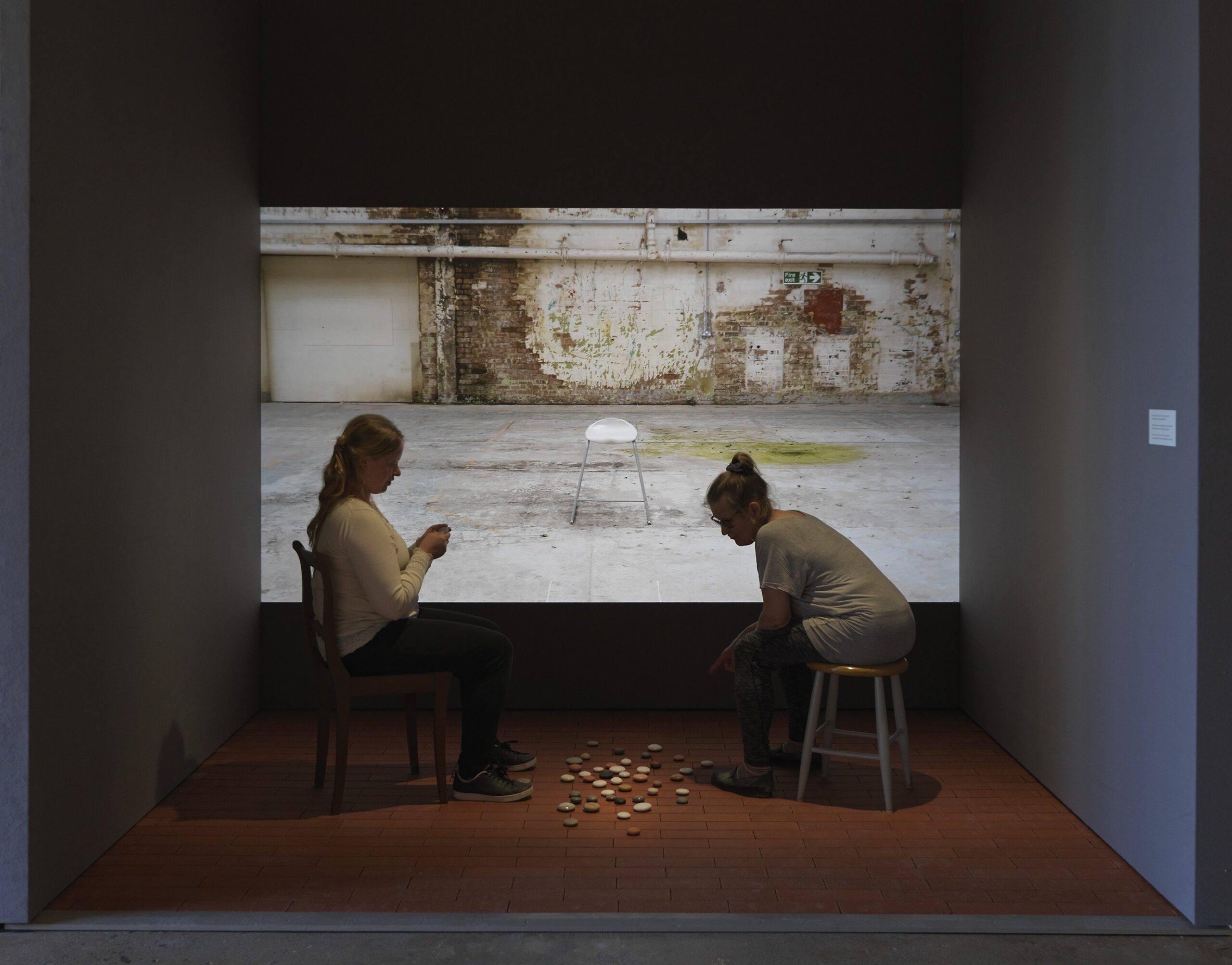 Being With, 2021. Installation, fired and unfired ceramic pebbles, video.
The starting points in Priska Falin's (b. 1980) and Helen Felcey's (b. 1979) three-part project are bodily experience and sensory perception. Being With is an experiential installation that invites viewers to take a meditative moment by touching and molding small clay pebbles. The pebbles on show were shaped by groups of eighth-graders in art classes at Karakallio School in Espoo.
In Pebble Factory open workshops the audience can make ceramic pebbles. The workshops will be held in the yard of the WeeGee building in autumn 2021. The online Dwelling workshop will be accessible to the audience throughout the exhibition period. It consists of exercises designed to enhance conscious awareness and activity while exploring personal sensory perceptions and ways to interact with materials.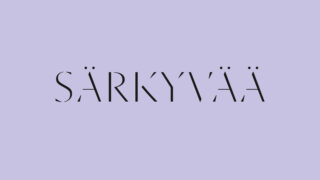 Matias Karsikas: Stump (2021) and Branch (2021)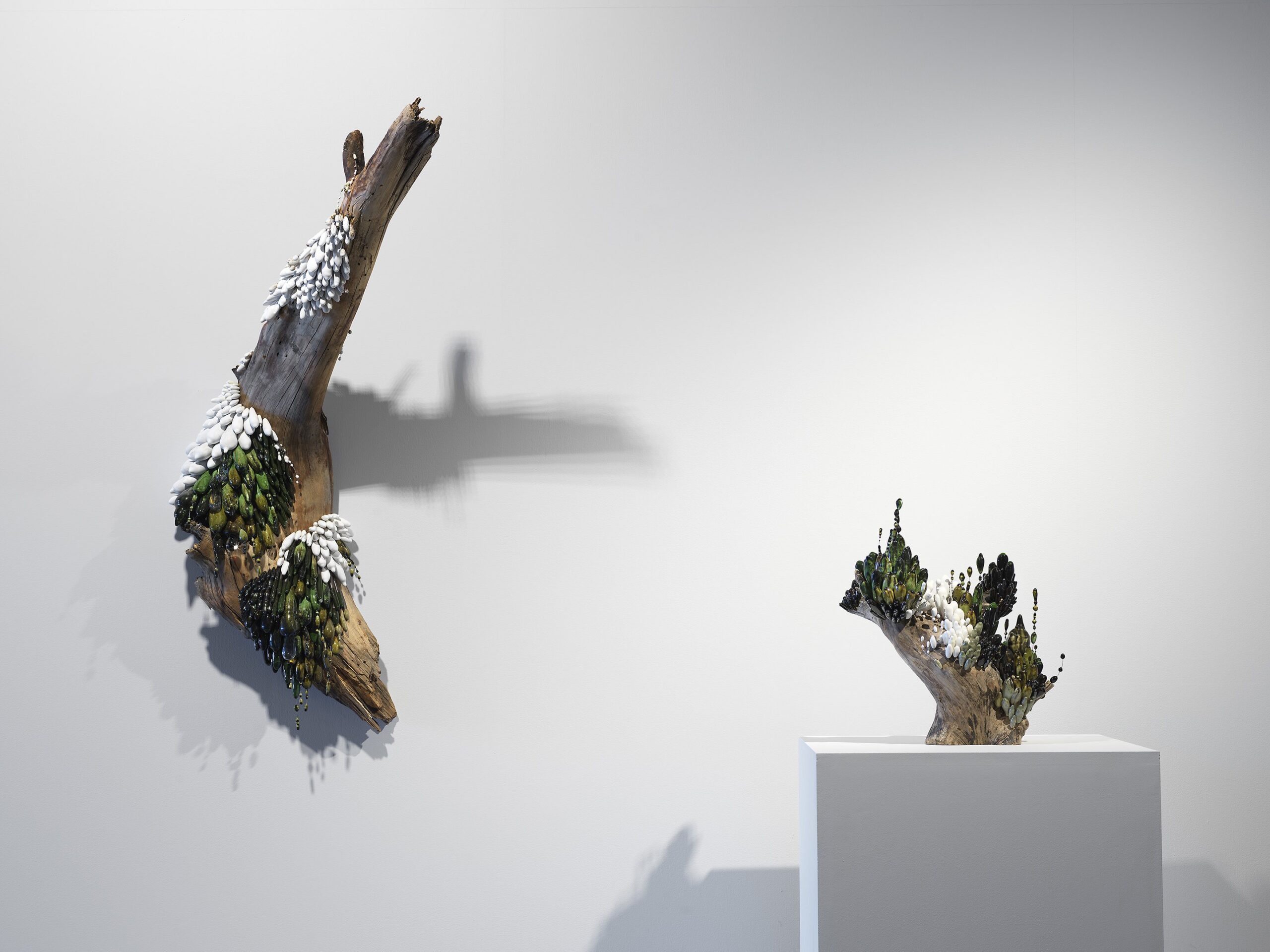 Stump, 2021. Wood, glazed ceramic, blown glass. Branch, 2021. Wood, glazed ceramic, blown glass.
Matias Karsikas (b. 1989) combines several different materials in his works, such as ceramics, glass and wood. The wood is sourced from nature, the pieces already worn to shape. Karsikas turns the materials into colourful works that often look nothing like ceramics, resulting in pieces that occupy a zone between living and artificial. Fascinated by materials and their properties, Karsikas seeks to retain their natural quality and to add his own contribution as organically as possible.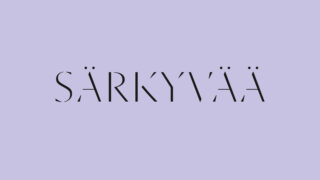 Veera Kulju: Sounds of Silence (2018) and Become (2021)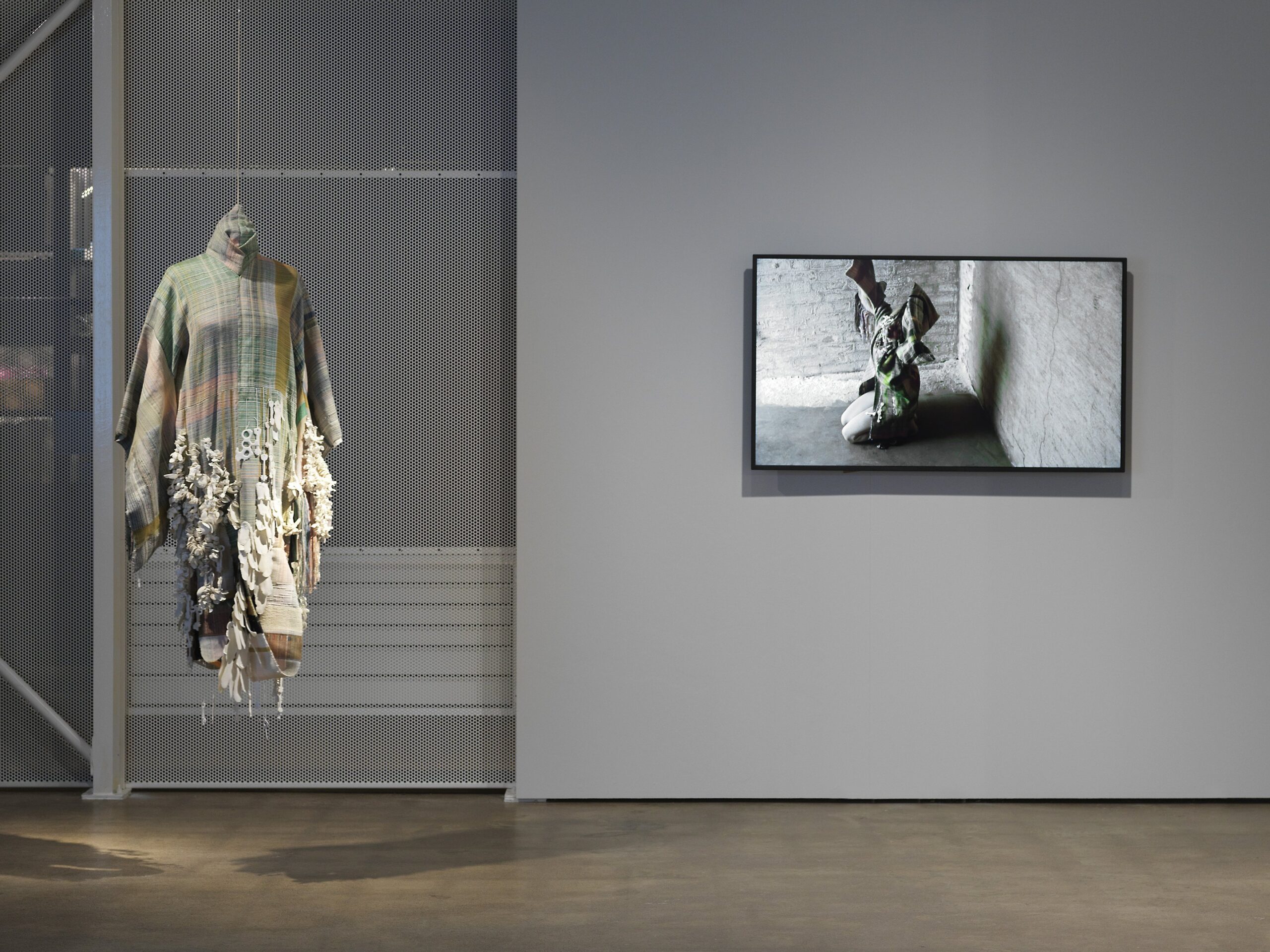 Sounds of Silence, 2018. Video. Become, 2021. Woven textile, hand-moulded porcelain.
Veera Kulju's (b. 1975) Sounds of Silence takes on big questions: Who are we and where do we come from? How do we communicate and express emotions? The video shows a green, sunny forest where we hear birds singing and the wind sighing in the trees. We then move to an interior space where we are joined by a dancer who moves with shamanistic gestures. The dancer wears a garment woven by the artist, on which she has hung small objects made of slipware that tinkle as the shaman moves. We return to the forest. Night is falling. Kulju has also created an accompanying sculpture Become that combines textile and ceramics.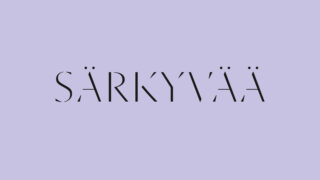 Nathalie Lautenbacher: Recovery (2021)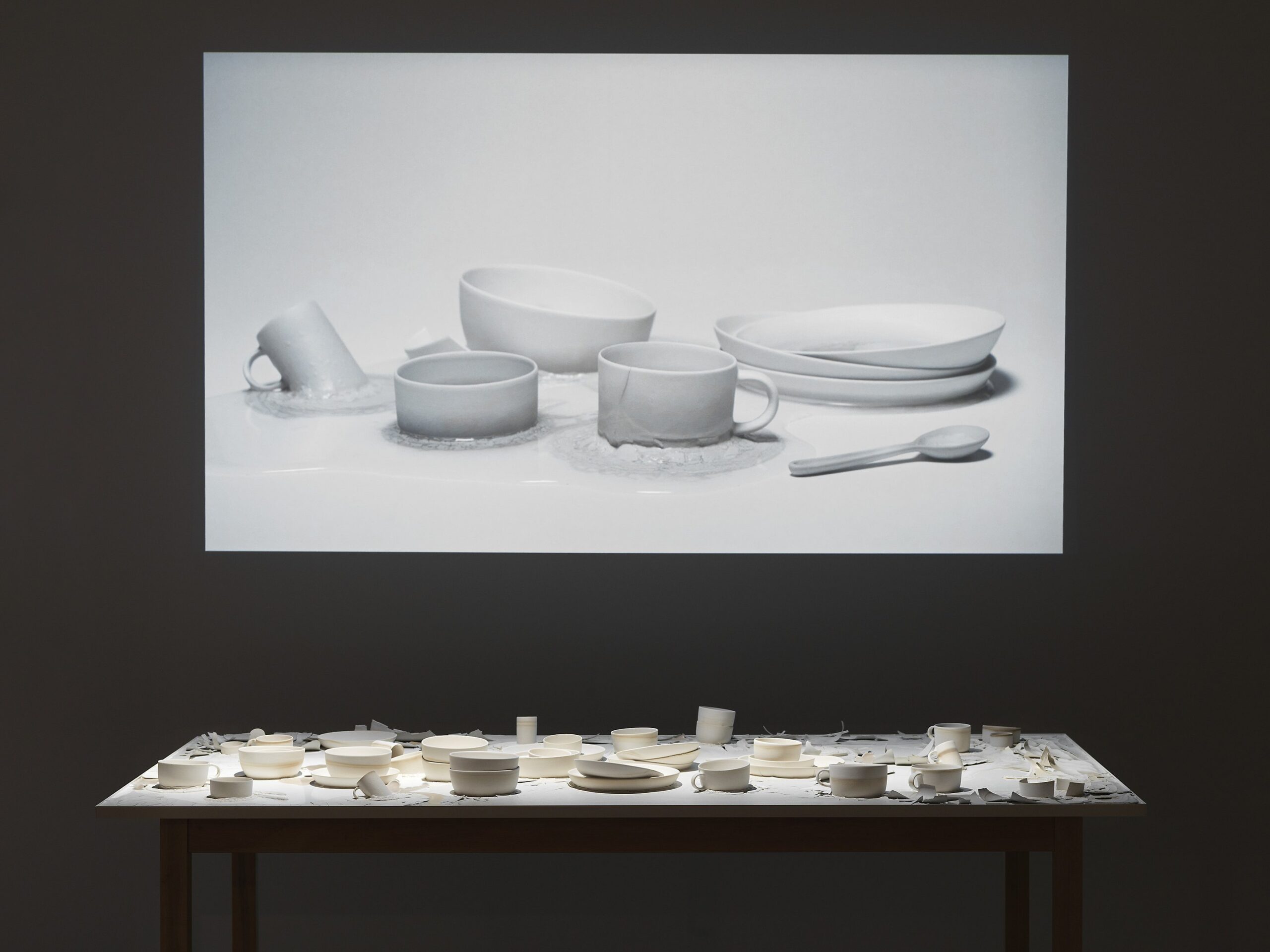 Recovery, 2021. Unfired clay, video.
Something has gone badly wrong in Nathalie Lautenbacher's (b. 1974) work Recovery. The artist has laid a table for a festive dinner using unfired clay dishes which she then filled with water. After being destroyed by water, the dishes have dried out. Lautenbacher's installation consists of hand-turned objects made under her own brand name. Although the theme of the work is the melancholy of irreversible decay, Lautenbacher says she was fascinated by the destruction of her own dishes, because once the piece was set up, the process could no longer be halted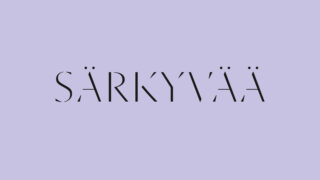 Piia Lieste: Disintegrate (2021)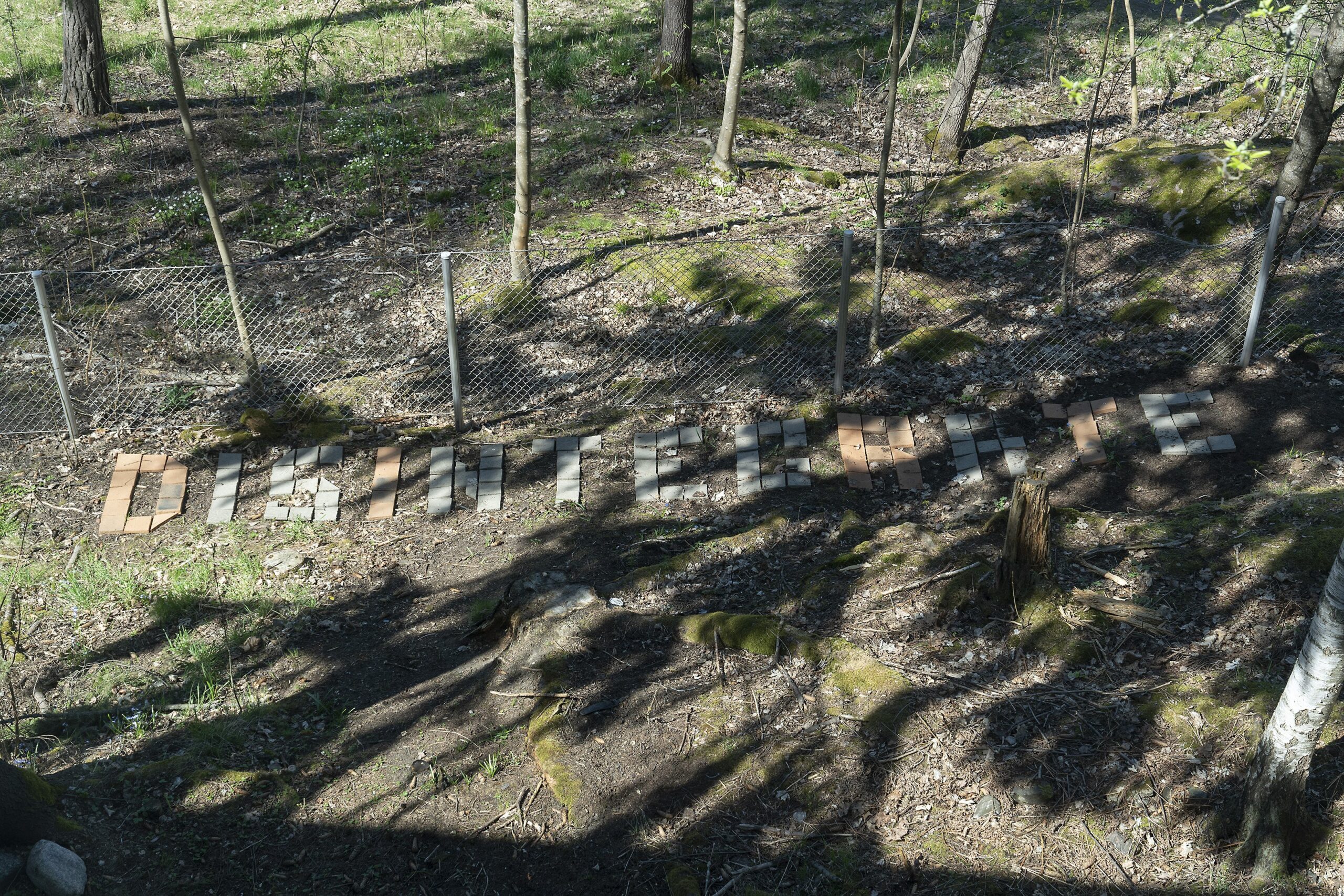 Disintegrate, 2021. Finnish red clay, sawdust, terracotta.
Piia Lieste (b. 1979) installed her work in the backyard of the WeeGee Exhibition Centre, where it is exposed to the elements. The work consists of the word "disintegrate" written in letters made of Finnish red clay. Some of the letters were fired, others left raw. The unfired letters disintegrate out in the open, doomed to disappear in the changing seasons. The four fired ceramic letters "d", "i", "r" and "t" will break down more slowly, yet they too will eventually disappear. The word made up of the letters – dirt – has many referents, including earth, soil, dust and filth.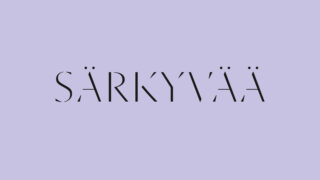 Tiia Matikainen: Dust Gatherer I−III (2021)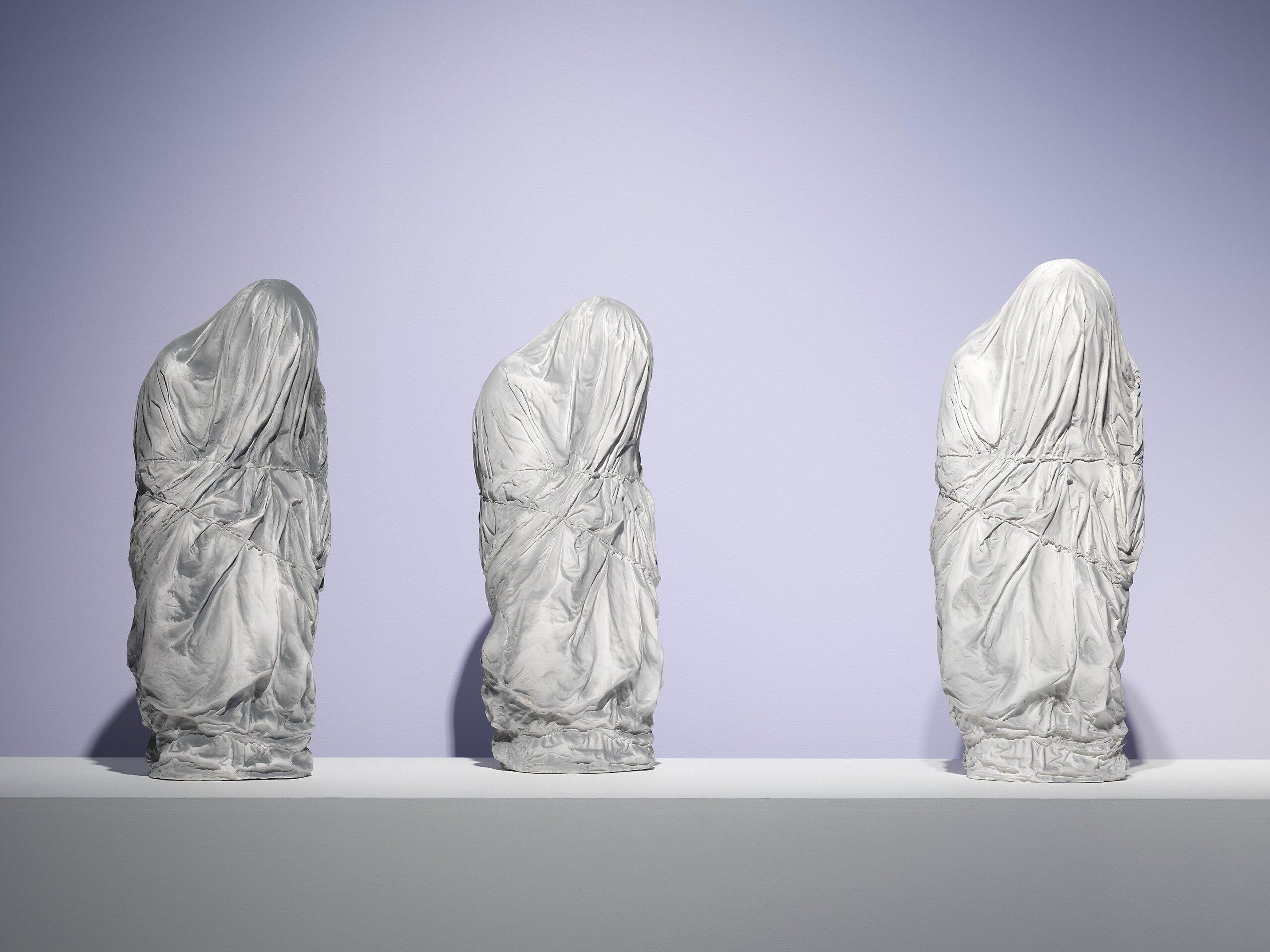 Dust Gatherer I−III, 2021. Handbuilt ceramic, auxiliary moulds.
Tiia Matikainen's (b. 1975) Dust Gatherers is a series of sculptures that depict bent-down figures with a cloth over them. Matikainen is interested in mythologies and sacred images, as well as the mystical, inexplicable aspect of life. The starting points of the sculptures include bogeymen and grief statues in Roman cemeteries.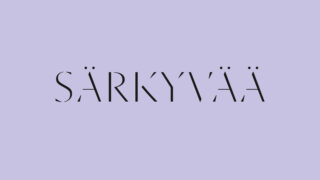 Meri Oivo: Fragile (2021)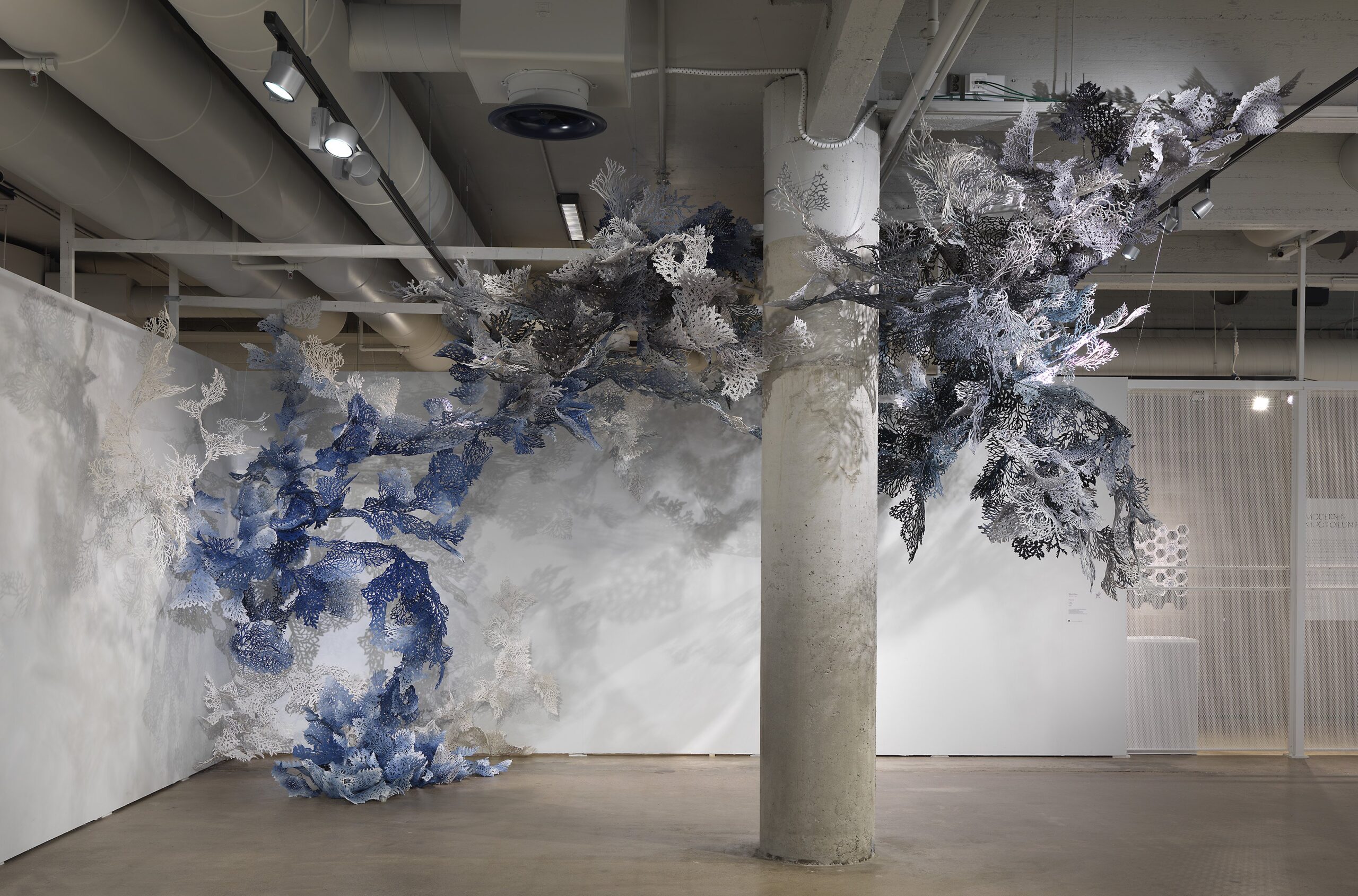 Fragile, 2021. Cast and handbuilt porcelain, paper fibres, steel.
Fragile consists of several delicate pieces of porcelain made with a technique developed by Meri Oivo (b. 1984) herself. Involving both casting and handbuilding, the technique allows distortions and fractures to show in the final work. The shapes of the objects are derived from nature. There are elements that remind us of mycellium branches, corals, ferns and three-dimensional frost formations. The fragile landscape seems to grow straight out of the gallery's floors and walls. Light and shadow also play an important role in the establishment of space.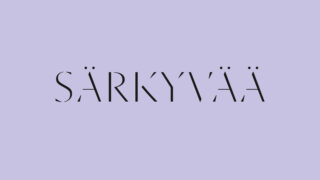 Matteo Pennacchio: Meanwhile (2021) and From the series Marks (2021)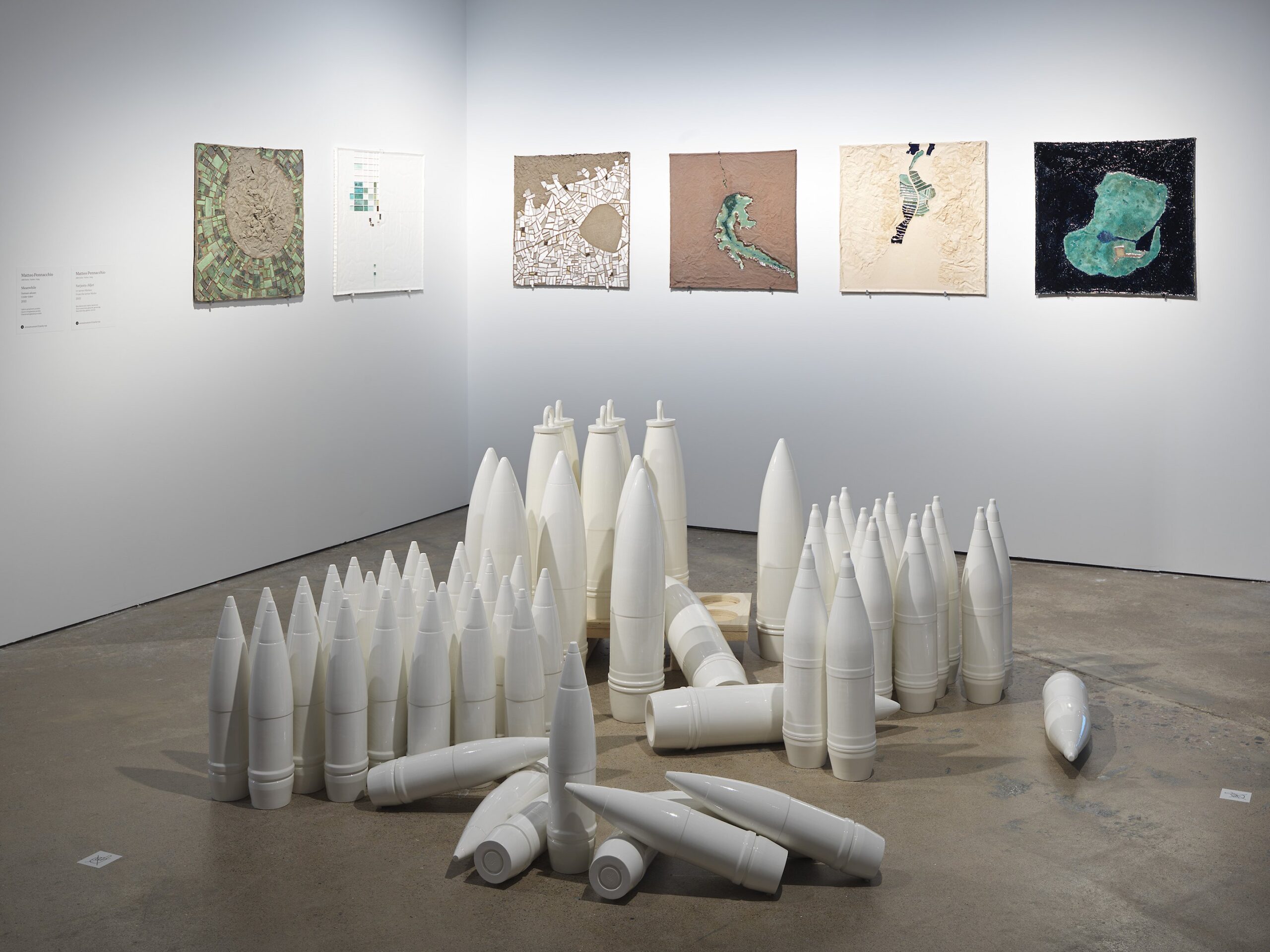 Meanwhile, 2021. Casted and glazed porcelain. From the series Marks, 2021. Recycled clay, glazes, carved.
Matteo Pennacchio's (b. 1983) Meanwhile makes use of missile-shaped porcelain objects to explore armed conflicts – especially those not covered in the news. The work is based on the Uppsala Conflict Data Program by the Department of Peace and Conflict Research at the University of Uppsala, Sweden.
The ceramic reliefs in his Marks series are based on satellite images that reveal the effects on the surface of the Earth by human activity such as fellings, industry and construction.
With clarity and precision, Pennacchio's works depict global problems that are often difficult to process.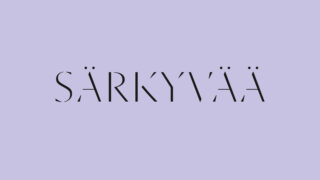 Maria Punkkinen: Touch Me – See Me (2020)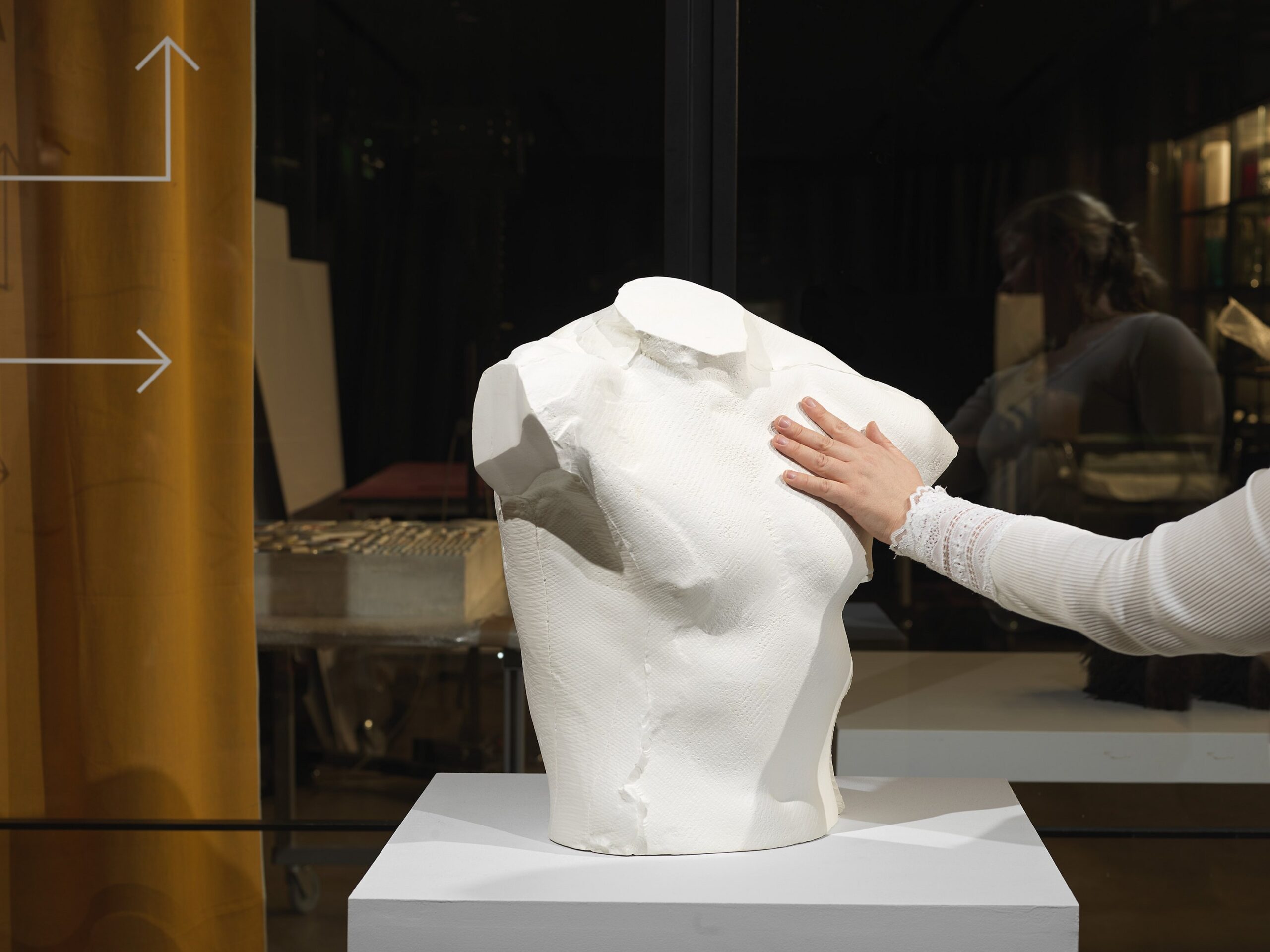 Touch Me – See Me, 2020. Slipcast porcelain, heater.
From a distance, Maria Punkkinen's (b. 1983) sculpture seems like a classic torso. On closer examination, the surface texture reveals the method used to create the work: the artist made a 3D scan of a real person, then used the data to produce a milled model piece, which was then used as a basis for a mould. The final ceramic sculpture was made by casting in the mould. Traces of the process remain in the finished piece, such as scanning errors. The subject of the work is loneliness. Just like the details on the surface of the piece, loneliness too can sometimes become apparent to outsiders only upon closer examination.
You may touch this work.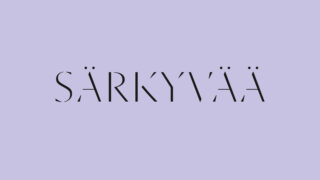 Outi Savolainen: Hope (2021)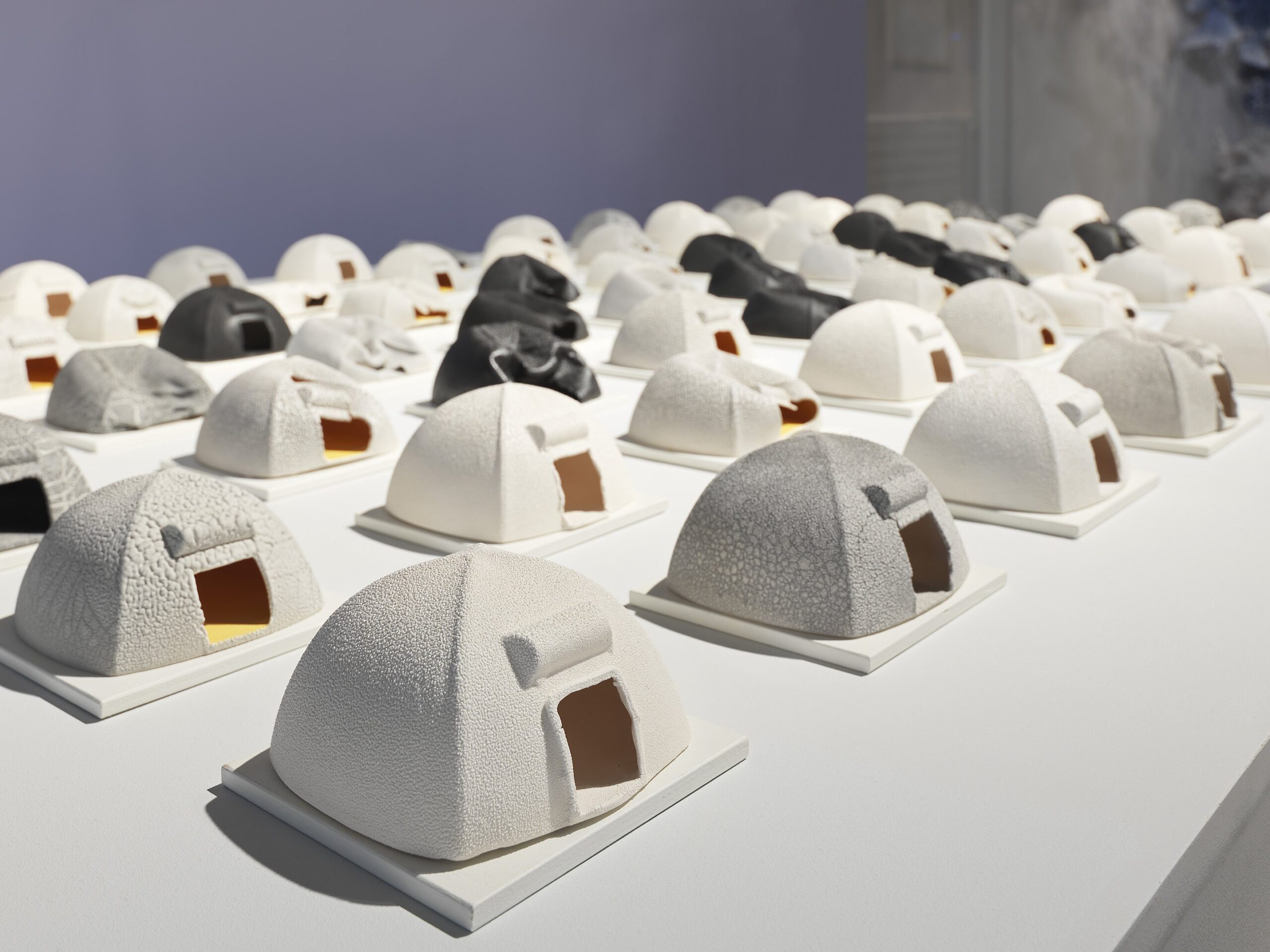 Hope, 2021. Slipcast clay, layer-glazed ceramic.
Outi Savolainen's (b. 1972) tent-shaped ceramic sculptures are an examination of shelter and vulnerability. A tent is a temporary dwelling, and a tent camp reminds us of states of emergency and crisis. The sense of temporariness and disintegration is underlined by the properties of ceramics such as fragility and cracks in the glazing. The tents were made by slipcasting and by allowing the clay to tear when it was removed from the mould. After firing, the final ceramic pieces are nevertheless permanent and do not decay.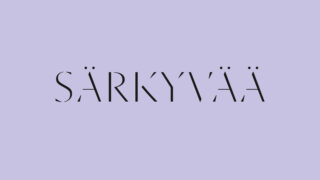 Caroline Slotte: From the series Tracing (2019)
From the series Tracing, 2019. Reworked second-hand ceramics.
Caroline Slotte (b. 1975) uses old tableware as material in her work. The items in her Tracing series are ceramic plates with decorative illustrations. By gently sandblasting the plates, she makes some features disappear and reveals the remaining parts in a new light. As the stories in the decorations are altered, the objects acquire new meanings. The artist transforms discarded objects into works of art.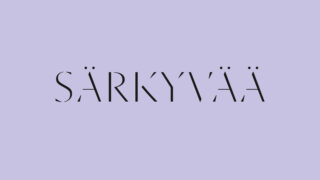 Katie Spragg: The Wilds of 5 Lely Court (2016), In the Meadow (2016) and Cheese Grows Blue (2018/2021).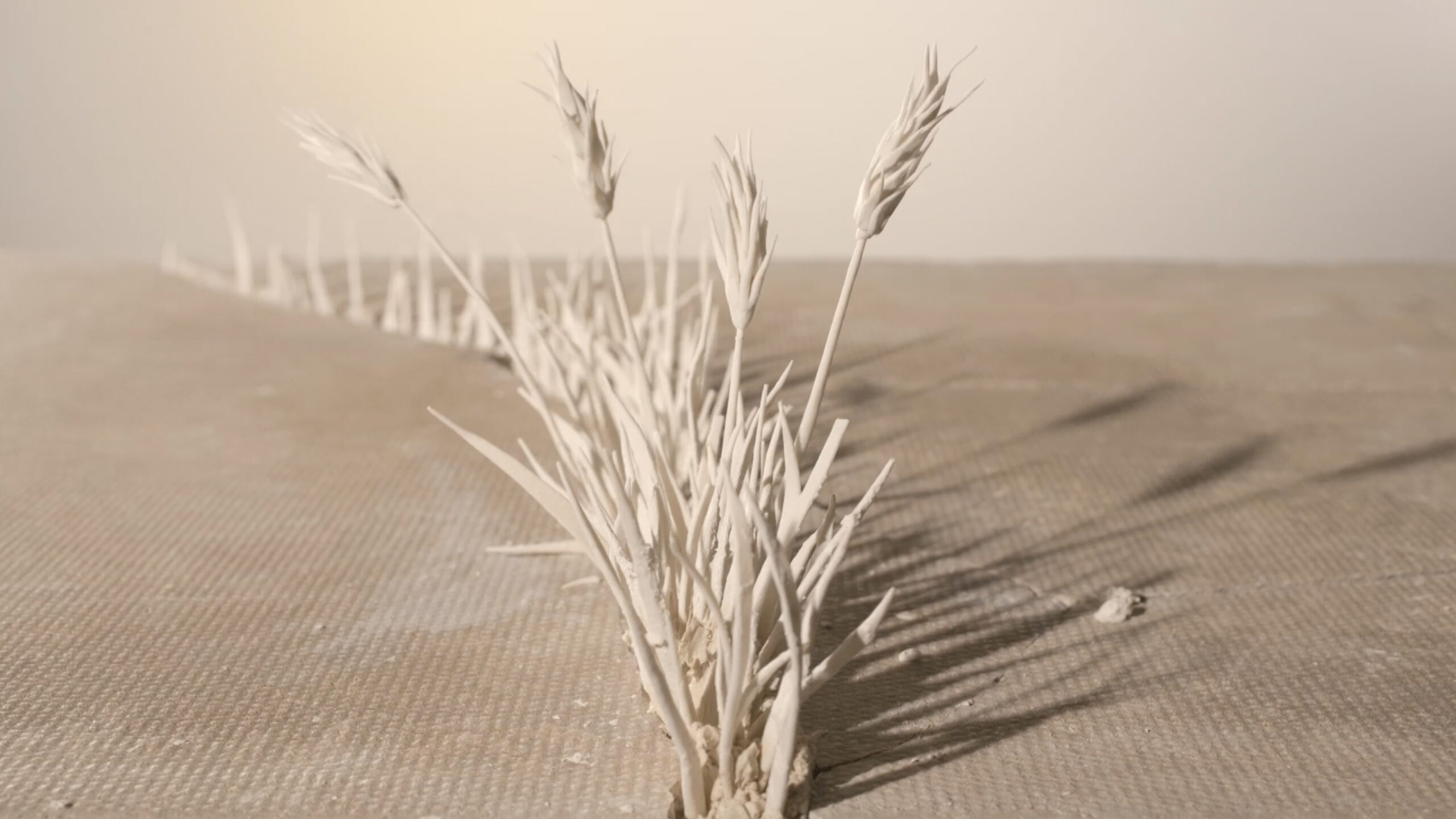 The Wilds of 5 Lely Court, 2016. Stopframe animation, fired porcelain, paving slab.
Katie Spragg's (b. 1987) animations remind us of the wonder and joy of observing nature. Grasses thrive in a field or sprout up from tiny cracks in concrete. The stop-frame animations are made with clay components. Ceramics is generally thought of as a permanent and unchanging medium, yet Spragg uses it to depict plants, thereby highlighting the living and adaptable nature of the material.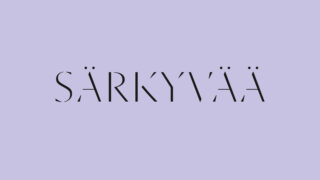 Irma Weckman: EXIT (1999/2021) and Golden Oval (2021)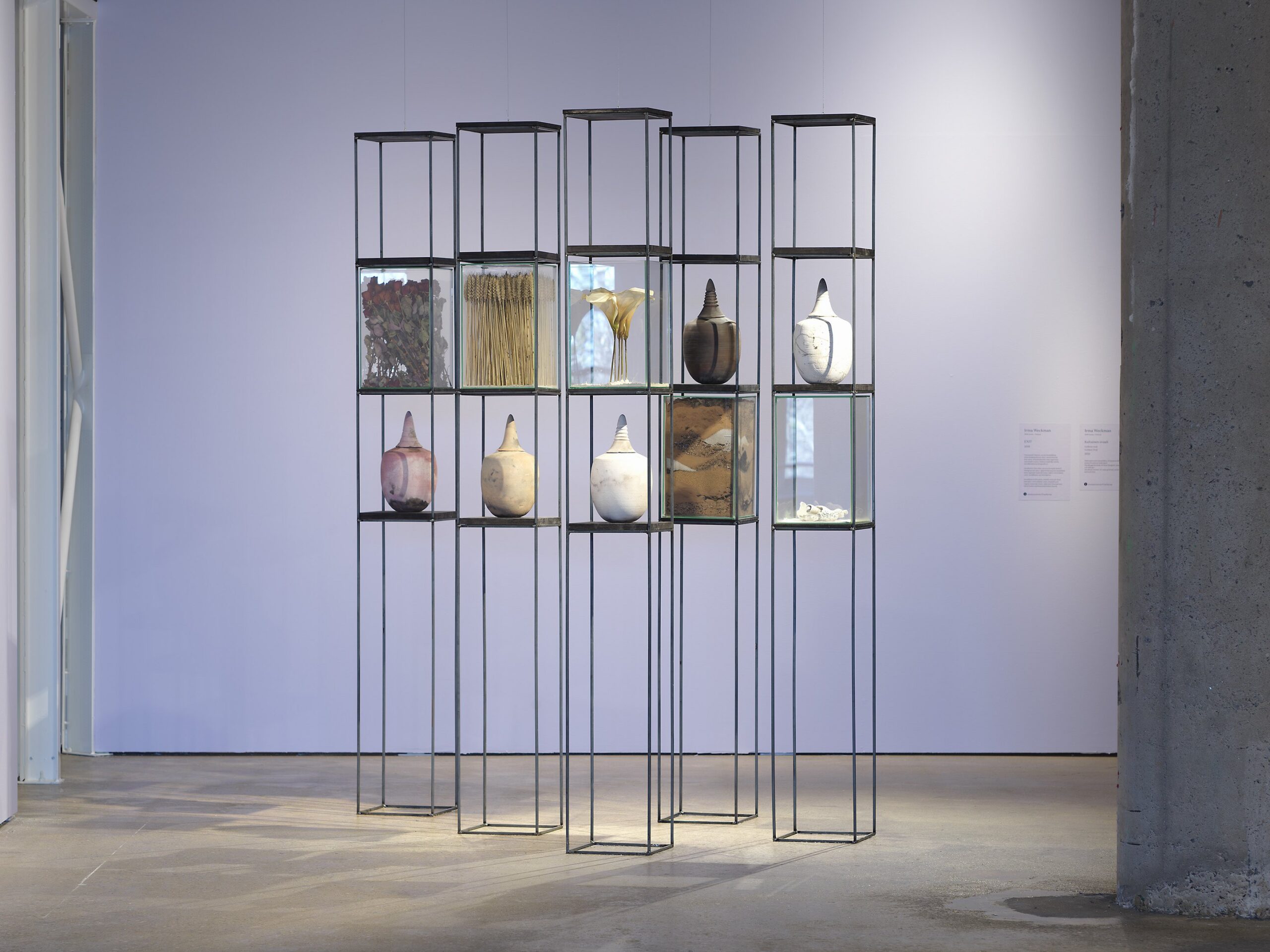 EXIT, 1999. Installation in five parts, ceramic urns (pit-fired and raku), soil in display cases, seashells and organic materials (roses, callas and wheat grains), metal frames and laminated timber boards.
Irma Weckman (b. 1946) originally created this installation back in 1999. In it she combines urns with natural materials. Exit Terra and Exit Mare are both statements in defence of nature. The other three represent different types of love: Exit Agape spiritual, Exit Eros physical and Exit Storge practical love. Through the material, clay, Weckman examines the finiteness of life, the transitory nature of all things, and resignation and death. As a counterforce, suspended above the urns is a Golden Oval, a symbol of creation and eternal life.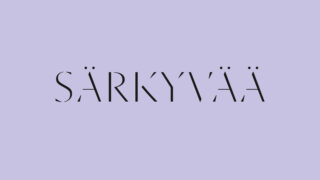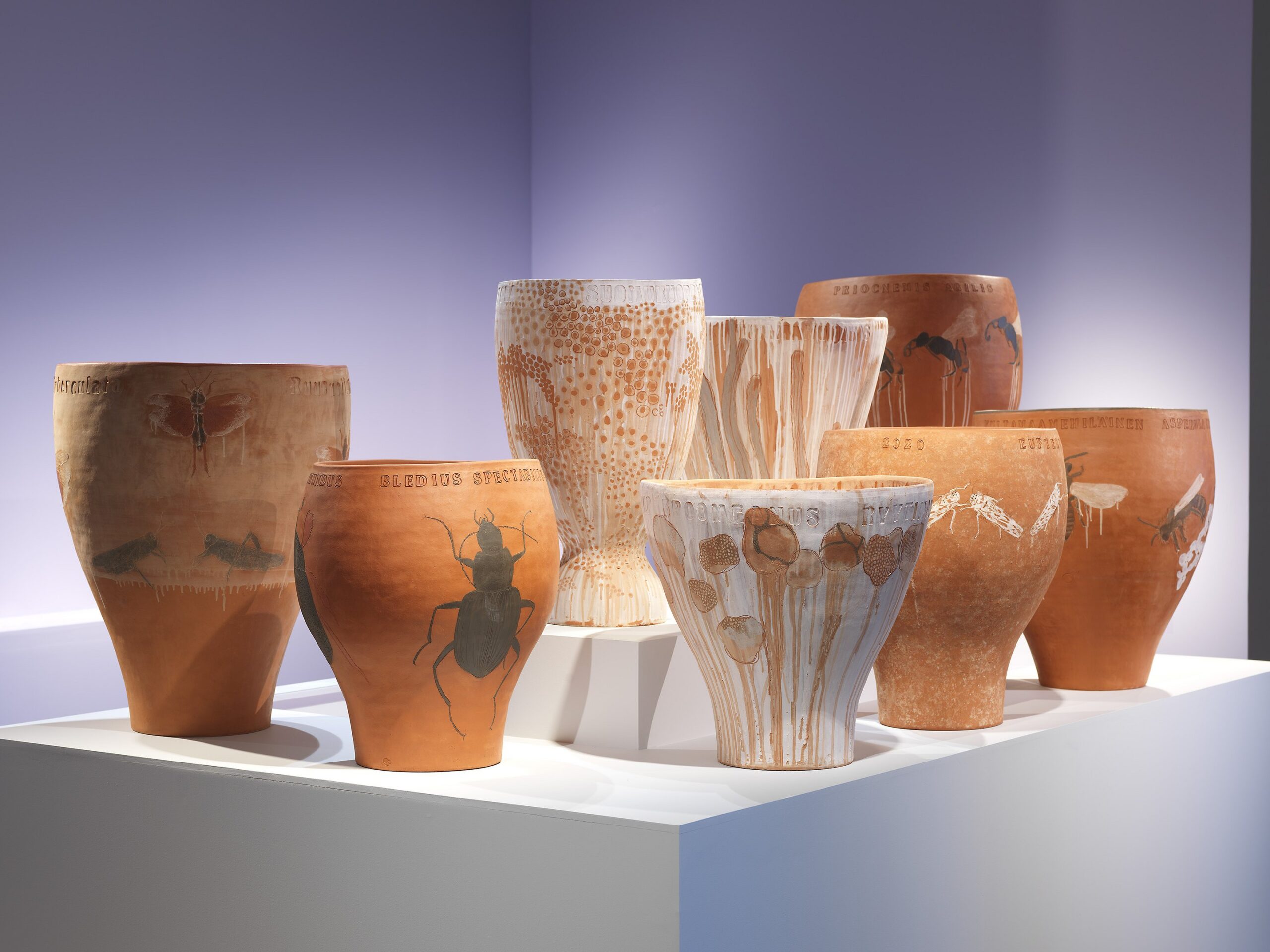 Critically Endangered Species, 2020−21. Species specimen, soil samples and ceramic test pieces painted with the processed samples, hand coiled Finnish earthenware painted with slips and soil samples which are collected from various areas in Finland.
Working with Soil group: Özgü Gündeşlioğlu (b. 1985), Catharina Kajander (b. 1945), Riikka Latva-Somppi (b. 1969) ja Maarit Mäkelä (b. 1961).
Working with Soil is a team project that investigates our relationship with earth. The team members are all ceramic artists working within multiple disciplines in design, arts and science. The team collects local soils, analyses them to determine the presence of pollutants, and uses the materials in artworks, thus making visible the ecological impacts of humanity. The team also studies the endangerment of species, and the interpretation of ceramics traditions is an important part of their practice. During this exhibition, the team engages with the soil in Espoo.
Critically Endangered Species, (2020−21)
In addition to plants, insects, fungal rhizomes and microbes, the soil community also includes people. Being aesthetically perceptive creatures, we tend to place a higher value on non-human species that are large, quick, colourful, cute or otherwise visible. Consequently, the need to protect small and less striking species may receive less attention. Pictures of these critically endangered species, such as Saprinus immundus or Bath truffle, are painted on the surface of the objects.
Artistic research project on local Espoo soil, (2021− )
Potters have used local soils for thousands of years. Soil is not a static material, it changes in response to natural phenomena and human activity. By examining the materiality of local soil with a ceramic artist's experiential knowledge, we try to understand these changes and our role in the soil community. Artistic research never seeks to find unequivocal answers, preferring to challenge our thinking and search for questions instead.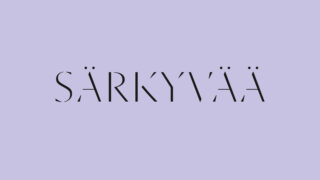 Topsoil
The soil is teeming. It crackles, claws, hisses, knocks, listens. Noora Kauppila and Mikko H. Haapoja's sound work Topsoil (2021) burrows into imagined tones in the planet's topmost layer. The listener in the work is the soil itself – its current as well as long extinct species.
The sounds used in Topsoil were gathered during exploratory nature walks undertaken in Espoo to collect soil samples for the Ceramics Facing the New exhibition at EMMA. The work also features sounds from the processing of soil samples and the production of ceramic pots in the installation.
The sound work is made to be listened with headphones.
Listen to the work