Espoo Museum of Modern Art
Michael Schilkin's delightful ceramic animals displayed in an animal world designed by Lotta Mattila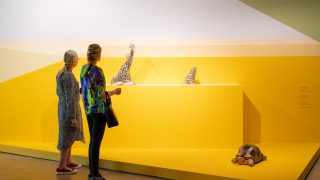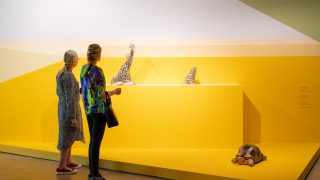 The Michael Schilkin feat. Lotta Mattila exhibition brings an expressive bunch of ceramic animal sculptures on display. In the exhibition, the visitor is presented with environments, where animal figures by two artists from different eras come together. The exhibition is based on the collection of Kyösti Kakkonen, collector and primarily a commercial counsellor, and is on display in connection with the Bryk & Wirkkala Visible Storage during 2 June 2020–28 February 2021.
Modernist Michael Schilkin (1900–1962) conveys stories with his images. He is known for large works designed for facades, but also for his small and sympathetic animal sculptures. Schilkin's narrational reliefs continue to enrich the Helsinki streetscape through the facades of Arabia Factory and the former main building of Helsinki School of Economics. Schilkin has approached animal subjects throughout his career and has captured the movement and nature of animals vividly in his sculptures.
In addition to his career in Finland, the Russian-born Michael Schilkin also created an international career as a ceramic artist and sculptor. Schilkin emigrated to Finland at age 21 and studied in the Central School of Applied Arts in Helsinki, making a long career as an artist in the art department of the Arabia factory.
The Michael Schilkin feat. Lotta Mattila exhibition at EMMA has been curated by contemporary artist Lotta Mattila (b. 1986), who also works with ceramics and animal subjects. She has designed different living environments for the exhibition, providing places for Schilkin's animals to live in. Besides children and adults, Schilkin's animals will be seen by Mattila's own animal sculptures including bear cubs, squirrels and a baboon.
"Clay is a material that repeats the movements and feelings of its shaper. I approached Schilkin's production from a colleague's point of view, since I am involved in the craft as well, working with clay. A person familiar with the material can read these handprints from an item long after it has been burned. Schilkin's ceramic sculptures reveal to me the story of an artist who moulds clay at their office and enjoys this work. The animal figures stir my imagination, pulling me into their stories. Using landscapes and encounters created for a site, I want to open those stories to the museum visitor. My own sculptures accompany the visitor in admiring Schilkin's production," says Lotta Mattila.
Schilkin's life's work is situated in the same time period as the artistic production of, for example, Kaj Franck, Birger Kaipiainen and Rut Bryk. Schilkin and Bryk worked simultaneously at the Arabia ceramics factory. EMMA's exhibition is on display in the space for temporary exhibitions, connected to the Bryk & Wirkkala Visible Storage. The Visible Storage presents the life's work of Tapio Wirkkala and Rut Bryk, thus opening a dialogue with the works of two pioneering Modernists and former colleagues.
Read more