Espoo Museum of Modern Art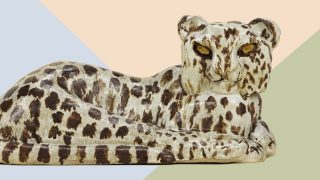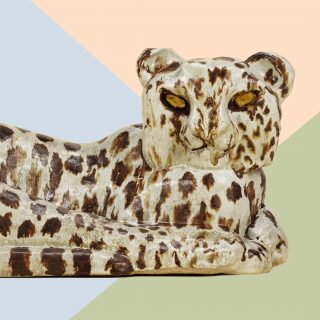 02.06.2020 - 28.02.2021
Michael Schilkin feat. Lotta Mattila
During the summer, EMMA will feature a selection of delightful ceramic animal figures. The playful environment designed by contemporary artist Lotta Mattila (b. 1986) will display animals created by ceramic artist Michael Schilkin (1900–1962). Mattila, who is also known for her animal characters, will take part in the exhibition with her own new sculptures created for the exhibition. The exhibition, which is based primarily on the collection of commercial counsellor and collector Kyösti Kakkonen, is on display in connection with the Bryk & Wirkkala Visible Storage.
Michael Schilkin
A Childhood in Russia
Michael Nikolayevich Schilkin was born into a stonemason's family in the village of Trubino in the outskirts of Moscow. His father Nikolai Schilkin died at an early age and his spouse Anastasia was left to take care of six children alone. Michael was the second oldest of the siblings and left for Saint Petersburg already at the age of 10 to make a living.
Schilkin emigrated to Finland at the age of 21. His path took him first to the Mikkeli region and later to Helsinki where he studied stonemasonry and woodwork at the School of Applied Arts from 1924 to 1928. Schilkin worked as a chauffeur during the day and studied art in the evening.
The Arabia Art Department
Michael Schilkin's works were first displayed publicly in 1933 at the first exhibition held by the Russian Art Society in Finland. Schilkin was one of the founders of the society. Its founding aim was to support Russian artists who had moved to Finland in order to facilitate their entry into Finland's art circles. Arabia's artistic director Kurt Ekholm first saw Schilkin's ceramic sculptures at the society's exhibition.
Schilkin worked in Arabia's art department from 1936 until his death. While at Arabia, animals became the main motif of his works. He was able to capture their positions, movement and character with great skill. His experiments with different kinds of glazing methods created beautiful surfaces.
The Paris World's Fair 1937 was the first time that Arabia showcased its art on the international arena. Schilkin was awarded with a gold medal at the fair for his work. Arabia's art department became the heart of Finland's applied arts field, and its artists became pioneers in both Finland and abroad. Schilkin's lifework coincided with the household names Kaj Franck, Birger Kaipiainen and Rut Bryk.
Helsinki Streetscapes
One way to admire Schilkin's work is to walk around Helsinki. For most of the 1940s, he worked on large-scale reliefs for both indoor spaces and building facades. Schilkin was a visual storyteller whose works gave another sense of depth to the buildings featuring his work. The largest and perhaps best known of Schilkin's works is the series of reliefs on the Helsinki School of Economics's former main building. He also designed reliefs for the facade of Arabia's former factory, the church of Helsinki's Orthodox cemetery, and the confectionary company Fazer's headquarters in Vantaa. Michael Schilkin died at the age of 62 after working for nearly three decades as an artist.
Lotta Mattila
Artist Lotta Mattila (b. 1986 Kuopio, Finland) graduated with a Bachelor's degree from Aalto University in 2011, and with a Master's degree from Helsinki's Fine Arts in 2017. She works as a freelance artist in her studio in Helsinki's Herttoniemi district where she also has access to a ceramics oven.
Lotta Mattila selected the ceramic animals by Michael Schilkin that will be displayed in the exhibition. Ceramics is the field of choice for Mattila, too, and her clay works are often in the shapes of animals. Mattila will also exhibit some of her own works alongside Schilkin's.
Lotta Mattila says that she can sense a similar pleasure and joy in creation in Schilkin's animal figures as she experiences when working with clay. Schilkin's animals have come to life in Mattila's imagination thanks to their strong personalities, and this inspired Mattila to build the suitable surroundings for the animals.
In her own work, Mattila finds it important to find the right relationship between a sculpture and the space around it. When making sculptures, Mattila examines the interface between the animate and the inanimate, the point where a piece of clay becomes something lively.
Animal figures also serve to depict human nature and human relationships on a general level without getting caught up in stereotypes such as gender, ethnicity, age, wealth or other defining characteristics.
Lotta Mattila's oeuvre includes both local and exotic animals: she has used clay to form animals such as foxes, bears, rabbits, badgers and owls, as well as lions, monkeys, penguins and armadillos. Mattila's works are life-sized, whether a sparrow or a rhino.
Many exhibition-goers may recognise Lotta Mattila's okapi calf found by the Niittykumpu metro station. The work, titled Omilla jaloilla (On One's Own), was unveiled in 2018.
Related content