Espoo Museum of Modern Art
Event
Espoo's Nelli relocates to Kalajärvi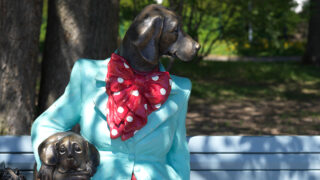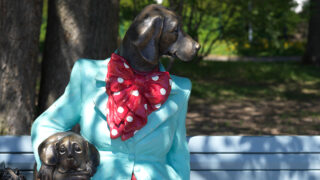 Join us in welcoming Espoo's Nelli to her new temporary home! Nelli is a bronze sculpture by Kerttu Horila created for the people of Espoo. It was gifted to the City of Espoo by EMMA – Espoo Museum of Modern Art on the occasion of the city's 50th anniversary. The sculpture was unveiled in the Espoo district of Haukilahti in spring 2022. The nomadic sculpture will be relocated regularly, bringing joy to the daily lives of as many Espoo residents as possible. Nelli's new home is Saudarkrokur Park in the district of Kalajärvi. Her new location was chosen by the Espoo Youth Council. 
"It was a great pleasure for the Espoo Youth Council to be involved in choosing Nelli's new location. We feel that public art greatly enhances the appeal of outdoor spaces, and we wanted to foster regional equality by selecting a location that didn't host any previous art projects. Espoo's Nelli is an emblem that unites all the residents of Espoo. Bringing her to the northern suburbs unites the whole of Espoo," describes the Espoo Youth Council. 
At the event, the Espoo Youth Council will 'pass the baton' by announcing the organization that will choose Nelli's next destination.  
Speakers at the event:
Henna Paunu, Chief Curator, EMMA
Aaron Komulainen, Chair of the Espoo Youth Council
Elina Leppänen, Secretary, Kalajärvi Society (Kalajärvi-seura) 
Musical performance:
Sakari Leppänen 
You are cordially invited! The event is open to everyone. Refreshments will be served. 
Espoo's Nelli is a motherly, warm-hearted canine-human hybrid who holds a puppy under one arm. The sculpture is part of Kerttu Horila's Animal Humans and Human Animals series, which features imaginative, storybook characters fusing together human and animal features. 
EMMA's public art programming brings a significant part of EMMA's collection within reach of residents all around Espoo. Espoo's Nelli is the museum's gift to the City of Espoo and its residents on the occasion of the city's 50th anniversary. Take a selfie with Nelli and share it on social media with the hashtags #espoonnelli @emmamuseum and @espooesbo. 
More events