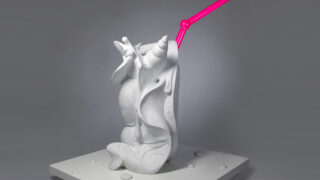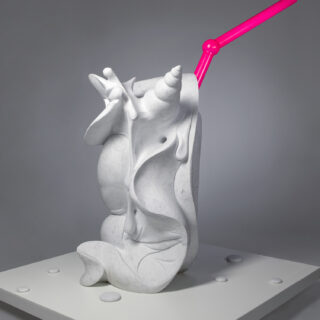 17.02.2021 - 18.04.2021
Aaron Heino
The solo exhibition of sculptor Aaron Heino (b. 1977), recipient of the Fine Arts Academy of Finland Prize in 2019, will be featured at EMMA in winter 2021.
Heino's dynamic sculptures play on the tension between the masculine and feminine utilizing pop art idiom. In his works, classical materials of sculpture, such as marble and granite are combined with steel, glass fibre and painted aluminium in fascinating encounters. The exhibition featured at EMMA consists primarily of the artist's new sculptures.
The prize is awarded by The Fine Arts Academy of Finland every second year. The prize consists of an award, an exhibition at EMMA and an artist publication. Previous recipients of the prize are Tuomas A. Laitinen, Camilla Vuorenmaa and Outi Pieski.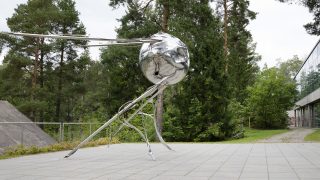 Big Fish by Aaron Heino is already on display at the backyard of the Exhibition Centre WeeGee. The sculpture is inspired by Sputnik I, the first artificial Earth satellite launched into orbit. Despite its diminutive size, the tiny satellite triggered the beginning of the Space Race between the two Cold War rivals, the Soviet Union and the United States.
Aaron Heino: A Natural Feature, 2018. © Ella Tommila

Aaron Heino: Always Workin' OT, 2018. © Ella Tommila

Aaron Heino: Duesday, 2018. © Ella Tommila

Aaron Heino: Ordinary, 2017. © Ella Tommila

Aaron Heino: Tenant, 2009. © Ella Tommila
Related content