Espoo Museum of Modern Art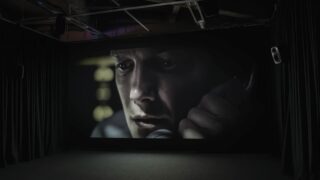 01.02.2023 - 28.05.2023
Jesper Just: The Lonely Villa
Jesper Just (b. 1974) examines the complexities of human relationships in his short films. He tells his stories by dropping subtle hints and clues, leaving the final meaning unresolved. Like many of his works, The Lonely Villa (2004) examines minority cultures, gender stereotypes and inter-generational relationships. The uniting theme of his work is the process of finding and rebuilding one's identity.
Communication often takes place in music rather than dialogue in Just's films. In The Lonely Villa, the main protagonists converse by singing to each other over the telephone, with the lyrics indirectly hinting at the emotions unfolding between them.
Just's films are packed with allusions to film and literature, and he often uses the narrative language of classic Hollywood productions to portray relationships, although the cryptic contextual transitions leave us to draw our own conclusions about the meaning of the narrative. Just's oeuvre also reflects his interest in performative and spatial elements.
Danish-born Jesper Just graduated from the Royal Danish Academy of Fine Arts and is based in New York.
The Lonely Villa is presented in the media space of the Touch exhibition.