Espoo Museum of Modern Art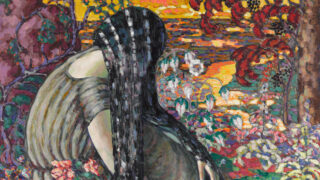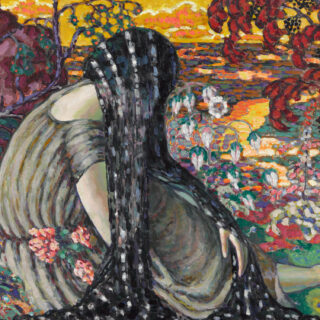 29.09.2021 - 23.01.2022
Konrad Mägi – The Enigma of Painting
The exhibition presents a broad selection of works by Estonian pioneer of modernism Konrad Mägi (1878–1925). It includes a significant number of Mägi's surviving paintings, some 150 works in all. In addition to landscapes, the show includes a selection of Mägi's finest portraits.
Mägi created his first canvases in Åland, having previously studied in St Petersburg. He also briefly studied at the Ateneum in Helsinki. His later travels took him to France, Norway, Germany and Italy and back to Estonia. Mägi was a cosmopolitan who painted what he saw, felt and learned on his travels. He used different forms of expression freely, always using different ways to paint different natural scenes. Mägi differs from many of his contemporaries through his bold use of colour. The idiosyncratic Mägi has, in fact, no comparison in the history of European modernism. Today we are ready to include talents from the periphery to such accounts of the past, thereby widening our understanding of the art of modern era.
Nature was Mägi's primary inspiration. It was a source of strength and a tool for exploring the potential of painting, the human condition and the mystery of life beyond visible reality. Instead of creating a likeness of the real world, Mägi focused on how to paint and how to express things that could only be communicated in painting. In his fascinating portraits, Mägi's primary objective was to create a compelling painting. Mägi's paintings forces portraiture out of the genre's dusty cabinets.
It has been a pleasure to curate an exhibition that, for the first time and to this extent outside Estonia, showcases the uniqueness of Konrad Mägi's art. The artist's ties to Finland have also been a powerful motivator for making Mägi accessible to Finnish audiences.
Espoo, 28 September 2021
Pilvi Kalhama, Exhibition Curator
Book a guided tour in Estonian to the Konrad Mägi exhibition
You can now book guided tours also in Estonian to the exhibition Konrad Mägi – The Enigma of Painting. Estonian-language tours are available on Wednesdays from 16–19 and on Saturdays from 11–17.
Fill in the booking form here. Indicate your wish to have the tour in Estonian in the field titled Remarks or wishes for the guide.
Konrad Mägi: Norwegian Landscape with a Pine, 1908-10. Oil on canvas. © Art Museum of Estonia

Konrad Mägi: Norwegian Landscape, 1908–10. Oil on canvas. © Art Museum of Estonia

Konrad Mägi: On the Road from Viljandi to Tartu, 1915-1916. Oil on canvas. © Art Museum of Estonia

Konrad Mägi: Portrait of Elsi Lõo, 1915. Oil on canvas. © Art Museum of Estonia

Konrad Mägi: Saaremaa Motif, 1913. Oil on canvas. © Art Museum of Estonia

Konrad Mägi: Landscape in Lake Pühäjärv, ca, 1920. Oil on canvas. © Art Museum of Estonia

Konrad Mägi © Art Museum of Estonia

Konrad Mägi: Portrait of Alide Asmus, 1912-1913. Oil on canvas. © Tartu Art Museum

Konrad Mägi: Blooming Branches, 1917-1920. Oil on canvas. © Enn Kunila's art collection

Konrad Mägi: Lake Saadjärv Landscape, 1923-1924. Oil on canvas. © Tartu Art Museum

Konrad Mägi: Italian Landscape, 1922-23. Oil on canvas. © Enn Kunila's art collection

Konrad Mägi: Ruins in Capri, 1922-23. Oil on canvas. © Art Museum of Estonia
Curating:
Pilvi Kalhama
Project Management:
Pilvi Kalhama & Inka Laine
Exhibition Design:
Milla Rissanen
A warm thank-you to the exhibition's partners and lenders:
Art Museum of Estonia
Tartu Art Museum
Under and Tuglas Literature Centre of the Estonian Academy of Sciences
Konrad Mägi Foundation
Enn Kunila's art collection
Private collection
Estonian Embassy in Helsinki
Tuglas Society
Related content