Espoo Museum of Modern Art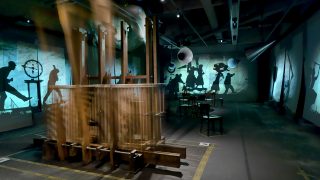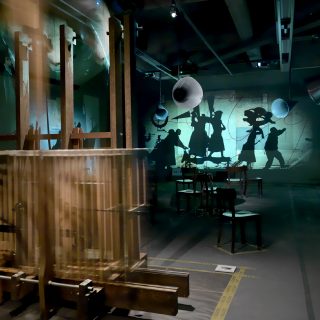 18.06.2014 - 14.09.2014
William Kentridge: The Refusal Of Time & Other Faces
One of the top names in contemporary art, the South African William Kentridge, is exhibiting at EMMA in Summer 2014. The exhibition continues the museum's series of shows by major international contemporary artists.
William Kentridge's (b. 1955 Johannesburg) work has roots in theatre and politically committed art, and frequently comments on social injustice and apartheid. At its core it asks the question: How can we live with our traumatic past. Kentridge is a brilliant draughtsman, whose art is created by using his own drawings to make animated films and video installations.
Two works will be on display at EMMA: The Refusal of Time, a five-channel video installation that had its world premiere at documenta in Kassel in 2012; and Other Faces from 2011, an animation that belongs to EMMA's collections (The Saastamoinen Foundation Art Collection).
William Kentridge
The Refusal of Time
music and soundscape, Philip Miller
video editing, Catherine Meyburgh
dramaturge, Peter Galison
The Refusal of Time is an installation of five projection shown on three walls, with a wooden breathing machine made out of moving parts – "the elephant" – in the middle. The work is derives in part from conversations between William Kentridge and the US physicist Peter Galison about the history of the control of time, the theory of relativity, black holes and string theory. Its themes span questions related to 19th-century imperialism, ways of depicting the concept of time, and the inevitability of death. In Kentridge's characteristic fashion the work contains powerful images arising out of the history of colonialism in Africa. This work is poised at the intersection of theatre, science and art, creating a profound synthesis of different disciplines – music, drama and animation.
The music and sound are by the composer Philip Miller. Choreography by leading South African dancer Dada Masilo. Video for the piece was edited by Catherine Meyburgh.
William Kentridge
Other Faces
music and sound, Philip Miller
video editing, Catherine Meyburgh
In his Other Faces animation William Kentridge returns to the figure of property magnate Soho Eckstein, central protagonist of Kentridge's Drawings for Projection series (ten short films made between 1989-2003). Here the city of Johannesburg itself takes a central role, as the viewers are drawn into its landscapes and cityscape, and its problems of xenophobia and violence. The work is made from charcoal drawings, which Kentridge has filmed on a 35mm motion-picture camera. Once again, the music has been composed by Philip Miller and the video editing done by Catherine Meyburgh.
William Kentridge's works have been shown at numerous key international events, such as the Venice Biennale in 2005, 1999 and 1993, and Documenta in Kassel in 2012, 2002 and 1997. He has also exhibited at Tate Modern, the Louvre, Centre Pompidou, the Albertina in Vienna, MoMA in New York, Washington D.C.'s Hirshhorn Museum, the Centre for Fine Arts in Brussels, and elsewhere.
William Kentridge has received several major international art awards, including the Penagos Prize for Drawing (2013), Kyoto Prize (2010), Oskar Kokoschka Award (2008), Kaiserring Prize (2003) and Red Ribbon Award for Short Fiction (1982). He is the recipient of honorary doctorates from Yale University; the University of London; the Royal College of Art, London; Rhodes University, Grahamstown, South Africa; and the University of the Witwatersrand, Johannesburg.
Related content