Espoo Museum of Modern Art
Experience art from the comfort of your sofa – book a remote tour for your group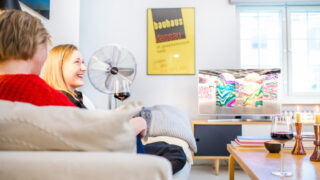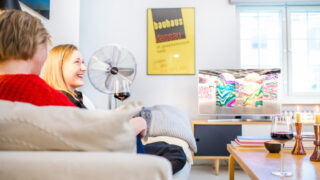 Online guided tours bring the museum exhibitions to wherever you are. Your group will be accompanied by a guide who is present at EMMA to take you through the exhibitions. The remote tour allows you to experience the current art exhibitions in conversation with an expert guide.
The tour will be adapted to the specific wishes of your group. In the one-hour guided tour, you can experience a single exhibition or a customised selection of art and design from different exhibitions. The theme of the tour can be your own specific interest, for instance nature or contemporary art techniques. You are welcome to make requests about the content of the tour when submitting your booking. The guide will be happy to answer questions and discuss together what you encounter on the tour. 
The remote tour will take place online. You can participate for example together with friends in your living room, with students in a classroom, or with colleagues in your workplace. The participants can also take part in the tour remotely on their own from different locations. 
We offer these special prices for guided remote tours until 30 May:
Adults €60 / group 
Kindergarten and pre-school groups €0 / group
KULPS! Art For Me tours for schools in the Espoo region €0 / group
Other school groups €40 / group 
The guided tour lasts about one hour. You will receive a link for either the Teams or Zoom platform upon your booking confirmation which you can then share with your group. You do not need to download a computer programme in order to participate online; Teams and Zoom also work directly in your browser. 
See you on the tour! 
Read more