Espoo Museum of Modern Art
Leena and Kalle Nio's first collaboration, Painting Machine opens soon at EMMA.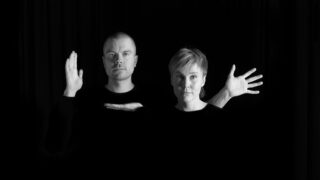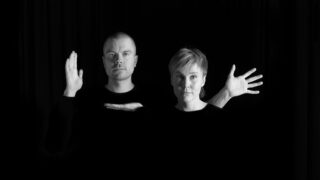 What happens when a Painting Machine is put in charge of creating art? EMMA Areena presents Painting Machine, a mesmerising performance-installation that combines magic with visual art. The work is the first collaboration by Leena Nio (b. 1982), a visual artist renowned for her multilayered paintings, and Kalle Nio (b. 1982), visual artist, magician and theatre director. Blending performance art and visual art, the installation includes weekly live performances in each of which a new painting is created. Booking is now open at EMMA's website!
"Every successful painting is a miracle" – Leena Nio
The exhibition features a live performance every Saturday at 13:00 and at 15:30, in which the audience can follow the creation of a painting. In the space of 30 minutes, the Painting Machine produces a new visual artwork that is incorporated into the exhibition. Between the live performances, the Painting Machine is on display in the gallery as an audiovisual painting installation.
Will the Painting Machine produce new interpretations of traditional genres of art such as portrait, landscape or still life? The exhibition  is a playful investigation of art making and the sources of creativity. Although the Painting Machine is a mechanical piece of equipment, it is human in its own way. The process of producing a painting with the machine is surprising and uncontrolled, and every machine-made work contains unpredictable details and mistakes – just as human-made works do.
Painting Machine was produced in collaboration with the WHS group and will be included in the group's tour programme. Sound Design of the exhibition is by Samuli Kosminen.
The live Painting Machine performances are included in the price of the museum ticket. Seats must be booked in advance on our website.
Technical design and implementation
Kalle and Leena Nio
Kalle Jarva
Kristiina Kajaste, Emma Holmberg / Rock Solid Painting
Eric Bouche-Pillon / Cie 14:20
Music
Samuli Kosminen
Lighting Designer
Eero Alava / WHS

Curator 
Ingrid Orman
Project management  
Arja Miller & Ingrid Orman
With thanks to
Suomen Kulttuurirahasto
Taiteen edistämiskeskus
Read more