Espoo Museum of Modern Art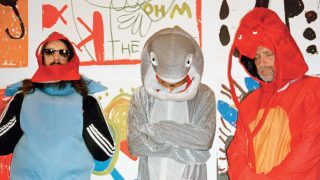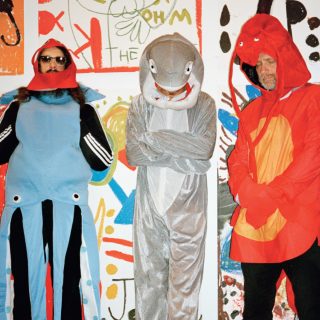 30.01.2019 - 07.07.2019
Jonathan Meese, Daniel Richter, Tal R: The Men Who Fell from Earth
The Men Who Fell from Earth is a group exhibition featuring three leading contemporary painters of our time: Jonathan Meese, Daniel Richter and Tal R.
Revisiting to the roots of contemporary art, the exhibition presents three painters who have had a lasting influence on younger generations of artists with their fresh take on neo-expressionism. This marks the most comprehensive showing of their work ever seen in Finland, featuring installations co-created by the three artists, a video piece, as well as an overview of each artist's recent work.
The title of the exhibition refers to the 1976 cult film by Nicolas Roeg, The Man Who Fell to Earth starring David Bowie. The film's themes – ecological crisis, xenophobia and ubiquitous commercialism – are more topical today than ever. The trio share their observations on the sad state of the world through a veil of absurdist humour and playful performativity. The exhibition is a co-production between Denmark's Holstebro Kunstmuseum, Germany's Stade Museum and EMMA.
The exhibition filled with the energy of painting
© Ella Tommila / EMMA

© Ella Tommila / EMMA

© Ella Tommila / EMMA

© Ella Tommila / EMMA

© Ari Karttunen / EMMA
The artists
Jonathan Meese (b. 1970, Tokyo, Japan)
Meese works proficiently in many art forms from painting to sculpture, performance and installations. He almost stuns the viewer with his overflowing expression and energy. He creates serial, colourful and diverse collections of works and surprising assemblages combining material from pop culture, mythology and political history. Meese's recent solo shows include Pinakothek der Moderne, Munich 2018, among others.
Tal R (b. 1967, Tel Aviv, Israel)
Over the past two decades Tal R has created his own, recognisable imagery which permeates his wide and diverse oeuvre. The art and working methods of Tal R can be described as embodying vitality, curiosity and a constant quest for something new, and at the same time making use of used or surplus material. Tal R's recent solo shows include the Museum of Contemporary Art MOCAD, Detroit 2018, the Louisiana Museum of Modern Art, Copenhagen 2017 and the Museum Boijmans Van Beuningen, Rotterdam 2017.
Daniel Richter (b. 1962, Eutin, Germany)
Richter gathers inspiration for his paintings from everything he sees and experiences. His canvases have flashes of the daily news, art history and rock music. Richter's roots are in the 1980s punk scene and in the visual culture of many alternative movements. Richter has shaped painting in Germany like few others have done. He has a professorship at the Academy of Fine Arts in Vienna. His recent solo shows include the Camden Arts Center, London 2017, among others.
The artists' visit on video
The artists visited EMMA prior to the opening of the exhibition. Jan Bauer, Photographer for Jonathan Meese, made a video of the visit. See how a spontaneous wall painting was made on site and hear what the artists had to say for the press and public.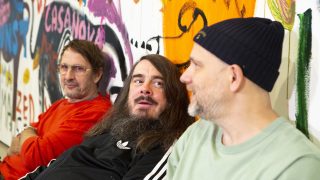 2019 © Photography Jan Bauer . net / Courtesy Jonathan Meese . com
Related content