Espoo Museum of Modern Art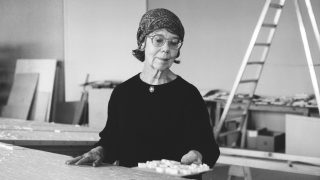 03.04.2019 - 05.05.2019
Rut Bryk documentary and Mosaics of the Mind
A documentary on Rut Bryk produced by EMMA will premiere on 2 April. It is shown in the exhibition space in the middle of the Bryk & Wirkkala Visible Storage. Artist Maaria Wirkkala's work Mosaics of the Mind is displayed until April 14th alongside the documentary.
Rut Bryk: Perhosen kosketus ("Touch of a Butterfly") is a warm portrayal of the artist. Rut Bryk (1916–1999) was a pioneer in modern ceramic art. She left an extensive production of sensitive ceramic works for future generations, but no words to explain them. In the intimate documentary, experts on the artist and her immediate circle convey an image of Rut Bryk as a person at home in both global metropolises as well as the middle of Lapland's wilderness.
In addition to the documentary, EMMA will display artist Maaria Wirkkala's work Mosaics of the Mind (2019), which is founded on the basic unit of Rut Bryk's thinking and art: the ceramic module. The work is a biography without words. Mosaics of the Mind will be on display at EMMA until 14 April, when it will travel to Japan as part of the Rut Bryk touring exhibition.
Rut Bryk: Touch of a Butterfly
Screenplay and direction: Yehia Eweis & Laura Kokkonen
Filming and editing: Yehia Eweis
Production: Laura Kokkonen, EMMA – Espoo Museum of Modern Art
Partner: Tapio Wirkkala Rut Bryk Foundation
Music: Janne Lastumäki
Voice actress: Elsa Saisio
Interviewees: Pirjo Honkasalo, Harri Kalha, Tinni Torikka, Petra Wirkkala
Duration: 49 min 12 s
Trailer for Rut Bryk: Touch of a Butterfly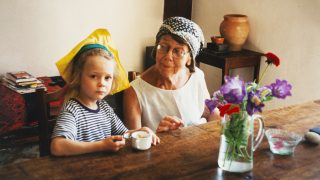 Related content