Espoo Museum of Modern Art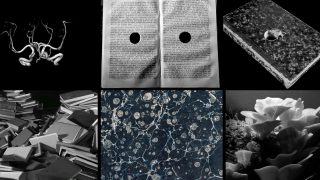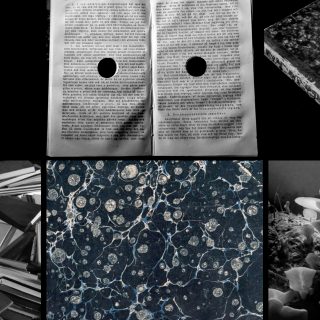 28.10.2020 - 09.01.2022
Saara Ekström & Eero Tammi: Biblion
The new video installation Biblion (2019) by Saara Ekström and Eero Tammi is premiered in EMMA's media space in autumn 2020. The work examines the medium of the book, exploring its hypnotic and layered essence as a carrier of changing, growing and disappearing information. The weight of the masses of books ending up in libraries, second-hand bookshops, storages and landfills also represents the weight and legacy of our history – an irreplaceable treasure to one, an unwanted burden for another.
Duration: 13 min
Saara Ekström uses photography, film, text and installation in her work. The meaning of changes, destruction and growth and the contradictory need to both forget and remember are at the core of her works, which question our ways to analyse and classify history, matter and our environment. Ekström received the AVEK award for media arts 2018 and the art prize of Finland Proper 2017. She was also selected as the artist of Helsinki Festival in 2005, named as an Ars Fennica candidate in 2002 and Carnegie Art Award candidate in 2010. Her works have been displayed in both Finnish and international film festivals as well as group exhibitions in Europe, Asia and America. Her works have been acquired for several domestic and foreign collections.
Eero Tammi (b. 1983) graduated as a film editor from Aalto University School of Arts, Design and Architecture. He has worked together with Saara Ekström since 2015. Tammi has also produced and directed several short films as well as worked as a scriptwriter in director Veiko Õunpuu's new feature film Viimeiset (2020). His film essays have been published in Filmihullu and Sight & Sound, among others.
Directed and written by: Saara Ekström & Eero Tammi
Edited by: Eero Tammi
Filmed by: Saara Ekström, Theofanis Kavvadas, Timo Peltonen, Eero Tammi
Sound design: Heikki Kossi, Pietu Korhonen
Timelapse: Thom Vink
Foley-studio: H5 Film Sound
Foley-artist: Heikki Kossi
Foley recording by: Pietu Korhonen
Foley mixing: Kari Vähäkuopus
Letterpress printing: Sakari Männistö / Letterpress House
Color grading: Juha Laine / Post Control
Production grants: AVEK / Tuuli Penttinen-Lampisuo, The Finnish Cultural Foundation, Varsinais-Suomi Regional Fund
Special thanks: Laterna Magica: Aapo Pekari, Antiquarium Bookstore: Cecil Hagelstam, Antikvariaatti Kauppamakasiini: Berndt Wikgren
Thanks: Turku Reuse Centre, Faunatar Arabia, Helsinki University Library, Jaakko Pesonen, Anne Lakanen, Artturi Rostén, Riitta Poikselkä, Joonas Jormalainen, Jussi Eerola, Zeger Reyers, Tomi Pudas
Related content